Drag queens make fashion from IKEA products
To mark its sponsorship of Pride Toronto, the furniture brand put on a show featuring looks made from umbrellas and shower curtains.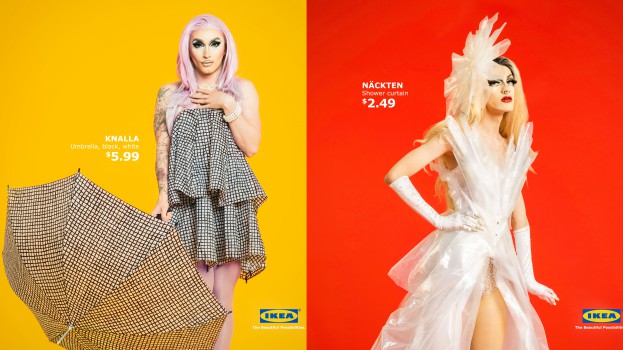 The creative in IKEA Canada's "Beautiful Possibilities" platform has been all about keeping the products in the background, showing how they can blend into the environment of life's moments.
For its sponsorship of Pride Toronto, it's showing that it can even blend into moments that are a bit more colourful.
The retailer enlisted a group of Toronto-area drag queens to create runway-ready looks out of its products, including shower curtains, storage containers, laundry bags, magnets and umbrellas. The looks were captured in a photo shoot and shown off at a runway show and drag performance. A video capturing the show ends up mimicking the creative format of the broader "Beautiful Possibilities" platform by pointing out the name and price of products viewers might not have otherwise noticed.
The campaign has been dubbed "DRÄG" and aims to embrace "the creativity and openness of drag culture," the company says, while also touching on the messages of acceptance and inclusion first expressed in the "Beautiful Possibilities" launch spot.
Though the company didn't reference it directly – saying only that it's already common for drag queens to use its products to craft more unconventional pieces – a contestant on a recent episode of RuPaul's Drag Race caused a great deal of fan speculation as to whether she used IKEA products to make her look.
Launched on Facebook and Instagram earlier this week, the campaign is focused primarily on social, but also includes out-of-home, digital and a media buy with OutTV. Rethink handled creative, with Jungle on the media buy.
IKEA is among the official sponsors for Pride Toronto this weekend, where 250 employees from the Greater Toronto Area will be marching in this year's parade. Last month, in recognition of the International Day against Homophobia, Transphobia and Biphobia, IKEA also began including the Pride flag among those flying outside its Canadian location, while also announcing a partnership with Pride at Work Canada, an organization that ensures workplace cultures are inclusive of LGBTQ employees.