Is Coffee-Mate the next big disruptor?
An innovation-focused "talk show" is helping the brand promote its "disruptive" new line of flavoured creamers.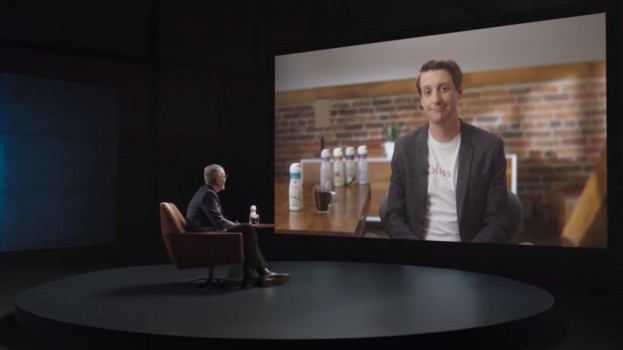 A coffee creamer might seem like a simple product, but Nestle's Coffee-Mate brand (and a fictional founder) believes its new Bliss line could completely change the way people drink coffee.
For its new campaign, agency McCann Canada created a character named Jef Theysmeyer, the fictional creator behind Coffee-Mate Bliss. It also created a fictional talk show interviewing innovators and start-up visionaries called "The Next Disruptor," with Theysmeyer as the latest guest. Anyone who has spent any time around start-up founders will be very familiar with the way Theysmeyer talks about his product, comparing it to past innovations like indoor plumbing and cars and talking up just how big of an impact it could have on coffee drinkers.
The campaign takes a page out of "The Sudbury Incident," a campaign by McCann for Coffee-Mate in 2016, which included a documentary series about an unnamed "incident" that happened in the town of Sudbury, Ontario, with Coffee-Mate creamer looming as a constant presence. This time around, the campaign includes six- and 15-second videos done in the style of promotional spots and bumpers for "The Next Disruptor" talk show, which it claims is now available for streaming.
"We didn't come into this campaign looking to replicate 'The Sudbury Incident,'" says Karman Colosimo, marketing manager for Coffee-Mate at Nestle Canada. "We came in with a new product in a very cluttered social landscape where we needed to break through. It needed to entertain and still highlight the benefit of our product. It just so happened that what came out of that brief had a kind of a similarity to 'The Sudbury Incident.'"
Brought to the Canadian market earlier this year, Bliss is a line of Coffee-Mate creamers made with simpler ingredients and no artificial colours, flavours or preservatives, capitalizing on recent trends around "real" ingredients in food products. The line has three dairy-based and two plant-based products, the latter of which is capitalizing on the popularity of dairy alternatives, like almond and coconut.
While the fictional Theysmeyer character is slightly self-important in the way he talks about Bliss, Colosimo says the idea of disrupting the coffee category with the product is one Nestle believes in. The main insight behind the campaign is the fact that while consumers – especially its millennial target – are drinking flavoured coffee when they are in and out of coffee shops, they tend to default to simple milk, cream and sweetener when they drink coffee at home. Colosimo says the fact that Bliss is on-trend with millennial tastes from an ingredient perspective puts it in a good place to potentially change that, especially when coupled with a campaign that positions it as the next big thing.
"[Millennials] are always interested in the next best thing, the next 'new news,'" she says. "We felt like we had great 'new news' that was super on-trend and made sense with everything consumers are looking for. A talk show based around disruptors felt very fitting for that and getting peoples' attention."
The campaign also includes an activation through Snapchat and Instagram Stories, where viewers of the "show" can swipe up to receive a Coffee-Mate Bliss coupon.