Chew on this: Tic Tac launches gum in Canada
The iconic mint brand is debuting its new SKU this weekend with an interactive installation made of gum.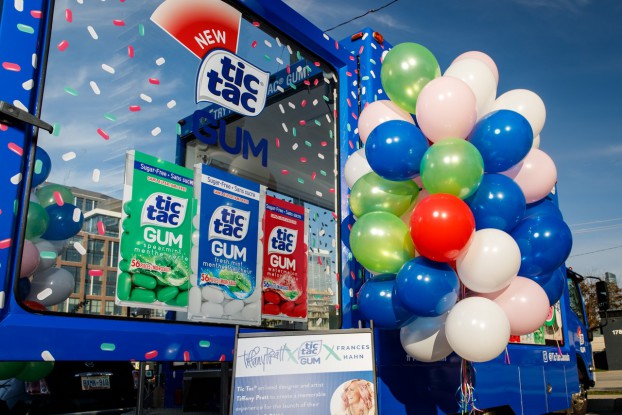 Tiny Tic Tacs in chewy, bubbly format are coming to a store near Canadians, with the launch of a new gum product from the almost 50-year-old mint brand.
And, as with many new confectionery products, the strategy is to get as many Tic Tac Gum samples (one million, to be precise) in consumers' hands as possible. Sampling is to be expected – creating artwork out of pieces of gum, however, is not.
But that's exactly what the Ferrero-owned and Italy-born brand is doing for the Canadian launch of a product that's already been released in markets such as the U.S. and Europe. Collaborating with Tiffany Pratt – a Toronto designer, stylist, author, creative, TV personality and "Queen of Craft" – as well as Canadian artist France Hahn to create a 6′ x 6′ art installation that people can interact with.
By Sunday, on the appropriately marked National Gum Chewing Day, the brand and two creatives will have recreated a painting (pictured, right) using only Tic Tac gum. Approximately 5,184 pieces will be used to create the installation, which will be housed in a mobile vehicle and tour around the city between today and Sunday.

Distribution of the gum will effectively begin on Sept. 30 and will appear in stores nationally from convenience to drug to grocery, says Cheryl Kamran, senior brand manager at Tic Tac Canada. Stating that the gum category is a "natural fit" and extension for the breath-freshener brand, Kamran says extensive research prior to the launch pointed to signs of stagnant and declining innovation and investment in the category.

"Like with any impulse category, the gum category is really driven by innovation, so there have been small innovations but there hasn't been anything from a capital-I innovation perspective in a while," she says, noting that Tic Tac Gum is focusing more on the millennial and Gen Z target by appealing to them with a product that's "fun, innovative and customizable."

The product was developed to maintain the Tic Tac mint taste, as well its hard, crunchy exterior and continues to be packaged in its iconic plastic pocket-size containers with a flip-lid top. And similar to its ovular mints, serving sizes are small to maintain its customization (Kamran notes that six pieces are recommended for optimal flavour and gum chew). With a keen eye on food trends that speak to more health-conscious consumers, the brand also developed the gum to be sugar-free and aspartame-free, she says.

Beyond this weekend's experiential stunt (developed with the help of agencies Proof Experience and Hill & Knowlton), the brand plans to continue sampling of the products at events until the end of the year, where it will dish out one million gum packages in cities like Toronto, Montreal and Vancouver. The strategy is to create mass awareness first, in tandem with building national distribution in stores, and then go out with a mass marketing campaign that includes a TV (adapted from North American creative), digital and social media buy in the new year.

"We have more than doubled our investment on Tic Tac as a masterbrand to be able to support this launch successfully," she says. "With any new product launch, and with Tic Tac being a well-known brand globally in the mints category, we really wanted to make sure we were driving mass awareness and also mass trial on a new product."