2018 Brands of the Year: IKEA comes full circle
The retailer is taking a more purpose-led approach with its marketing to better reflect its core sustainability model.
The Swedish retailer has long practiced sustainability, even within the architectural design of its global HQ.
This story originally appeared in the October 2018 issue of strategy. Each day this week, StrategyDaily will be rolling out the magazine's Brand of the Year winners for 2018.  
IKEA was born out of a hate for waste.
The late Ingvar Kamprad wrote in a company memo in 1973 (exactly 30 years after he founded the Swedish home furnishings brand) that wasting resources is a "mortal sin" and should be considered "one of the greatest diseases of mankind."
It wasn't uncommon to see the world's once-eighth richest person – who passed away at 91 in January – fly economy class, drive a 1993 Volvo, buy shirts at flea markets and regularly indulge in $4 meatballs. An audacious man, with little time for bureaucracy or other status symbols such as "fancy cars, posh titles, tailor-made uniforms," Kamprad spent decades modelling the company with his own personal values at its core.
So it's no surprise that his founding vision of "creating a better everyday life for the many people" has not gone to waste. While the mantra is most commonly identified with the retailer's democratization of design (providing aesthetically-pleasing furnishings at low prices for the masses), it's evolved further to connect the brand to its long-standing sustainability efforts, which is deep within its DNA.
"The better the balance between environmental, economic and social impact, the more people will have the chance at a better life within the limits of the planet," says IKEA in its 10-year Sustainability Strategy report that details environmental efforts, beyond offering reusable bags and flat-packing furniture to reduce its shipping footprint.
And of all the markets that IKEA operates, few have been as gung-ho in fulfilling its global HQ's sustainability plan as Canada. However, it's not been very boastful about its contributions. It's not well-known that every year, since 1996, co-workers gather to plant thousands of trees in dozens of communities. And few may be aware that the company also owns two wind farms in Alberta and that it produces enough renewable energy to exceed its total cross-country consumption. Beyond its environmental efforts (which also includes re-using textiles, installing waste diversions and sourcing sustainable cotton), the team also gives back to marginalized and displaced communities, from hiring refugees to funding programs for at-risk youth.
But little of these efforts were ever communicated in mass marketing – at least not until early 2017 when the brand underwent an in-depth positioning exercise, driven by the marketing team, to determine where to take the retailer next, says Lauren MacDonald, IKEA's country marketing manager. The brand was previously bashful about communicating its good deeds to the masses because "one of our values is humbleness" and so the instinct wasn't to proactively publicize those efforts. "But we realized that, actually, so much good comes of it if we talk about it and take a leadership position on these topics. It helps build momentum in the entire retail market and the broader environment."
Beyond doing good, it also helps to distance the brand from competitors, who had been found adopting emotion-driven messaging similar to IKEA's "Long Live The Home" campaign. The long-standing platform had an obvious commercial lens, with its products clearly driving the ads that showed IKEA furniture in everyday home settings. But when faced with an increasing need to differentiate from competing retailers like Lowe's, HomeSense, and even Walmart, MacDonald says the decision was to pivot toward being more overtly purpose-led.
"There was a bit of a sea of sameness. [IKEA] saw that as a brand they can stand for so much beyond just the product and price," says Caleb Goodman, partner and managing director at Rethink, the agency behind the nearly year-old "Beautiful Possibilities" platform.
When its new positioning was introduced last year, the idea was to present a brand rich in "possibilities," says MacDonald. For example, its 2017 launch spot showcases a world (as seen through the eyes of a little girl) in which opportunities to be more mindful of the planet and its people exist. Its most recent fall 2018 push is driven by ads that tell the story of an IKEA lamp that was used in a 2002 commercial, previously being discarded but then brought back to life in the spot that launched in Sept. The latest ad shows the lamp being recycled and reused by the girl in the original spot to demonstrate IKEA's efforts to become a "circular business."
That circular goal extends as far as the kitchens in its showrooms (where its Kungsbacka cabinet doors are made of recycled plastic bottles and wood) to the kitchens in its bistros (where it recently committed to eliminating straws, plates, cups, freezer bags, garbage bags and plastic-coated dishware by 2020). It's other global commitments include designing products using circular principles so that they can eventually be repurposed; phasing out virgin fossil plastic from products by 2030; and aiming to have all packing materials be made from recycled material by the same date.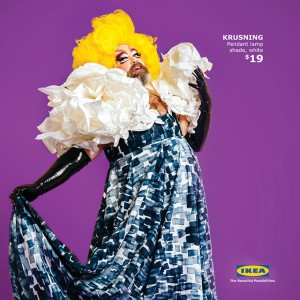 In its report, IKEA also admits needing like-minded partners to share knowledge and ideas to meet its goals and "co-create a better world." It's been co-creating with social enterprises in Canada through things like the Återställa collection, which saw it work with the Setsuné Indigenous Fashion Incubator to design limited-edition textile products from salvaged waste. Those discarded materials were "upcycled" into 2,000 items typically found in a traditional Indigenous kitchen. It's also collaborating with the LGBTQ+ community through programs like "DRÄG," inviting designers to create fashion wardrobes using its textiles. And further outside of sustainability (and beyond Canada's borders), the retailer regularly partners with innovators in distant categories to create a "better everyday life" for its customers. Whether that's joining forces with Adidas to better integrate sport and fitness in the home; Lego to encourage people to introduce more play into their lives; or Sonos to explore how music can affect moods inside the home.

"I think that because it's an organization with such a high degree of integrity in everything that it does, from its culture to its business practices, it makes it really easy to market," says Goodman. "There are just so many great stories to be told about who they are as a brand and their products."

Its stories around people and the planet have been shared across media, from TV spots to in-store signage and even within its catalogues. "When we started talking about where 'Beautiful Possibilities' can go, we realized it has legs," says MacDonald. She adds that there are two layers to its marketing strategy, all of which ladders up to the same platform: "There's the brand building perspective in the spots. But from our retail perspective, we've got commercial events like the kitchen event, or the bedroom and bathroom event. Those are still connected to the product and the role that it plays in people's lives."

With only 11 people to handle branding and marketing for IKEA Canada's $2 billion business, MacDonald and her lean team work across three sub-departments: consumer and market insights; marcom; and media and CRM. "Our agency partners are seen as an extension of the team," she says, adding that the shops (Rethink on creative, Jungle Media on media and Wunderman on CRM) recently joined the marketing department for a week inside one of IKEA's stores, working across departments from the restaurant to returns. "'Reality happens on the shop floor,' as our founder said, 'it doesn't happen in ivory towers,'" she explains.

"We have 9,000 articles that we sell, and when you're in marketing, you're not really experiencing those," adds MacDonald, noting that as a result of the "anti-bureaucratic week," her department is now learning to better support its stores and share information quicker internally.

"So, for example, our ['Beautiful Possibilities'] holiday campaign with the Korken bottles and the little boy – we should have given the stores more lead time and told them well in advance that it's going to be the hero product and give them the license to do more activities in-store and create a more interconnected consumer experience."

Even though home furnishings has been growing at a rate of only 0.8%, IKEA consistently outpaces the category. During the 2017 fiscal year, for example, it posted a 5.9% growth, which it achieved via only 14 stores (it just opened a Quebec City location), six pick-up-and-order points, as well as 14 Collection Points and an ecomm site (which itself has seen a 350% growth rate over the last three years).

"We always want to do more every year, and because we're getting so much traction on this platform, we're growing sales," says MacDonald. "[Beautiful Possibilities] is a departure, yes. Every time you take a bold stance and you choose to depart from the old (which was arguably also working, but was close to running its course) you run a risk of having a dip. And while I can't speak to the numbers specifically, I can say that we are very much on a positive growth trajectory with in-store sales, e-commerce and visits for 2018."

"The things that they're supporting now – those things are really right in the DNA of the brand," adds Sheri Metcalfe, VP, co-managing director at Jungle. "They're massively outspent in the market – there is this notion that you drive by 12 Canadian Tires before you get to one IKEA. Share of heart is something we always talk about, and they managed to overcome that challenge by having a connection and being super smart with their messaging."