The New Establishment: Aidan Shankman brings Tim's to life in the grocery aisle
Tim Hortons' 27-year-old senior manager of marketing operations was key to bringing the QSR brand to the grocery space.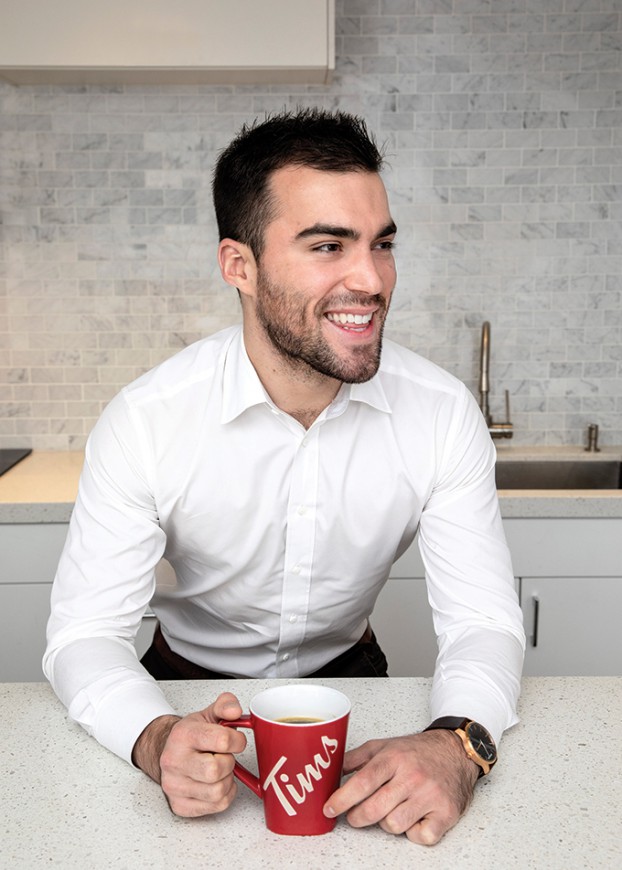 This article appears in the November/December 2018 issue of strategy.
You might not know Aidan Shankman, but if you've been to a grocery store, you've likely seen his work.
Shankman is one of the marketers behind Tim Hortons' entrance into the grocery channel in 2015, when the iconic restaurant chain set its sights beyond QSR, putting its coffee on Canadian store shelves and winning customers over in a new space.
In his previous role as senior brand manager, Shankman, now the senior manager of marketing operations, was tasked with creating "an out-of-home Tim's experience" by building out a marketing plan that would get the support of its restaurant and retail partners.
Shankman wrote the brief and managed subsequent campaign executions, from "Shelf Talker" to "Cart Thru," as well as (literally) helped build displays in-store and spearhead new coffee product launches exclusively for grocery.
Today, Tim's has driven $155.5 million in grocery sales over the year ending Sept. 2018, rising in its grocery coffee category from #5 to the #1 brand, and is sold in several grocery stores such as Costco, Loblaws and Metro, and even on Amazon.
A graduate of Queen's University's Smith School of Business, Shankman began working in the QSR category at other classic Canadian chains, Harvey's and Swiss Chalet, then within CPG at Kraft, followed by a two-year stint at P&G. Now 27 years young, Shankman recalls meeting with the brand in the months leading up to its acquisition by investment firm 3G Capital in 2015.
It was perfect timing, says Shankman, who notes Tim's was ready to enter the consumer packaged goods market on the tails of McDonald's Canada launching their own McCafé grocery brand with Kraft in 2014.
A "small, scrappy team" of approximately four people – Shankman included – was put together to lead the brand's entrance into the category, growing to a team of seven tasked with creating a national marketing calendar and figuring out new systems to coordinate sales, logistics and distribution for a brand new channel – all in under a year.
Shankman joined the marketing team in March 2015 and by October of that year, the Tim's grocery category was born.
"Doing all of that from scratch with no blueprint was really interesting," he says. "From a grocery perspective, we had no data available, we had no past campaign results, we had no strategy built in… so you just have to trust your gut and go back to that really simple shopper mindset – put yourself in the mind of the consumer walking down the coffee aisle."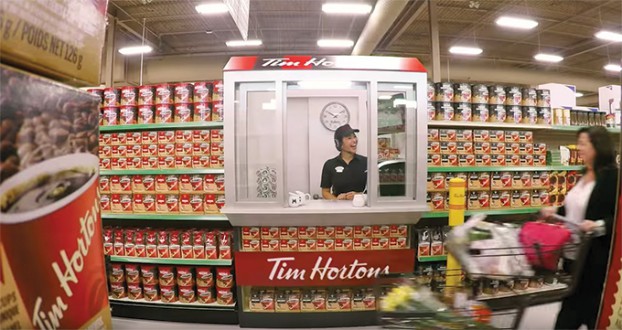 Taking Tim's out of QSR wasn't always an easy sell. When it first launched, a loyalty barrier existed between Tim's restaurant and retail customers. So to get people to want to purchase its coffee products in-store – and trust that it had a reliable Tim's coffee taste – the team created the "Shelf Talker" campaign that featured a mini Tim Hortons restaurant serving single-serve coffee in the grocery aisle. A follow-up "Cart-Thru" campaign in 2016 aimed to get shoppers out of auto-pilot and take notice of Tim Horton's through in-store drive-thru that took orders for a single-serve cup of Tim's.

Now retail "needs to become the DNA of this brand," rather than a category within its product offering. His next big focus? Ecomm, says Shankman. "As all of these ecommerce channels continue to develop, as consumers begin to turn to non-traditional models for ordering food or beverages, [the challenge will be finding the] right ones for Tim's that complement our restaurant division and where can we get to market the quickest."