The Coalition for Gun Control looks to pull the trigger for change
The non-profit launches an advocacy campaign as Toronto nears a record level of homicides in 2018.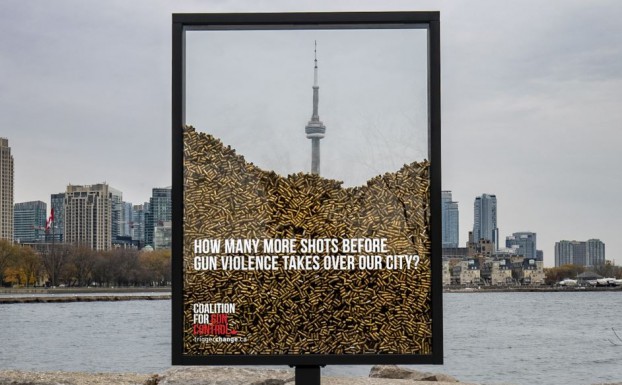 It's been a difficult year for gun violence in Toronto.
With a shooting in the city's west-end in the early hours of Nov. 14, the number of homicides in Toronto this year has risen to 89 – tying a record previously set in 1991 – with 46 being attributed to shootings.
That makes the launch of a new advocacy campaign by The Coalition for Gun Control in support of stricter gun control legislation all the more powerful.
The campaign, called "Trigger Change," launched on Nov. 13 with the placement of a 13-foot tall bullet exclamation mark entitled "Bullet Point!" at Toronto City Hall next to the iconic "Toronto" sign that adorns Nathan Phillips Square. The campaign comes as the federal government prepares to wrap up its national consultation on the possibility of a handgun ban before the end of the year.
"We have had opportunities to ban handguns in the past. Had we acted in 2006 when there were around 300,000, it would have been far easier than it is today when we have almost one million," said Wendy Cukier, president of the Coalition for Gun Control, in a statement. "We are reaching a tipping point from which there is no return."
In addition to being shaped like an exclamation mark, the "Bullet Point!" structure at City Hall serves as an exclamation mark on a broader integrated campaign by agency Zulu Alpha Kilo that includes cinema, TV, digital, billboards and OOH in the Toronto area. UM is handling the media planning.
A 30-second spot commercial highlights humanity's destructive tendencies and in the backdrop of beautiful imagery of wildlife and lush forests (signs of our destructive nature), pointedly asks, "Why do we need handguns?"
In a second, digital-only video, Canadians who have personally experienced gun violence share the stories that have turned them into gun advocates. There's the mother whose three young children were shot in the middle of the day earlier this summer, the mother whose son was murdered in what would have otherwise been a fist fight between friends. That spot ends with the line, "The cost of living in Toronto shouldn't be a life" and invites viewers to visit TriggerChange.ca, where they can learn about the issue and sign a petition to ban the sale of handguns and assault weapons.
In support of the video assets, "Trigger Change" includes billboards alongside Toronto's Gardiner Expressway: "Why is gun violence rising faster than Toronto condos?" and "Number of shots it takes to destroy a family: 1." These are the facts and questions Canadians are being asked to mull over as they drive. Additional outdoor signages include photos of the Toronto cityscape, altered by an overflow of bullets. It asks, "How many more shots before gun violence takes over our city?"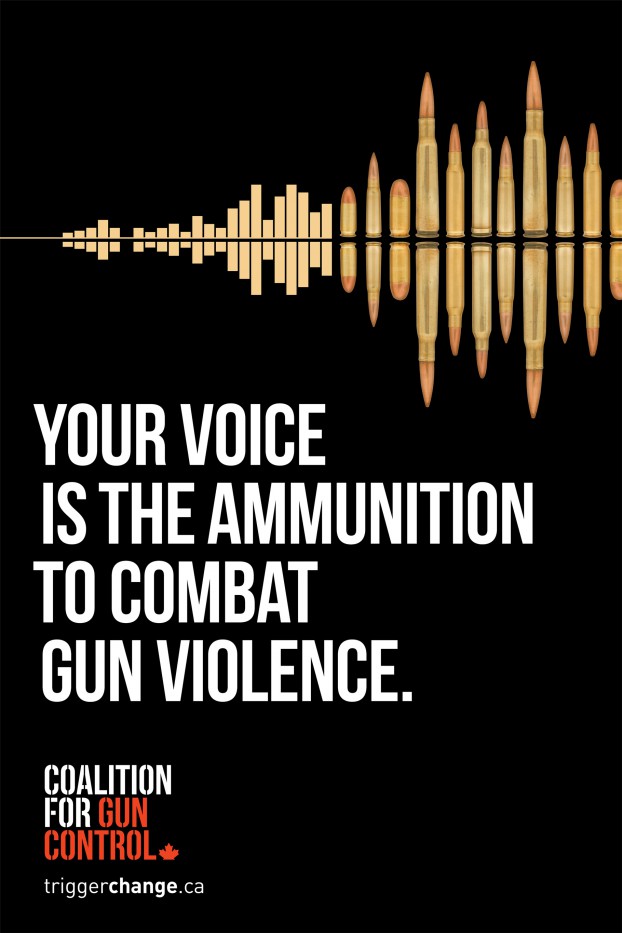 The campaign lands as Toronto faces a record number of gun-related homicides this year, mirroring a rise in gun violence that has been felt nationwide. According to Statistics Canada data, Canada's firearm-related crime rose 40% between 2013 and 2017, and handguns currently account for nearly 60% of shooting homicides.

The Coalition for Gun Control was formed following the 1989 Montreal massacre that saw 28 people wounded and 14 women murdered at École Polytechnique, with the goal of reducing gun death, injury and crime.