Corona brings sustainability efforts to Canada
The global beer brand will run shoreline clean-ups and remove plastic from packaging as part of its broader eco goals.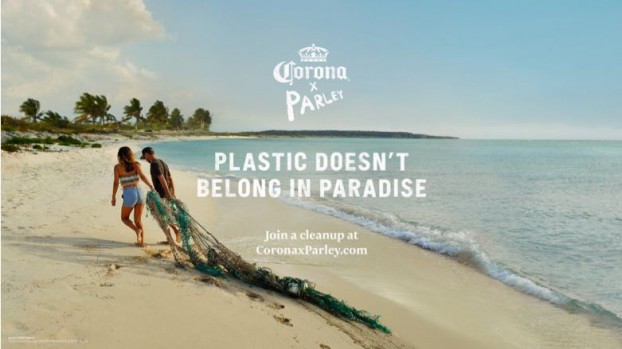 As the issue of plastic waste takes on greater urgency at home and abroad – with some eight million metric tonnes of plastic pollution entering the world's oceans each year – a growing number of brands have made commitments to curb their reliance on single-use plastics.
Corona, the Mexico-born AB-InBev beer brand, is the latest multinational to mount sustainability efforts in Canada, announcing late last week that it will bring its global partnership with Parley for the Oceans, an organization working to address threats to the ocean, to our own beaches and shorelines this summer.
It's an important move given that Canada has the longest shoreline in the world and represents roughly 60% of all the lakes in the world, says Kyle Norrington, president of Labatt Breweries of Canada, who first worked on the global partnership when he was VP of global marketing for AB-InBev in New York. (He notes that Corona is on track to meet its commitment, made two years ago, of helping to protect 100 islands by cleaning up its shores by 2020).
The Canadian portion of the global "Corona x Parley" initiative (which involves eight other countries, including Mexico, Brazil, the United Kingdom, Italy and Spain) is two-fold.
 Kyle Norrington (far right), president of Labatt Breweries of Canada, discusses Corona's sustainability commitments at The Walrus Talks Trash in Toronto on May 30. 
First, Corona has promised to clean one square metre of Canadian shoreline for every specially marked case of Corona sold in Canada, as well as every bucket of Corona sold in participating bars and restaurants, with the goal of cleaning 850,000 square metres of land over the summer. The plastic collection effort includes a "national clean-up network," consisting of 50 beach clean-ups happening across the country. During five of the events (in Toronto, Montreal, Vancouver, Calgary and Halifax), participants will be able to turn over collected plastic in exchange for Corona merchandise and other perks, says Norrington.
Secondly, starting in October 2019, Corona will replace the plastic packaging on its cans with compostable cardboard boxes (pictured to the right, below). The company claims this will help reduce the amount of single-use plastics in Canada, which is the second-largest beer can producer worldwide, behind only Mexico. The packaging redesign follows a trial of plastic-free biodegradable fiber six-pack rings for Corona in Mexico (pictured to the left, below). Norrington says Corona has chosen not to bring the biodegradable rings to Canada just yet, as the pilot only launched in January and the company "wanted to move quickly to remove plastic packaging from shelf."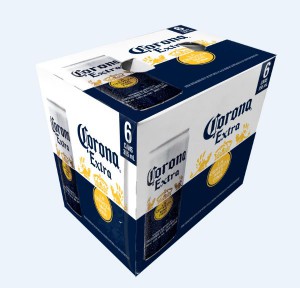 Ahead of announcing the partnership at The Walrus Talks Trash event at the Broadview Hotel in Toronto last week, Norrington told strategy that the initiative comes as people around the world, including Canada, become more accepting of brands "playing a bigger role in society."
"We pride ourselves around the idea of bringing people together for a better world, and we can do that through the power of our brands, especially ones as strong as Corona," he said.
It was a sentiment echoed by Mike Long, director of operations at Parley for the Oceans, who spoke of the organization's eagerness to work with global brands that can help transform consumer behaviour, during his own Walrus Talks presentation. For example, he noted how Parley has worked with Adidas to clear plastic waste from the Maldives and transform the materials into high-performance sportswear.
Other speakers, including Michelle Genttner, co-owner of Toronto's zero-waste Unboxed Market, noted the impact global brands can have on transforming supply chains for the better, while delving into the challenges independent stores like hers face. (Negotiating with suppliers, without the purchasing power levelled by multinationals, ranks among its biggest challenges.)
For Norrington, Corona's work with Parley fits into Labatt's broader sustainability goals, both in Canada and abroad. Sustainability is "not a part of our business, it's our business," he says. "We intend to be around for hundreds of years to come. If you don't think about sustainability and build it into your business, then you're missing the boat."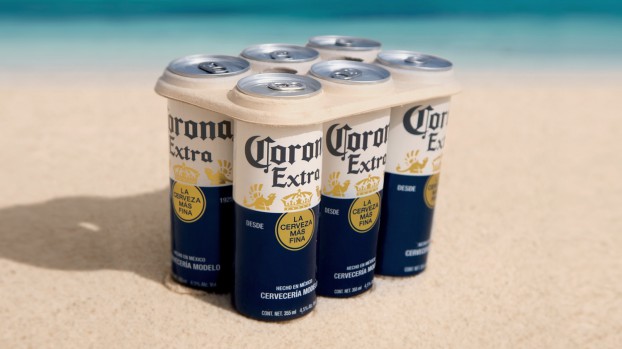 Aside from Corona, AB-Inbev has committed to supporting sustainable agriculture, improving water availability and quality in "high-stress" regions of the world, reducing its CO2 emissions by 25% and having 100% of its products made from packaging that's returnable or made from majority recycled material by 2025. Most recently, ahead of the Superbowl, it announced its goal to use 100% renewable electricity through a Canada-specific partnership with North American electricity provider Direct Energy.
But whether – or how soon – the company will take cues from Corona, going entirely plastic-free across its beer portfolio, is another question.
Norrington says the opportunity for Labatt to "lead the way with Corona, and continue to pave the path for a better world behind that one brand is just the smart thing to do."