BMO builds soccer nets out of old jerseys
The bank is activating its sponsorship of the Montreal Impact to support youth soccer programs in Quebec.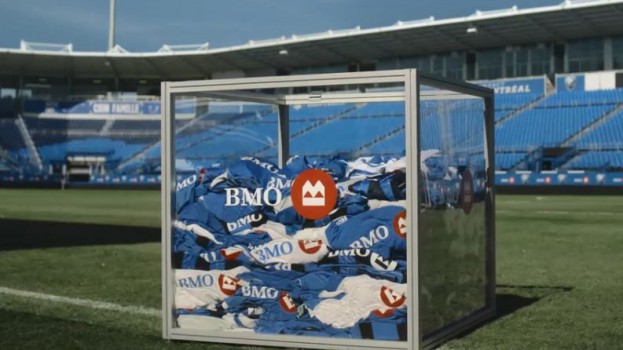 The Bank of Montreal is driving a community message in Quebec with the launch of a spot thanking Montreal Impact fans for their contributions during its recent "Échange #FanFini" initiative.
The bank sponsors soccer nationally through agreements with each of the three Canadian teams in Major League Soccer, including the Toronto FC and Vancouver Whitecaps. But while the strategy is led nationally, marketers responsible for each region aim to "really echo it and amplify it for the local market," says Mélanie Miron, senior manager of brand and sponsorship advertising at BMO, who oversees activity in the Quebec market.
BMO has sponsored the Montreal Impact since the team's inaugural season in 2012. It has sought to position itself as the club's "ultimate fan" through a "FanFini" platform for the last three years, Miron says ("FanFini" roughly translates to "ultimate fan" in English).
But a new iteration of that work has unfolded over the last several months, bringing a stronger community component through an "Échange #FanFini" campaign that has culminated in the release of a spot describing the initiative and BMO's support for youth soccer.
It all started with the unveiling of the Impact's new black and blue primary jerseys in February. During events held in March and April, BMO invited club fans to exchange jerseys in the old colours for a new one. It handed out a total of 500 jerseys, though recipients remained unaware that their contributions would be used as part of a larger initiative, Miron says.
It then worked with Quebec designer Christine Grenier to transform the old jerseys into regulation soccer nets for youth leagues in Montreal. Under the supervision of Grenier, who had to invent a new weaving technique, the nets were produced by locals with equipment designed by engineer Lucas Abouchaar. "Every part of the process was developed specifically for this invitive," Miron says. "There was no template, nothing."
The film launched last week and will run until the end of the MLS regular season in October. BMO has focused its media strategy on targeting fans on social who visited the "Échange #FanFini" online hub during the campaign, as well as those who have participated in the effort, as a way of saying thanks and to ensure awareness of what the bank did with the old jerseys. The ad has also been running on TVA Sports, another important touchpoint for Impact followers, and further distributed through the team's owned channels, according to Miron.
As described in the French-only spot, BMO has donated the nets to a pair of parks near Saputo Stadium in Montreal, which were in need of new equipment and had shown an early interest in participating. Additional nets are currently being built as the bank searches for other partners. The primary goal, Miron says, was to ensure sure the nets would be ready for this year's soccer season. They are expected to be used by roughly 800 young soccer players this year.
Miron says the strategy is part of a larger national focus on community, but could not comment on the specific work being done in other markets. "Right now, we link more at a high level strategically, but we coordinate our efforts to amplify our strategy."
"The fact that the Montreal Impact were launching their jersey made it more of a natural for us. Cookie cutter scenarios might not work…. [You have to consider] what the fans want and what triggers joy and pride with the parameters that you have in a certain year."
BMO worked with FCB Montreal and SOMA on creative and production, respectively. Promo Staff led on promotion and events, with UM supporting on media and Agence FDM on PR.