Becel takes sampling and couponing to bakeries
The margarine brand is heroing two vegan SKUs as it looks to compete with conventional butter for baking.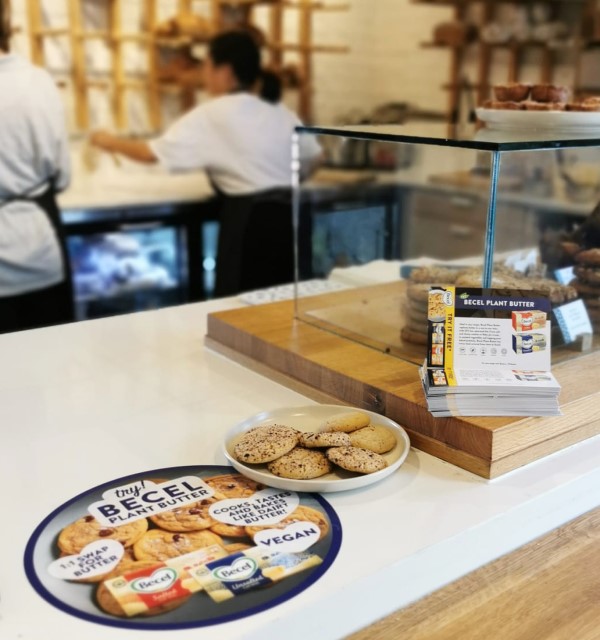 Becel is hoping to convince bakery patrons its plant-based products work just as well as butter when they try their own baking at home.
The margarine brand, along with its AOR Dentsu and Eat It Up Media, is offering baked goods made with two "plant butter" hero SKUs – salted and unsalted – at bakeries across Toronto until Oct. 30. The brand is also giving out tearaway cards with product info, which can also be used for free product redemption.
At point of sale, there are 12-inch decals calling out the product's vegan bona fides, as well as the quality and ease of baking when using Becel.
"We wanted to make sure it was as singular a message as possible," says Mandy Au, innovation brand manager at parent company Upfield, which also manufacturers I Can't Believe It's Not Butter!, Imperial and dairy free Violife brands. "And we wanted to allow consumers to try products made with Becel, and see how well they perform."
Au tells strategy, consumers do not have to make anything themselves, just visit one of the ten participating bakeries across the city, get a free sample of a goodie that's made with Becel, and hopefully fall in love with it.
According to Au, getting testimonials from well-known bakers and sharing fresh baked products with customers is valuable to Becel as a brand to further build its credibility in the "yellow fats" category, where it directly competes with the likes of Earth's Own dairy free butter and Miyoko's butter culture vegan, as well as other nimble challengers.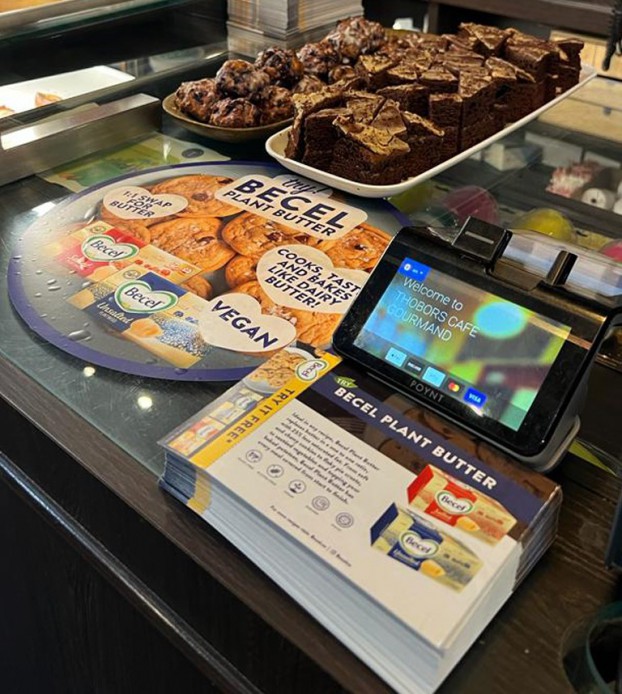 "We love the way butter tastes and performs and we try to learn from butter and everything they do," she admits. People are always going to be cooking with fats, Au maintains, and as a brand Becel has to continue to communicate its functional benefits, like it does with its tearaway cards.
According to Au, this is the first time it's working with Montreal's Eat It Up Media, which specializes in out-of-home and experiential marketing activations. The brand was introduced to the agency via creative agency Dentsu.
"We wanted to start small, so that we can work through any kinks," Au says, adding that it wants to eventually go coast to coast with the bakery initiative.
"It's one thing to sample in a grocery store, but it's limited in what that execution can be," she adds. Generally, it's taking Becel and spreading it on a fresh baguette, but with the Eat it Up Media/Dentsu event, it's end-to-end: tasting a product made from Becel and couponing too.
Becel has previously gotten its product in front of consumers directly via Dentsu and Sampler, an avenue it continues to pursue, but Au says the brand is excited that traditional sampling is back after lockdowns.
The target is a wide range of ages, and Au says it's attracting younger audiences into vegan lifestyles, but also connecting with consumers loyal to the brand, and also those with food allergies and dietary restrictions.