Private label interest is booming
According to Caddle insights, amidst inflation, private label brands are seeing big spikes in search traffic.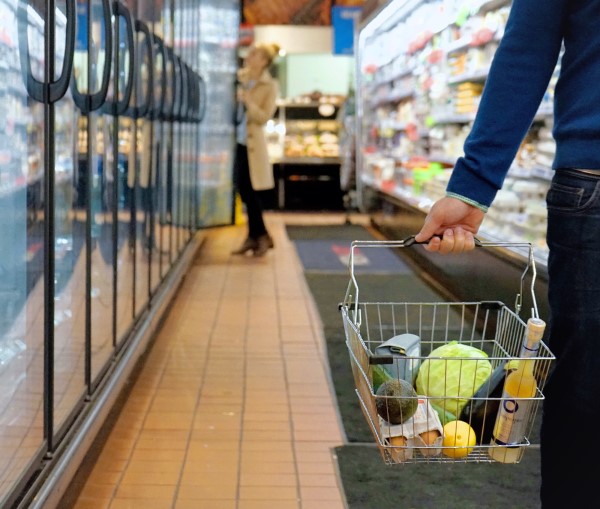 Interest in private label is skyrocketing, with more than three quarters of Canadians purchasing such an item in the last 12 months.
That's according to a recent "The Future of Private Label" Caddle survey of 3,500 consumers from its data insights panel, which also revealed that private label items are seeing a significant increase in searches with rising prices on national brands. For example, No Name bacon and No Name cheese observed an average lift of 16.45% and 65.77%, respectively.
According to the numbers, 28.4% of people have purchased "a little more" private label brands in the last six months, while 13.3% of respondents have purchased "a lot more" private label brands during that same period. Demographically speaking, Millennials and Gen Z's are buying private label more within the past six months.
The numbers reveal differences between age and brand choice, with Gen Z's more likely to have purchased private label at Freshco (18%), No Frills (46%), Shoppers Drug Mart (39%) and Walmart (62%); Millennials, by contrast, favour these items at Shoppers Drug Mart (39%). Gen X reported having most likely purchased private label at Sobeys (25%) and Real Canadian Superstore (11%).
Residents of the prairies, Atlantic provinces and Ontario are statistically more likely to have purchased private label brands than residents in other provinces.
Women are more likely to purchase private label brands for household cleaning products, dairy/eggs/cheese, canned goods, condiments/spices/baking and grains/pasta.
President's Choice remains the number one preferred brand, beating out No Name, Great Value, Kirkland and Compliments (see, below).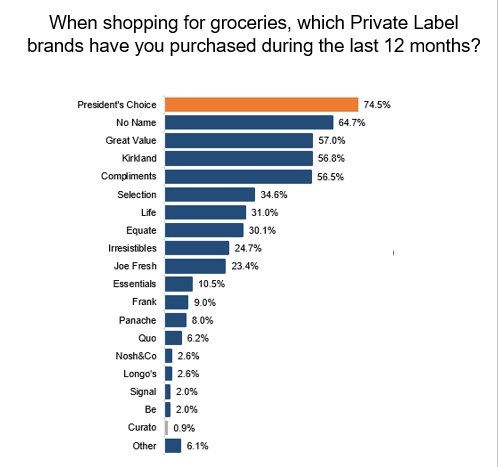 What would drive further interest in these kinds of products is lower price (69.9%), better quality (48.5%), innovation (17%), supporting the community (13.7%), less packaging waste (3.8%) and improved packaging design (2%).
According to the numbers, 58.9% buy these items exclusively in person, followed by 30.6% mostly in person, and 9% equally in person/online. Mostly online represents a mere 2%.
And the preference for private label appears to have legs: 76.6% of respondents say they will purchase about the same number of private label brands once the economy recovers.