LIFT brings CASSIES cases to life
The day after the awards, some of the big winners revealed their strategies for creating truly effective work.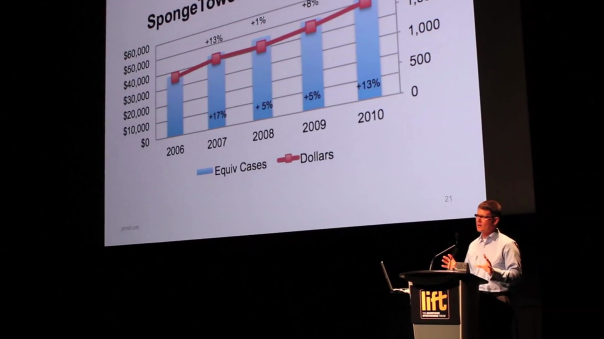 It was an uplifting morning yesterday as Advertising Week attendees filled a theatre in the Bell Lightbox to hear from some of the winning agency-brand teams from the CASSIES, and gain insight into delivering exceptional ROI.

To kick off the morning, Alex Hunt, SVP at Chicago-based Brainjuicer, demonstrated to the audience how eliciting an emotional response from consumers can be far more effective than appealing to their rational sides.

"We are not thinking machines that feel, but feeling machines that think," he noted, using the example of the British Cadbury Gorilla spot that became a viral sensation in 2009. While a gorilla drumming to Phil Collins has nothing to do with chocolate, it was proven that the spot resulted in £4.88 for every pound spent, and went viral with more than 10 million YouTube views. Why? Because it made people feel good. However, when measuring that ad against traditional metrics such as persuasion and brand linkage, it would have appeared to be a failure.

So, explained Hunt, the winning formula is creative talent = emotional appeal = largest business effects.

It's therefore fitting that the next speakers represented a campaign that definitely pulls at the heartstrings. Target's Noel O'Dea and Carmela Murphy of Newfoundland & Labrador Tourism took to the podium to discuss the organization's breakthrough work, which won the CASSIES Grand Prix this year. They talked about finding their target (higher income adults looking for an experience that's "off the beaten track"), noting that, "brands that try to appeal to everyone end up appealing to no one."

O'Dea quoted Howard Gossage: "People pay attention to what's interesting to them. Sometimes it's advertising," noting that every ad should be a discovery for the audience, not a declaration for the advertiser. Read more about the case and results here.

Up next, Arthur Fleishmann, president of John St. and Stephen Blythe, category director at Kruger Products, presented their Gold CASSIES-winning case for SpongeTowels. They were up against behemoth competitor Bounty, not to mention a brand that bore their old name – ScotTowels. Their case demonstrated how finding your point of differentiation, and making your brand likeable and respected can pay off in a big way. There was even a surprise visit from one of the "Sponge Pockets" who sat in the audience to enjoy the presentation.

Fleishmann and Blythe then presented a few things they've learned in the 10 years their two companies have worked together, including: know thy consumer, be true to your brand, own something, it's okay to be traditional sometimes (when that's what works better for the brand), lighten up (people love a good brand story injected with humour), and marketing is a team sport – it's a partner relationship. Click here to read more about the case.

Finally, Matt Johnston, VP sales and marketing at James Ready and Richard Bernstein, SVP managing director at Leo Burnett presented their case for the beer brand, which has won a multitude of awards over the years, including Media Gold and the Globe Creative Effectiveness Prize at the CASSIES on Monday. They also topped strategy's Creative Report Card this year.

They spoke about how they took a challenge – the fact that the brand had huge competitors but little money to advertise – and turned it into an opportunity.

When they began the campaign in 2008, Facebook was just starting to take off, but the team realized the value of creating a two-way dialogue with consumers, making them part of the brand by asking them to help "keep JR a buck."

Without the funds to purchase TV spots, the brand soon became known for their inventive use of media, such as billboards and even bottle caps. For more on the winning case and results, click here. And to read about JR's Creative Report Card win and what's next for the brand, click here.