Bell's multi-screen Olympic campaign
The company is highlighting multiple viewing options and its on-demand offerings in a campaign that includes a big push on social media.
Bell is using the London 2012 Olympic Games to showcase the multi-screen offerings it has for consumers to whet their Olympic appetites with.
Nine days and counting until the Games, and the company is celebrating with a national marketing campaign planned by Media Experts. In total, there will be 19 unique TV ads (10 in English and nine in French) created in collaboration by Leo Burnett, Zulu Alpha Kilo and Lg2, as well as a strong support of online, print and OOH advertising, says Rick Seifeddine, SVP Brand, Bell Media.
"We're an official broadcaster of the Games and we really can't try people's patience. I think we owe it to people to entertain them or give them something compelling to watch," he says of the advertising material. "I'm hoping that the ads paint a picture of Bell right now. During the Beijing Games, we launched the new brand. The Vancouver Games, I think we really entrenched the new brand as the operating optic for Bell. And I think in these games, we are just going to take flight with it."
The campaign is about viewers having a multiple-screen experience during the Olympics and each ad is tailored to speak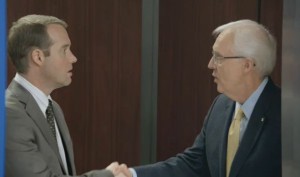 of Bell Media products that offer on-demand content on every broadband screen, says Seifeddine. "It's clear that Bell isn't a telecom company anymore, we're in the screens business now," he adds.

Social media is also a big part of the picture for the broadcaster, which will see two new initiatives on Facebook and on mobile. The "Bell 2012 Game Scheduler" is basically a socialized program schedule, allowing users to set up personal viewing schedules of the Games with friends. The "Make it Epic" mobile app allows viewers to shoot video of anything they please and convert it to slow motion with an overlay of the Chariots of Fire theme song and share those epic moments on social media.

"We're doing more social media this year than ever before," he notes. "Precious few events are exciting and live anymore, where everyone sits to gather and watch something together. So it just makes sense for us to offer connectivity along with broadcast enjoyment."