Shopper Innovation Awards: Integration
Gold honours in this category go to Loblaw for "BBQTown" and MasterCard for "Stylicity," while Maynards picks up Silver for "Make your Face a Maynards."
GOLD
Loblaw serves up summer
Summer barbequing is a beloved tradition for Canadians. As the weather changes, shoppers fill their baskets with summer essentials, such as burgers, buns and condiments. Loblaw wanted to establish its stores as a community hub during the season, launching its inaugural "Summer is Served" affair.
The event kicked off with the President's Choice BBQTown tour in April of 2012, created in partnership with Shaw Media, with Launch! and Mosaic Group on the execution. The national promotion encouraged Canadians to nominate and vote for their communities online for a chance to win a stand-alone barbeque event which included a concert from Canadian band Hedley, as well as a Guinness World Record attempt at the "Most hamburgers assembled in an hour" and a donation of $25,000 to the President's Choice Children's Charity. Nine communities were nominated, with Chatham, Ontario winning the grand prize event held in August at Tecumseh Park.
The retailer took the promotion closer to stores for those who missed out on the tour, launching the CheckOut program in over 100 store parking lots across the country and surprising shoppers with samples of President's Choice ice cream, Schneider sausages, Pepsi and Banana Boat sunscreen. Shoppers also had the chance to win a Fiat. The event extended to approximately 800 stores nationally with flyer and digital integration, in-store sampling, special offers and point-of-sale signage to clearly identify summer essentials.
Results showed "Summer is Served" was a success, with President's Choice BBQTown generating 83 million mass media impressions, over 850,000 consumer intercepts and 150,000 deep experiences. In total, more than 130,000 President's Choice product samples were distributed to approximately 47,000 attendees. In addition, the CheckOut program generated over 37,000 consumer intercepts and 23,000 deep experiences, and approximately 530,000 samples of President's Choice and national brand products were distributed to over 53,000 attendees.
Credits:
Client: Loblaw Companies
Agencies: Launch!, Mosaic Group
Shopper marketing: Wes Brown, Melissa D'Amico
Brand marketing: Ryan Brown, Roxanne Nodello
Media: Fiona Gallagher
GOLD
MasterCard styles a city
When MasterCard Canada became a sponsor of Toronto Fashion Week in 2011, it signaled a commitment to high-fashion. But the credit card co. needed to find a way to activate at the retail level.
Toronto is not regarded as a fashion hub like Paris, Milan or New York, yet various Toronto neighbourhoods are hotbeds for fashion, carrying their own unique style. So MasterCard created a retail program called Stylicity leveraging both the spring Fashion Week and the unique offerings of Toronto's neighbourhoods to frame the city as a destination for all things fashionable.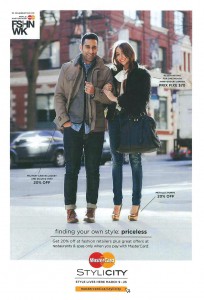 Working with MacLaren McCann, the brand recruited fashionable Toronto retail stores, restaurants and spas in key neighbourhoods to offer cardholders exclusive discounts and experiences that coincided with the event.
Creative was a reflection of each neighbourhood's unique street-style and fashion, with TSAs and wild postings featuring real people styled in their own wardrobes. Recognizable locations in the heart of each neighbourhood served as the backdrop, and executions were interspersed with maps highlighting nearby Stylicity locations.
The Style Reporter, a first-of-its kind fashion supplement was distributed in the Toronto Star, at World MasterCard Fashion Week and in fashion-conscious neighbourhoods. The piece featured offers and included editorial created by key influencers, such as Pink Tartan founder Kimberley Newport-Mimran.
Media drove to a Stylicity blog, where local fashion bloggers posted about their experiences and directed readers to where they could find their next meal or purchase. Facebook, Twitter and Pinterest integrations also helped spread the word.
The goals were to lift MasterCard transaction volume at Stylicity partner locations and create broad consumer awareness and participation, establishing Stylicity as the retail program associated with World MasterCard Fashion Week.
Because this was a new program, the benchmark was an increase in normal spending versus the same period the year prior. The campaign exceeded expectations, with a 600% increase in unique MasterCard usage, a 71% increase in gross dollar volume spend on cards and a 78% increase in the number of transactions.
The Stylicity blog received more than 10,000 unique page visits, double the expected number. Facebook likes increased by 400% and Twitter followers rose to 5,200 from next to none. In addition, Stylicity partners nearly doubled (99 from 52) compared to the fall 2011 pilot.
Credits:
Client: MasterCard
Agency: MacLaren McCann
Head of marketing: Lilian Tomovich
CDs: Sean Davison, Mike Halminen
ADs: Robert Kingston, Jeremy Lenz, Simon Tuplin, Matt Howe
CWs: Jason Levine, Ron MacDonald
SILVER

Maynards customizes candy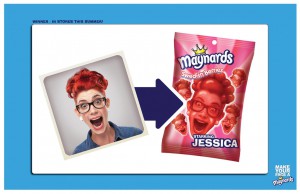 Candy is the ultimate impulse buy, and so the category is highly competitive with new products introduced every day. Overcoming the challenge of category competition was only half the battle for Maynards, which was also looking to build umbrella brand affinity and awareness amongst elusive millennials.
Thanks to reality TV and YouTube, we live in a world where anyone can be famous. Many young people are cultivating themselves as pseudo-celebrities and have a deep desire to be discovered. The "Make Your Face a Maynard" program capitalized on this obsession.
The campaign, created by The Hive, invited consumers to engage with Maynards by giving them the chance to become an actual candy, sold in stores across Canada. A cast of silly characters were featured in OOH that spanned transit, malls and movie theatres, alongside TV spots and online ads. Special packaging and in-store displays rounded out the brand experience, and all communications drove to the Maynards Facebook page where they could digitize their face into a Maynards candy.
The campaign ran from mid-July to the end of September 2011, generating over nine million earned media impressions. Over 50,000 new fans joined the Facebook page to create thousands of candy faces, and after the program ended, an additional 50,000 new fans joined the page to plead with the brand to bring back the contest for another year. More importantly, the program drove purchase intent (+22%), unaided brand awareness (+24%), relevance (+16%) and uniqueness (+24%), surpassing expectations.
Credits:
Client: Mondelez Canada
Agency: The Hive
Director of marketing: Mackenzie Davison
Brand manager: Jessica Sheth
CCO: Simon Creet
AD: Brad Van Schaik
CW: Klint Davies