Transforming Maple Leaf
The manufacturer is changing into a food marketing machine focused on building love for its brands.
Stephen Graham walks into the Maple Leaf boardroom humming a song. It's the new tune for an upcoming Olivieri spot due out this month. They just chose the track that morning and planned to finalize it right after our interview.
"Fresh," by '70s R&B band Kool & the Gang has been stuck in his head all day, he says. And he hopes it'll be stuck in yours too.
A catchy tune for its latest ad is just another way 86-year-old Maple Leaf is trying to get into consumers' hearts and minds.
Graham, who joined Canada's fifth-largest CPG company as CMO in 2010, tends to get pulled into companies as they go through "transformations." As CMO at AT&T starting in 1996, he was brought in during the "wireless wars," and was named Ad Age's CMO of the year in 1999 for his branding efforts against Sprint. At Coca-Cola, it was the soda wars, where he helped reposition the brand against Pepsi. With Maple Leaf, Graham had a different challenge.
It's a well told story now. In 2008, Maple Leaf issued a meat recall as a result of listeria contamination from its North York, ON plant, resulting in 22 deaths.
In the ensuing months, president and CEO Michael McCain took to the airwaves, quickly owning up to the outbreak, offering public apologies and promising that such a tragedy would never happen again at Maple Leaf.
From a PR perspective, the company became the gold standard for its handling of the crisis, according to multiple media sites and industry analysis.
But confidence was damaged, and the whole ordeal would go on to cost the company more than $100 million in lost sales, settlements and recovery. That was compounded with the 2008 recession, increased food costs, a more health-conscious consumer shying away from processed foods, and a boom in private-label lines.
Once buzz around the Listeriosis crisis subsided, Maple Leaf began chats with Graham, bringing him in as the company's first-ever chief marketing officer, to reorganize the way the food manufacturer sells itself. His job was no simple task: transform the way Maple Leaf operates to increase focus on brand-led innovation and emphasize the importance of marketing.
"We never had marketing at the centre before," says Graham. "It had all been in the business units."
Pre-2010, the company took a decentralized approach to its marcom: each of the brands had its own head, but there wasn't any direct access to the C-suite. Marketers across brands didn't really communicate with each other, and there was no one person leading the marketing charge for the entire company.
And this reflected in Maple Leaf's advertising. Focus was on the product, not the consumer, while campaigns tended to revolve around new launches, rather than build the brand, Graham says. He came in to bridge that gap.
He benefited from having a lineup full of market leaders: its bread, pastas and sauces, bacon, deli meats and wieners and sausages each enjoy the top market positions. All meat products have a 33% share, while baked goods enjoy a 43% hold.
But the company – even before the recall – was in a sales decline, dropping steadily from $5.9 billion in 2006 to $5.2 billion in 2007, before dropping off to $4.9 billion in 2010. Sales have leveled off between now and 2010, but are still far from their peak.
To reorganize with a marketing focus, he first shifted the corporate structure of the team. Marketing heads now report to Graham directly, as well as to their own business units (frozen baked goods or meats, for example), while on the corporate side, he made an effort to bolster expertise that could cross brands, such as digital, strategy or innovation.
"When I joined, we had a lot of talented people, [but] we needed to start moving faster and getting more focused on customer trends. We needed to make sure we were retaining and bringing in [marketing] people and treating this function as important," he says. Marketing will be a key factor in Maple Leaf's future success, he says, so it's important to treat it as such.
He likes to "collect" talented people, he jokes, and since he's joined, he figures he's added 20% to 30% new staff to his 200-plus marketing team.
Maple Leaf also changed its relationship with its advertising agencies, tapping three agencies to work across its big portfolios — meat (John St.) bread (JWT) and pasta (Ogilvy). In fall of 2012, it added Cundari to handle digital for bread.
Having worked with Maple Leaf since 2004, Angus Tucker, partner and ECD at John St., says the shifts are noticeable. The agency is now treated as a partner, rather than a service provider, and emphasis is placed less on promoting new products and more on creating a brand halo.
"It's much more of a 360 [degree] relationship as opposed to project oriented in nature," he says. "In many ways they were a manufacturing company before. They are a marketing company now."
Core to this marketing focus, Graham made it a priority to reposition each of the company's lines across all divisions – from Maple Leaf to Italian bread line Vilaggio.
"The transformation agenda we set up when I came in was: rather than just [treat] our consumers as the target, make marketing more consumer insight-driven and move from reactive and tactical to proactive and strategic in how we provide value to consumers," Graham says. "And then [move] from an advertising and promotion focus to a more integrated look at how we use all the marketing tools."
Each brand was given its own identity and unique strategy that highlights the value it gives consumers, he says. "In the last two years, we've become very crisp on what our brands stand for."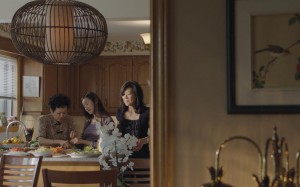 Prime chicken, for example, competes in a crowded category, with little differentiation on the shelf. Fresh meats tend to sit in similar Styrofoam packaging covered in plastic, while chicken itself looks pretty identical across all brands. Prime, as a result, was experiencing a decline in sales.
"Prior to Steve coming in, basically the only advertising done was for new products," says Tucker. "But there was no real emotional heart behind that brand. People didn't really feel much towards it. So they responded to it rationally."
To combat this, John St. and Maple Leaf, in spring 2011, launched what Tucker says was the first brand campaign for Prime in 10 years. The emphasis was on dinner — an ideal time to bring families together. Prime chicken attached itself to this core family time to make an emotional connection. Spots made heroes of the meal, focusing on happy interactions over preparation and consumption, bringing the product in only at the end. The promotion resulted in two consecutive years of double-digit sales growth, Graham says.
For Dempster's, the company took a slightly different route. Despite being a Canadian-owned and manufactured brand, consumers weren't aware that it was Canadian. Nor were many aware of the nutrients in bread.
"So we launched the position that [Dempster's is] Canada's bakery and [highlighted] all the good things in it," Graham says. "When you think about it, we represent half of Canada's food guide."
The campaigns, by JWT and Cundari, really drive home the patriotism and health benefits of bread. They feature Canadian stars, such as hockey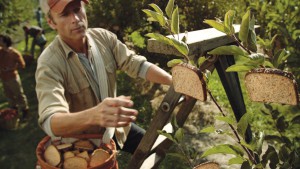 player Sidney Crosby (in 2011) and comedian Gerry Dee (in 2013), while another spot (launched in 2012) features a "bread farmer" plucking slices from trees, as one would for fruits. Everything drives back to Naturallydempsters.ca, which offers healthy recipes, emphasizing bread as an important part of a daily diet, Graham says.
"I think a lot of times companies forget [what role their products play in people's lives]," he says. "Companies become consumed with 'Well, we make this. You should buy it.' And the consumer asks, 'Why? How is it going to make life better?'"
To help improve people's lives, Graham says a key focus for the company has been on making innovative products.
Now, each of the marketing departments have dedicated "innovation teams," as well as a newly-established centralized team solely dedicated to creating new or improved products, allowing for a much larger pipeline of ideas. Product developers report directly to the marketing teams, so innovations are consumer-led to help keep the brands relevant, where before, it tended to be product-led. Its ThinkFood! innovation lab in Mississauga, for example, brings together chefs, product developers and consumers to help create or tweak new lines.
Maple Leaf also established three core factors driving innovation at the company: changing demographics (such as single-person households), emphasis on health and nutrition, and the increased importance of food convenience, which wasn't clearly laid out prior to Graham's arrival. All new products should address one or more of these realities, he says.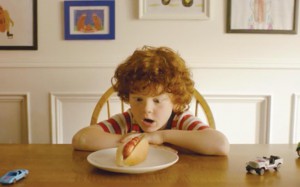 He points to Maple Leaf's Natural Selections as a great example. The meat line faced increased concerns over processed foods and had been in a steady 1% annual decline. The 2008 recall accelerated that.
To combat this, the company expanded its no-preservative products (which was only available in a couple of SKUs) across the entire line, with campaigns re-introducing the products to the masses as something that was once banned, but can now be enjoyed by all – including moms weary of processed foods. (It also introduced Maple Leaf's more brand-focused message of "Your butcher shop.") As a result, the brand grew sales 5.8% in the first year and 10.1% in the second. Since its launch, Maple Leaf market share has grown by more than 30%, and holds four of the top 10 sliced meat SKUs in Canada.
Simultaneous to Maple Leaf's rebrand, Graham says they "bet the farm" and relaunched the Schneiders line as an all- natural product as well. While they feared that with so many new SKUs retailers might be unwilling to take both full lines at the same time, he says stores were on board, happy to have lots of on-trend products to stock on shelves.
The two complete new lines launched within six months of their ideation, something that highlights the speed at which Graham's been leading the change.
"Large companies need to move faster," he says. "There are tons of entrepreneurs out there who are going to create things if you don't. So to be a competitive company, you have to be the one creating innovation."
Only three years into the job, he's still early in the company's transformation efforts, recognizing that some of the brands aren't where they need to be "yet." But he figures that with 30 million Canadians and roughly 100 million meals a day, Maple Leaf should be ubiquitous in people's lives. It's just a matter of selling itself as such.
"If we're not important to [an element of] people's lives, then by definition, we're not important," he says.  "So [the question is], how do we become more important by helping people, which takes us beyond a functional product? We're not selling Nike shoes. We're selling food. So we have to work hard to make it interesting."
Going digital
Maple Leaf has gotten into the digital swing of things.
Graham admits the company's online presence wasn't great prior to 2010, but says that it's a big focus now.
To kick things off, he created a digital team of seven over the last few years, and recently signed on Cundari as the brand's first-ever digital agency partner.
Because many of the foods Maple Leaf sells (primarily milk and meat) are low engagement categories, Cundari was tasked with piquing interest by moving from product messaging to entertainment in order to attract eyeballs, says Jennifer Steinmann, VP, director of client services at Cundari.
The kick-off effort is a campaign for Dempster's, focused on the nutrients of bread. Tapping Canadian comedian Gerry Dee, the agency hijacked a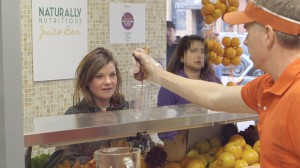 juice bar and kids day camp in hidden-camera style commercials. The first spot features Dee behind the bar serving real customers juice cocktails with Dempster's bread mashed in for a nutrient-infused drink. In the second, Dee takes over a sports camp, offering young tykes grilled cheese sandwiches with cooked spinach in place of bread.

"We're pushing the envelope from a creative perspective," says Steinmann. "They're really taking risks. We're taking them to places that are a bit uncomfortable, given that they've [gone] from product messaging to hijacking and candid cameras."

In less than two months, the two videos have surpassed 1.4 million hits on YouTube, with the kids' camp one garnering more than 500,000 views in two weeks.

While at press time Steinmann had no metrics to share on sales success of the campaign, she says the conversations happening around the videos were positive and seemed to be "striking the right chord."