Retail trends: What's hot, what's not
Shopper DDB's Jason Dubroy and Capital C's Tony Chapman on the rise of simplicity, mobile loyalty and donuts, and the fall of square corners and cupcakes.
What's hot:
Simplicity: People want simplicity in everything. And shopper marketers are slowly realizing this. The days of busy packaging chock-full of messaging, features and benefits are behind us.
"Your brain is already tasked when you're trying to navigate around the store, checking off your shopping list, trying to keep your kids in check and maintaining the integrity of your budget," says Jason Dubroy, VP managing director, shopper marketing, DDB. "Designers, marketers and retailers are starting to understand that the act of consuming marketing while shopping is completely different than the act of consuming marketing when you're in a passive state, like watching TV."
He points to executions like Quebec's Maison D'Orphee's retail edit done with Montreal-based Lg2, which simplified the design of its high-end oils and cut its SKUs from 56 to 35 in order to gain share in grocery stores, leading to a sales increase of 67%.
In-store solutions: Continuing on the simplicity theme, stores and brands are starting to offer solutions in the aisles. It's emerging as more commonplace in the U.S. and Europe, with retailers regularly putting together end-aisles with everything needed to make that night's dinner, and is slowly trickling into the Canadian market.
Dubroy points to Unilever brand Knorr's "What's for Dinner" campaign, which paired recipe cards and complementary ingredients on one stand, meaning the shopper didn't have to hunt around the store for everything.
"Now it's not about 'here's all the information you need [to make a meal],' it's about 'here's the solution to the problem we know you've got' [what to make for dinner] and 'here's a great way to leave the store with it,'" he says.
Capital C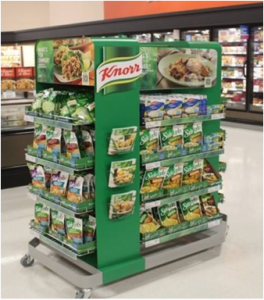 's CEO Tony Chapman agrees, adding that retailers are starting to make the shift as they've realized these types of in-store executions can help grow baskets. "This is a proven strategy of getting people to buy beyond what they thought they needed," he says. "They're saying, 'maybe I do need fresh cranberries,' or 'I should get some stuff for gravy.' And the next thing you know, you've increased your order size 10 to 15%."
 Mobile Loyalty: With Loblaws' introduction of its mobile loyalty card and Shoppers Drug Mart's personalized email promotions, Chapman says the loyalty space is primed for a shake-up.
Companies are just starting to play in the personalized or geo-targeted promotion space, and because mobile offers such integrated solutions, it's only a matter of time before we're rewarded with points or promotions for simply stepping into a store, he says. "Mobile will become your magic wand."
Donuts: Move over Tim Hortons. If you follow the foodie community at all, you'll know that donuts are the next big thing. But unless you live in an uber-hip neighbourhood, you would be forgiven if you've missed the pop-up of dedicated shops. Dubroy says this is going to change.
Every major city now has at least one specialty donut shop (Toronto has more than a dozen), and with TV shows like Donut Showdown on the Food Network, donuts are becoming a cultural movement, rather than just a foodie movement, Dubroy says. Grocery stores – especially those with on-trend bakery sections that jumped on the cupcake bandwagon – should take note: donuts are a great new offering for shoppers.
What's not:
Square corners: "It sounds funny, but it's true," says Dubroy. "The latest neurometric studies prove that our brains actually try to avert hard angles in our visual field. We are now starting to see more rounded corners or die-cuts on everything from header cards to shelf-talk units to shelving itself."
People gravitate towards rounded corners, as they don't provide sharp-edge visual cues which we associate with things like knife blades and scissors, which as children we were taught to be wary of, according to a 2012 study by Neurofocus.
Cupcakes: Don't let the sheer saturation of the cupcake market fool you, says Dubroy. With the rise of donuts, comes the fall of cupcakes. It's a sad, yet sweet demise. Apparently towns are only big enough for one baked sugary treat.
Loyalty cards: A 2013 study by Colloquy found loyalty memberships dropped off 11% since 2008. Whereas people often had an average of 9.2 loyalty cards in their wallet, that's since dropped to 8.2, and reflects the imminent death of the card itself, Chapman says. With mobile wallets and mobile loyalty on the rise, the physical card is facing potential demise.
QR codes: Dubroy promises (really promises) that QR codes are deader than a doornail. With NFC (slowly) making its way up north and utility-based branded apps becoming the norm, marketers still using QR codes needs to seriously rethink how they're driving people online.