Brands of the Year: Iögo's heroic entrance
Built from the ground up in barely 18 months, the yogurt brand helped save a 40-year-old Canadian company from losing it all.
Just over a year ago, the name Iögo was deliberately being kept under lock and key. Only employees at the yogurt brand's parent company Ultima Foods, partner agencies and retailers were aware of its existence. But now, after 14 months in market, you'd be hard-pressed to find a Canadian who isn't familiar with the brand's moniker or can at least identify its logo.
Iögo is a new addition to the yogurt market, and one that single-handedly rescued a four-decades-old company from near collapse.
At Ultima Foods, few relationships are brief. Two of the first three women who joined the yogurt and dairy manufacturing plant when it opened its doors in 1971 still work for the company today. From the very beginning, it produced and sold the same category-leading, Sodiaal-owned yogurt brand Yoplait and it has spent the past 13 years working with agency DentsuBos on its marketing.
But nothing lasts forever, a bleak truth Quebec and Calgary-based cooperatives Agropur and Agrifoods (which own Ultima and consist of more than 5,000 farmers) had to tackle when General Mills in the U.S. put in a proposal in 2011 to purchase controlling interests of the France-based yogurt brand.
At the time, Ultima faced losing 95% of its revenue and a significant portion of the company's 750-person staff if the licensing agreement went through. "We felt that we had to prepare for other options," says Lucie Rémillard, Ultima's VP of marketing.
And so began an 18-month undertaking that would eventually see the company launch a formidable yogurt contender and take back a third of the market share lost when General Mills finally purchased Yoplait in May 2012.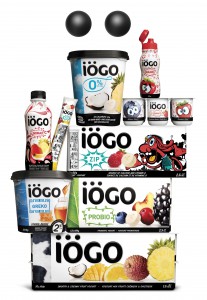 Ultima Foods first introduced Iögo to Canadians in August 2012. Close to $60 million was invested in development of the recipes of 45 products across seven lines, packaging and consumer research, as well as its marketing. Another $10 million was invested in expanding its plant because, at the time, Ultima was still producing Yoplait. Later, when the purchase agreement came to a close, the companies would agree to have the Canadian plant continue manufacturing Yoplait, but relinquish control of its marketing and sales revenue.
The first (and most exhaustive) step was finding a catchy and recognizable name that Canucks could appreciate.
"At least a thousand names were on the table. But research [with more than 4,000 consumers] showed that Iögo with the [umlaut – the double dots above the first letter 'o'] was a clear winner," says Claude Larin, VP brand strategy at DentsuBos, adding that the name is a complete fabrication by the team working on the brand. "The problem was, the dots made it look Scandinavian, but it was trying to be Canadian. So we just took the bull by its horns," he explains. "We said, 'Okay, let's work with these dots that are problematic and make a brand that's so recognizable that people forget it looks Scandinavian.'"
The result was streamlined, contemporary creative that put the umlaut in the centre of Iögo's marketing. A floating halo of two black dots sat above the heads of men, women, children, fruits and farm animals on billboards and television spots when the yogurt launched. The idea was simple – everyone who comes into contact with Iögo, becomes Iögo – but provided an instantly recognizable tie to the brand, complete with the tagline "Iögo. The new way to say yogurt."
Coming up with a fresh visual way to sell the new yogurt wasn't the only challenge: Iögo also needed a unique positioning that would separate it from its biggest competitors Yoplait and Danone, which are both owned by global companies, with the former holding 28% of the yogurt market. "The fact that we're owned by independent Canadian dairy farmers…that particular story is interesting to the consumer," Rémillard says. "They want to know where their yogurt is coming from."
"We were starting with a clean slate, and we had the opportunity to not fall into the yogurt clichés," adds Larin, noting that consumer research showed they were "fed up" with seeing women in ads eating yogurt in exaggerated ways. "We really didn't want to go that way. This was an opportunity to do something that was a real game-changer."
Targeting a more general audience, the new brand first appeared in cities across the country on billboards and in TV spots that hinted at something new. It went into full swing a couple weeks later when Iögo revealed itself in another string of television, digital, outdoor and transit ads.
PR agency Casacom coordinated the national communications strategy for Iögo, including media relations, influencer briefings, launch events and product sampling. It managed VIP events and experiential stunts, such as a Toronto flash mob where brand ambassadors (dressed in white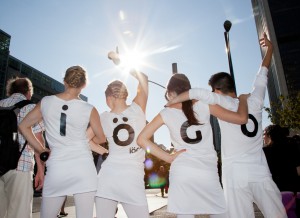 shirts each emblazoned with a letter from the brand's moniker) entertained pedestrians with choreographed dances while chanting the name Iögo.
The second phase laid the brand-positioning groundwork by featuring a minute-long story of the thousands of farmers across Canada who got together to make a yogurt. Soon after, another salvo of ads launched, introducing the seven gelatine and artificial flavour-free lines of Iögo (from low fat to probiotic-rich to Greek yogurt) and unique product features (such as resealable twist caps and "on-the-go" yogurt tubes).

After just two weeks in market, Iögo says it achieved an awareness rate of more than 74%, more than double the category's typical three-month rate of 32%. Trial of Iögo was triple the industry standards, with 32% of Canadians testing the yogurt. But what really indicated success was the 12.3% market share it had gained after only 10 weeks.

"When we first launched, we had to slow down a bit [on the marketing side] because the demand was so high. We had to [reinvest] our dollars into the plant to increase production," Rémillard says. A marketing hiatus caused the market share to drop slightly to 9%, but Rémillard is satisfied with the consumer adoption after only one year. The current creative in market, she says, will further inform the consumer of Iögo's positioning and continue to grow its share.

Launched in September, the latest campaign places more emphasis on the brand's roots with a new signature of "Iögo. Owned by Canadian dairy farmers." It's meant to build on the launch momentum, Rémillard says, while introducing consumers to new products. Iögo's 0% line is joined by a new yogurt that includes Stevia extract, a calorie-free natural sweetener. The brand is also launching six products in its Greko line in a bid to capitalize on the craze for Greek yogurt, which holds about a 6% share of the overall category in Canada (a rapid growth from just 1% in 2011).

Like the proverbial phoenix rising from the ashes, Iögo helped revive a company that lost much of what it spent decades building from the ground up. Larin remembers when Ultima president and CEO Gerry Doutre and Rémillard first walked into his office with the licensing predicament.

"We could see those dairy farmers [in our heads], rolling up their sleeves, taking a stand and saying, 'No, we won't give up what we spent 40 years building.'" he says. "And the thing about cooperatives is that you have time. It's not about shareholders waiting for their profits or stocks to go up. If it takes more time, then it takes more time. We're eventually going to get there."