Mid-season TV check-up
With new programs hitting screens, new regulations set to hit cable bundles and specialty audiences to attract (and keep), here's the lowdown on all the latest from TV land.
Dipping temperatures means more time indoors, and it also means a new slate of programming, including about 21 new scripted and unscripted shows across Canadian screens. The addition of an entire slate of high-profile programming is relatively new to the broadcast calendar, a phenomenon Mitch Dent, EVP sales at Rogers Media, chalks up to the evolving nature of the industry.
"I think fall being the primary driver of TV programming no longer exists. It is a 12-month business now," Dent says. "The rise of the mid-season has been a gradual metamorphosis. [It] comes down to consumers; people watch TV as much in April as they do in September. So at the end of the day, it is the maturing of the TV business."
Dent also points to the optimal launching pads for new shows in the winter season. For City, those include events like the Grammys, which air on Feb. 9. For Bell Media's CTV it is the Super Bowl and Academy Awards, the former airing on Sunday, Feb. 2. The broadcaster is giving this year's post-Bowl timeslot to its new original series MasterChef Canada. Any show that airs after the Super Bowl has traditionally enjoyed the subsequent ratings boost, with the mid-season finale of Flashpoint earning 1.32 million viewers in 2011 and the series premiere of Motive in 2013 earning 1.4 million viewers following the game.
As for what's coming to screens this winter, Greg Kinnear, Josh Holloway and a bevy of would-be Canadian MasterChefs are all potential stars of a hit mid-season show. Though much of the schedules are still being worked out, media insiders are making early predictions about how the new offerings will fare.
Thursday nights are expected to be ruled by Greg Kinnear's new legal drama Rake, which premieres on Global and Fox Jan. 23 at 9 p.m. Victor Correia, executive trading director, MEC Canada, picked the show as the only one of the mid-season pack that has what it takes to survive.
"Viewers will be starving for something new and fresh in this traditionally high-viewing time period, with its current top occupant Grey's Anatomy approaching the end of the road," he says. "Rake will feed viewers with a well-written, quirky drama that has something for everyone. It also reminded me a bit of House, which to date has yet to be imitated."
New Wednesday night comedy Mixology, which is produced by Ryan Seacrest and will air on CTV in Canada, follows 11 singles over the course of a night at a bar, and our analysts are torn on whether the show has the chops to stick around until last call.
"I love the concept of similar events from different characters' perspectives," says Laurie-Lynne Ungurain, director of trading at Maxus Canada. "It should do well for the fans who are mourning the final season of How I Met Your Mother."
Atreyee Dey, group director of broadcast, Touché! PHD, says the show has potential since people will be able to relate to the trials and tribulations of modern-day dating.
However, Victoria Morris, media director, Mindshare Canada, says the scripted show from Seacrest (the reality king famous for offerings from the Kardashians and Jonas Brothers) "has cheese written all over it."
Bailey Wilson, director of investment, UM, is excited about the possibilities for Global's pick-up of NBC's About a Boy, which stars Minnie Driver and is based on the novel by Nick Hornby.
Sunday night 9 p.m. drama Resurrection premieres on March 9 on City and is based on the people of Arcadia, Mo., who are forever changed when their deceased loved ones suddenly reappear. Dey says she doesn't see the show winning against traditionally stiff competition on Sunday nights, such as Castle on CTV.
CTV has a winning drama coming on Monday nights at 9 p.m., according to Trevor Clark, director, Mindshare Canada, with the launch of Lost's Josh Holloway-starring Intelligence, about a high-tech intelligence operative who was born with a supercomputer microchip in his brain.
"It plays well off the super-human aspect that things like Marvel's Agents of S.H.I.E.L.D. have seen success with, plus it has a couple of high-profile small-screen actors that will give it merit."
The Fall Hits + Misses
As far as TV seasons go, the start to the 2013-14 one has been strong, with only four shows cancelled out of 34 new titles.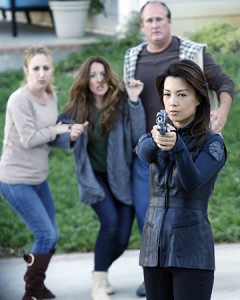 CTV didn't drop any show from its schedule and also boasts the number one new program of the season, the superhero-driven drama Marvel's Agents of S.H.I.E.L.D. (pictured left), airing Tuesday nights at 8 p.m., which brought in a total average audience of 2.85 million viewers per week from its debut until Nov. 11, according to numbers from BBM Canada.
Coming in at number two this fall was the James Spader-starring Global drama The Blacklist, on Monday nights at 10 p.m., bringing in 2.18 million total viewers on average from September to November. Overall, CTV had three of the five top new shows of the fall season, with the short run of Friday night's MasterChef Junior taking the number three spot and 15-episode Monday night 10 p.m. drama Hostages at number five. Global also had the number four show with Monday night's Sleepy Hollow.
Three of the four programs cut were on Global, with comedies We are Men, which aired Sundays at 7:30 p.m. and Welcome to the Family, which was on Mondays at 8 p.m., as the first casualties. Also gone for the channel was Wednesday night 10 p.m. police drama Ironside.
Rogers Media's City lost one show, the Tuesday night 10 p.m. drama Lucky 7, which followed a group of co-workers who won the lottery and the misfortunes that followed. Ah, irony.
Jump to: