The creative Wild West
Everyone's saddling up to take a run at ad agencies' lock on the ideas biz by bringing in creativity gunslingers.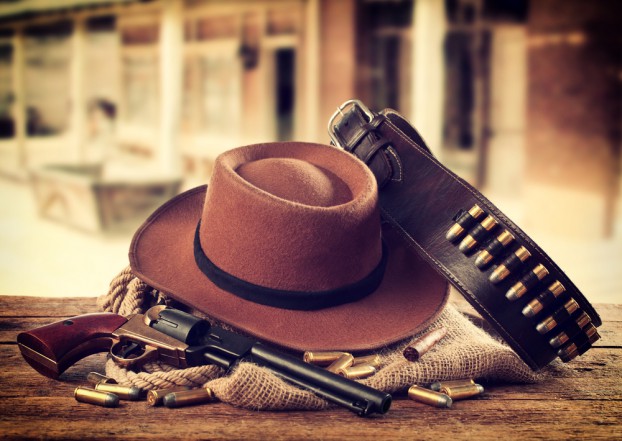 eople are scared of Helen Pak. She's a petite woman, with hair cropped close and stylishly. Her wide-rimmed glasses take up a third of her face. She's soft spoken and quick to greet people with a hug.
But Canadian creative directors at top ad agencies tell us they find her intimidating.
Pak started her career as an architect before making the leap into advertising, where she rose the ranks from art director to executive creative director in 14 years. Her LinkedIn account contains accolades from peers and clients alike. "Helen is a rock star," "Helen has impeccable style, in every sense," "…one of the best art directors I've ever met" and "To be quite frank, I'm in awe of Helen Pak," they say.
Her work has picked up numerous awards over the years at Cannes, the One Show, CASSIES, and most recently, AToMiC, where one of her last campaigns at Saatchi & Saatchi, "Surrender Your Say" for the Tourette Syndrome Foundation of Canada, won the Grand Prix.
But it's not her advertising acumen that scares people in the ad industry. It's that she's not working at an agency anymore.
She joined Facebook in November 2013 as a creative strategist in the Canadian office. Now she's working with other agencies to help make better ads on the social platform.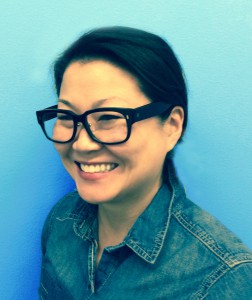 When Pak hears that prominent creative directors find her intimidating, her eyes widen in surprise. "Oh my gosh – I'm intimidating?" she asks. "Wow."
Mark D'Arcy, Facebook's global chief creative officer, laughs at the idea, saying "They've obviously never met Helen."
But they have – some have even worked with her.
The agency folks who've expressed concern about Pak's new position aren't afraid of her – they're afraid of what she represents.
A lot of people in the industry don't know what her move means for Facebook or the industry in general. And she's not the only one jumping ship from a traditional advertising agency to a new venture.
While the best "creatives" (those trained in art direction or copywriting with ad agency backgrounds) were traditionally housed at the big ad agencies like BBDO, DDB or Taxi, there's a bit of an exodus recently in the industry towards other types of shops, like PR or media houses, platforms like Facebook, and in some cases brands, as these companies realize the value of having a creative marketing mind in the mix to help better connect with consumers.
Digital forced the media landscape to change, and like most industries, the marcom space is trying to keep up. Social media shifted how we consume content, introducing new areas of expertise like branded content or real-time marketing – Red Bull dropped a man from space, and now brands are clamouring to build up content houses.
With so much digital information flying at consumers every day, the differentiator, people have said repeatedly, will be creativity. So companies are bringing this competitive advantage in house.
This means creatives can work anywhere, ideas come from everywhere and the old rules are out the window. The marcom landscape is a Wild West these days, and it seems the most creative people (and companies) will win.
t Facebook's offices at Yonge and Eglinton in Toronto, graffiti adorns the halls and people are invited to sign a physical Facebook "wall" as they pass through.
Pak is in a new wing built to accommodate the office's growth.
Facebook's creative group is only a few years old, started around the time D'Arcy, formerly of Time Warner Global Media Group, came on board.
He says the group grew from what agencies and brands were looking for, namely putting creativity at the heart of advertising on Facebook.
In its early days, brands treated the platform as a way of "building followers," which meant creating content that encouraged people to "like" a page in the hopes content would make it into news feeds. Except people don't really use Facebook to see the latest happenings over at Crest or Clorox. In a North American survey, content marketing agency iAcquire found just 12% of people have had purchase decisions influenced by a Facebook "like."
Furthermore, this method doesn't make Facebook money, as anyone can create a brand page for free.
The real benefit and opportunity, D'Arcy says, is in the targeted paid ads. With so much personal info shared over Facebook, the platform is able to send highly relevant ads directly to a brand's target demo.
But it doesn't matter how targeted an ad is if it's not a good one, says D'Arcy. So that's where bringing creative people to the table makes sense. And for creative agencies working with Facebook on behalf of clients, having a familiar face is meant to be reassuring.
"If I'm a creative person, it's really good to talk to another creative person who is going to protect and celebrate my idea," says D'Arcy.
That's where Pak, and 75 fellow creative strategists (made up of fellow ex-CDs, entrepreneurs, planners and brand people), come in – to work with agencies and brands to create better content on which people actually want to click.
And something must be working: even as its user-base growth has stagnated, globally, Facebook's ad clicks are up 70% year-over-year, while impressions are up 40%, according to Adobe's Social Intelligence Report.
In Canada, Pak runs four programs to help agencies and brands learn the ins and outs of the platform, all in an attempt to get everyone involved to create better Facebook ads. This includes Spark, a training session exclusive to agencies; Commerce Garage, a program dedicated to transforming "likes" into buys; and Anthology, which is a branded content boot camp. The program that started it all, Publishing Garage, is a two-day workshop for brands and all agency partners. Garage acts as an opportunity to hammer out a brand publishing schedule and rethink agency workflow in an attempt to streamline content creation.
But Garage doesn't happen unless there are representatives from all levels, says D'Arcy. "I started making all agency partners sit in on a single session because I was sick of having 12 meetings with 12 different people," he says. "Bring the social, PR, digital, media agencies – bring 'em all – because everybody is going to have an opinion when you're outside the room."
ut more players at the table means more opportunities for butting heads.
Talk to anyone on record and they'll declare the benefits of working with other partners and the positive relationships they have with fellow agencies.
Say "Not all agency partners play nice," and you tend to get a knowing chuckle back.
And off the record, industry heavyweights say while there are positive working situations when multiple agencies get to the table, in many cases "it's a mess," in the words of one creative director.
Beyond possible loss of business (since agencies are often paid on a per-project or retainer basis) there are potential brand-building risks that could undo the work from an agency when a PR or experiential shop proposes an equally grand, but different idea. And the more prominent the seat at the table, the more likely they will start advocating for their idea over the creative shop's.
It causes agency folks to go on the defensive, admits one Toronto CD. Their backs are up, so to speak.
PR and media shops that strategy spoke to say they aren't trying to steal business away from creative agencies, just trying to do their jobs in their own medium more creatively. But increasingly the lines are being blurred.
Toronto-based PR firm Edelman, for example, is building up a full-fledged creative department, hiring award-winning CD Jordan Doucette as executive creative director, previously at Taxi, where she led the business for nine years.
But eight months ago, Lisa Kimmel, general manager of Edelman, insisted on the record the firm had no plans to compete for traditional ad business. Today, it has picked up a new account, Canada Health Infoway, after pitching against ad agencies, and is actively pursuing new clients. Doucette was brought on board to help bring its creative to the next level, Kimmel says.
Edelman started getting a seat at the "big ideas" table a few years ago because issues were cropping up with ill-timed or inappropriate tweets or FB posts. PR, Kimmel says, was the perfect partner to both protect and promote a brand in a more immediate-response environment. Now, with real-time social marketing taking hold, PR's role has only been accelerated. And as it took over social, the PR firm began hiring more creative people, namely copywriters who could churn out content on the platforms.
But then brands started asking Edelman to take the lead. Kimmel remembers the first campaign for a CPG company, which was launching a product in a food category subject to strict ad regulations. Because of the associated issues, the PR firm took the lead, helping to shape a channel-agnostic campaign.
And this opened their eyes to the financial opportunities, she says.
Most recently, the agency worked on Kraft's Hockeyville campaign, trying to encourage towns to sign up for a chance to win $100,000 for their local ice rink.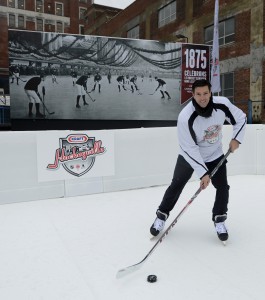 Tied to the NHL and CBC, Hockeyville suffered as a result of the 2013 NHL lockout. In 2014, Kraft invited its agency partners, which include Edelman, Anomaly, MediaVest, and more, to pitch an idea to relaunch the campaign.
The brand didn't specifically want a PR-first campaign, says Jack Hewitt, VP of consumer insights and portfolio marketing at Kraft. Edelman happened to bring forth the best idea – it proposed finding the first ice rink ever built in Canada, which has since been paved over with a parking lot, and put up a temporary arena, inviting locals to come out for a game of pick-up.
It was one of the best campaigns in Hockeyville's seven-year run, says Robyn Adelson, executive director, creative strategy, Edelman. At 63 million earned media impressions, 170 million media impressions and more than 500 submissions, it was the biggest numbers the program has seen to date, but it was the quality of the mentions that really stood out this year. "It's one thing to get Kraft mentioned in a [news] story, but it's another to get Kraft mentioned how you want it to be, with the image you wanted," says Kathy Murphy, corporate affairs director, Kraft.
Edelman isn't the only PR shop making headway into the creative space – Toronto-based Veritas recently announced the launch of its Growth and Innovation Lab and is seeking a senior creative person for the team, while Hill + Knowlton and MSLGroup recently brought in creatives.
Similar moves are being made at media agency holding company IPG Mediabrands, says Harvey Carroll, CEO of the Canadian office, who used to lead Toronto-based advertising agency Grip.
"Clients are getting more focused on finding creative business solutions to solve their problems," he says. "So they're looking to agencies to do different things and provide different solutions."
As brands become always-on content providers through social and digital channels, the "high-budget" TV commercials don't always make sense. "It comes with a need to make content quickly and less expensively than creative shops," Caroll says. "So that was an opportunity for a different model."
He points to media companies' relationships with big broadcasters – which have the capabilities to create this content – as another factor driving this trend forward, offering the example of UM Studio work done for Johnson & Johnson's Listerine brand and Etalk. To encourage people to try Listerine for two weeks, the brand partnered with the Bell Media entertainment show, creating custom ads featuring the hosts Ben Mulroney and Tanya Kim, which ran on TV and digital. Launched in February and slated to run for a few more weeks, the campaign has exceeded its sampling target by 8% with more than 222 million media impressions, while business experienced double-digit growth.
uncan Fulton, SVP at Canadian Tire Corporation, where he leads marketing, says he loves this new landscape.
"The monopoly on good creative ideas does not sit with the [traditional] advertising agencies anymore," he says. "What you need is lots of different creative ideas to use the different channels to target the different people you care about. So this hierarchal structure that used to exist when TV was king is long dead."
Canadian Tire, for example, only dedicates 20% of its marketing budget to TV ads in any given year, he says. Sport Chek is more like 10%.
One of the most successful campaigns of late from Sport Chek wasn't even a TV campaign; it was a Facebook flyer, from the brand's PR shop North Strategic.
After learning only 14% of Sport Chek customers bothered to read the flyer – which took up an astonishing half of the marketing budget – the brand started playing around with new ways of delivering that information – namely through the social network. Working directly with top brass at Facebook and North Strategic, the brand tried out a number of different methods, including an app, before settling on a digital flyer with content specifically designed not to feel like an ad.
Tested over a two-week period in fall 2012, Sport Chek pulled its print flyer and rolled out the social one. With no other marketing in play, the brand saw a year-over-year increase in sales of 12% over the same period, and on the items promoted online, saw an in-store boost of 23%, compared to the prior year.
It was such a success that Facebook's chief operating officer Sheryl Sandberg recently mentioned Sport Chek on an investor call – the only non-Facebook company to be named.
"There's so much content consumers [see] today that if it doesn't stand out, it's just going to be skipped over," says Fulton. That's where North Strategic, which helped determine how to put the products in front of people without making it feel like ads, came in.
As a result of this new reality – that content is king – the brand is hiring a yet-to-be-named creative director. At the time of our chat, a prominent 20-year agency veteran, who had worked in senior creative roles at top agencies, was being offered the on-staff role, but Fulton couldn't give a name until the person had accepted.
The new creative director will oversee all touchpoints of creative, from print ads to social content, maintaining a consistent voice.
"You can't expect 10 agencies with 10 different views into your company to understand the whole picture like you would in house," says Fulton. "I think creativity of the content is the biggest differentiator of that world."
This means it's not all doom and gloom for ad agencies. Although the landscape is as crowded as ever – everyone trying to carve out their own holdfast, agencies are especially well positioned. They are, after all, an epicentre of creative thinking.
Google courts creatives

In May, Google Canada dedicated an entire week to showing agencies and marketers the power of digital creative. In an all-white room at Toronto's Andrew Richard Designs studio, the tech company put up seven exhibits showcasing some really cool global work, from the Molson Canadian beer fridge that can only be opened with a Canadian passport to a pair of Adidas shoes connected to a smartphone app, encouraging you to keep going if they sense your workout is slowing down.
These aren't necessarily Google-created ideas (though there were a handful of those sprinkled in); "Think Brand Week" meant to be an opportunity to showcase that anything is possible.
Toronto-based ad agency JWT sent folks by the busload on the first day to try on Google Glass, check out the cool executions and hear more from Adam Green (pictured), agency business development, Google. CMOs and brand managers trickled in throughout the week for the same.
It's not that they can't, for lack of a better word, Google these cool executions in the comfort of their own offices. This type of event is meant to put these projects directly in their hands, partially in the hopes that agencies and marketers will choose Google for their next campaign.
While Green doesn't have a creative background, he represents Google's desire to court creatives, understanding good ads will be more profitable to the company than poorly-made ones. Green originally started with the tech giant as an analyst before moving over to the ad placement side, working with media agencies to learn about the cool things they could do on Google's many platforms.
"We were [asking] media agencies 'What's preventing you from doing what you desperately want to do in the digital world?'" he says. "A lot of times the feedback would come back: 'By the time [the campaign] got to us, it was already a TV idea.' And we realized there was a huge section of the workflow we never speak to." So his role shifted to dealing with agencies.
"In traditional [advertising], a 30-second spot will be a 30-second spot, no matter where you put it," he says. "In digital, ideally where an ad is placed will influence what the creative is."
He points to projects like Coca-Cola's global push, which allowed people to send a stranger a Coke on the other side of the world and record a message for that stranger, through the ad itself, never navigating away from the page they were on, as just a hint of untapped, digital creative potential.
Top image courtesy of Shutterstock.