Ten more shots at a Lion for Canada
Red Urban lands on the Film list twice, with JWT, Grey and John St. among the other agencies vying for an award at the Palais.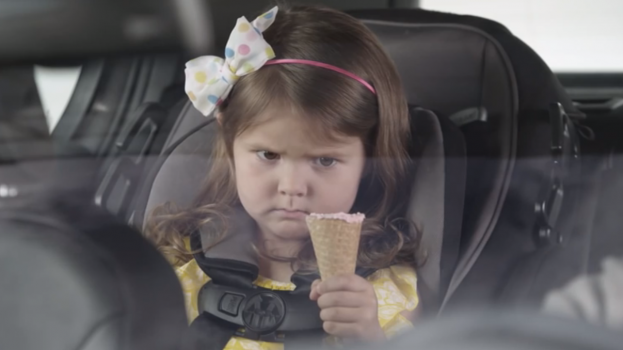 Canada beat last year's record of nine nominations in the film category, if just by a smidge.
This year, the country will have ten shots at taking home a Lion in the traditional TV and cinema advertising, as well as online film content category, with eight standing out for their comedic creative, while two take on more powerful, solemn tones.
For Volkswagen, its "Ice-cream" spot, which was created by Red Urban, received a mention on the shortlist. The commercial shows off the auto brand's GT model features, like powerful acceleration, and demonstrates the effects of taking off at quick speed.
Red Urban and Volkswagen got a second mention on the list for Once More: The Story of Vin 903847, a digital interactive documentary that also appeared on TV and won other awards this year, including an AToMiC. The campaign promoted the brand's Beetle, and documented a true story of the car's first owners and their global travels.
Next on the list is "Meditation" by Lg2 for Krispy Kernels. The off-the-wall spot, with media by PHD! Touche, sits in on a meditation session where four people are shown falling into a relaxed mode of consciousness, while one crunches on a pack of Krispy Kernels. There's also some bizarre ESP action and other phenomenon, illustrating how "irresistibly good" the brand's nuts are.
Kol Kid also has a shot at a Lion for its "Viewmaster" spot crafted by Tribal Worldwide. In it, a child is shown staring at a tablet, looking rather bored as he huffs and puffs, and swiping through photographs of his parents before landing on a suggestively naughty image. The spot ends with the tagline, "Toys should be toys" and throws to its stereoscope Viewmaster product.
For the Canadian Film Fest, the JWT-created "Best Extra" commercial also got a spot on the list. The comical ad shows a behind-the-scenes look at the life of an overachieving extra, who takes his job of being a background body in movies and shows way too seriously.
Speaking of overachievers, the "Hire Jim" spot for the Government of Ontario, by Bensimon Byrne, which shows a desperate young man trying to stand out in order to set up a meeting for a job (but which goes terribly wrong) is also in contention for a Lion this year.
And a father's worst nightmare comes true in a nominated spot for Saxx Underwear by Vancouver's One Twenty Three West. "Saxx Prom" shows a young buy readjusting his, ahem, package (as a result of wearing uncomfortable loose underwear) in front of his date's father moments before escorting her to the prom.
John St. gets a mention on the film shortlist as well for its industry-jabbing spot, "ExFEARential," which debuted at strategy's Agency of the Year show, where the agency makes fun of an advertising trend whereby marketers scare the bejeezus out of consumers on order to sell their wares.
And on a more serious note, the "No More Silence" spot for Moms Demand Action For Gun Sense, by Grey Canada, also made an appearance on the film list. The powerful, goosebump-inducing spot questions the silence Americans exhibit in the wake of school shootings.
And another solemn but equally powerful spot for the Canadian Breast Cancer Foundation, called "Sean," by Dare Digital is in contention, with the commercial showing the sad future of a young boy who's future wife suffers from the disease.