What keeps Tony Matta up at night?
The Kraft Canada CMO on why systemic cost-cutting is giving him a hiring headache, and why relying on price is bringing the whole market down.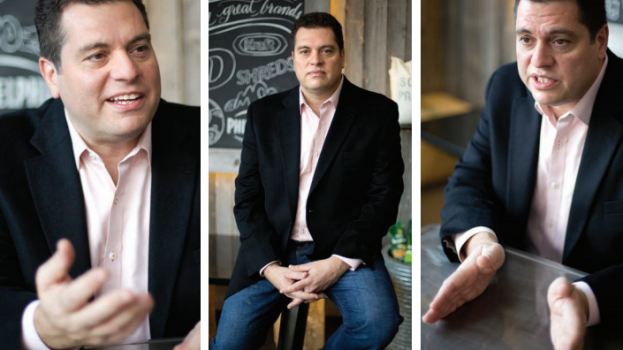 We're kicking off a new series, asking top marketers across the country about their biggest fears and concerns. What are the things of marketing nightmares? First up, we chatted with Kraft Canada CMO Tony Matta about the big issues facing his company. 
When it comes to your day-to-day job, what is your biggest concern? What keeps you up at night?
Tony Matta: The top of the food chain of problems is talent and talent acquisition. We're paying a little bit of the price of how the industry has changed over the past decade. The trade of marketing has contracted to a point where folks are not growing up through organizations the way they used to and getting the kind of skills you'd expect them to have for the levels you'd expect to recruit for.
Right now, we're on the street for two marketing director roles – and they're absolutely prime assignments: full P&L responsibility, control over marketing, communications, innovation – the full four Ps of management that every marketer would dream to have – on the Philly and Kraft Peanut Butter businesses. Those are iconic, Canadian-loved brands with great levels of investment because they continue to grow in healthy categories where they are the dominant player, where there's tons of room to move from a marketing perspective. And it's really hard to find people for those roles.
At the director level, you're looking for someone who has a mastery of the P&L and has experience working across the P&L as a marketer. You're looking for someone with a mastery of marketing communications, a mastery of agency-relationship management. (So that's a gap I see in market all the time. We've drifted into this idea of seeing agencies as suppliers, so as a marketer I'm not in the creative process. My job ends at the brief, and then I evaluate you and go put something in market. [But] I expect a marketer [to be fully engaged] – not expecting [them] to do [the agency's] work, but be involved in the journey that comes with a marketing communications brief.)
Those fundamentals you expected to find 10 years ago, it's very difficult to find that suite of skill set at the director level.
So what happened that stripped that away?
TM: CPG tended to be where the "PHDs" in marketing were coming from. You graduated with an MBA or an undergrad, you'd go to Kraft or a big CPG company and they'd teach you the fundamentals because the fundamentals were being practised in the local office in Toronto.
But today, for right or wrong, no judgment, most CPGs have scaled back to a sales office with some supply chain capabilities. [For the] marketing execution function – folks are being downloaded to in terms of overall brand strategy, portfolio development and P&L management. And [they look at the market and say], "These are the nuances of my market, and I'm going to use the nuances of my market to launch that template and win."
I'm not saying that's not effective. For some CPGs where there's not massive differences in consumers [across markets], maybe that is the most effective and efficient model.
But what that does over time is obvious. If I'm mostly leading my business through a "you're giving me the base case" and developing my market – the skills you actually need [to] develop the base case, [aren't developing].
It's saying, "Wow, there's a real opportunity for how people clean their homes, so I'm going to leverage a technology to create something called Swiffer that's going to allow consumers to have a better result when cleaning their homes, with less mess and fuss." It's the fundamentals of uncovering a consumer need and solving against that need. And you're not going to learn about that in school, and increasingly in Canada, you will not learn to do it in a local office.
So what is it about the Canadian market that's making it harder to learn those skills?
TM: It's pure economics.
You can believe in certain categories, people have looked at the math and said okay, the consumer behaviour, the dynamics between Americans and Canadians are different. But how different are they? Well, if I took an American model in the Canadian market, I might lose 2% of the growth we could have. So if I were to take my marketing team from 200 people to 10 people and refocus the work differently, what's that worth? And does that overcome the downside of not marketing more specifically to a Canadian consumer? Oh, it does! Well, that makes good P&L math.
I'm not arguing on the economics – for some CPG organizations it might have been the right economic move. But the outcome is the environment that's left behind isn't necessarily rich with marketers who've done fundamental work.
If I were looking for a director role, but said, "Don't worry, all the work is coming from the U.S., this is reapplying and tweaking for the Canadian consumer and building on a couple of ideas" [it would be different].
So at this stage, how are you hoping to solve this problem?
TM: It's a long-term problem. And [one solution] is going outside Canada to bring in marketers from all over the world, which can be challenging and expensive. Your other alternative is to build talent from within – which is very much our plan – but that's a medium-term [solution]. You're not going to develop those skills in the time you need every job filled. We're going to continue to search. There isn't an obvious solution. 
But the bigger problem is there is something very systemic with the situation we're in. There isn't an immediate solve. It's a question of are Canadian organizations willing to start reinvesting in marketing in Canada.
What are some other issues keeping you awake at night?
TM: There's definitely issues around a lack of risk-taking in the market.
It's not that surprising how Canada did at Cannes. You have smaller countries who should have less impact in the marketing world setting the marcom agenda and are on the podium more often than we are. And you look at why – it always comes down to the same thing: risk-taking.
It's about having a disciplined process for taking risks. For example, we have a 70/20/10 rule – so [using] 70% proven media, 20% leading media and 10% purely experimental. And the brand managers are all expected to deliver against that algorithm because if you aren't planning for experimentation it'll never happen. And if you're not experimenting, you're not leading or finding new ways of engaging the consumers.
[The formula] was in place [before I joined], but it also needed some stimulation. The concept of 70/20/10 is not a Kraft-only concept, but it's definitely in the spirit of the new organization.
I think my role here is to champion it, and create an environment that when we do experiment – and sometimes experimenting doesn't work – that's okay.
But there's definitely a gap in courage to not just do things we know will work.
Any other big concerns?
TM: This leaning on price thing – especially in the Canadian market – we've gone to the lowest common denominator in terms of driving demand. I think it speaks to some of the things we've already talked about. When you're not investing in marketing and engaging consumers, you have fewer tools to drive consumption. And if you have fewer tools to drive consumption, the one you know will always work is price. And so you default to price and that delivers a certain volume. And the next year comes along, and what do you do? You default to [lower] prices. Eventually, you get to a place where there's no more price [decreases] to default to. You've driven down the value of your brand where there's no amount of marketing in one year that'll ever get you back.
That keeps me up at night – because you see it exaggerated in Ontario where both manufacturers and retailers have defaulted to price.
As a market, we've fallen in love with this easy tactic called pricing and discounting.
This is a total-industry issue. You have to do pretty dramatic things to get out of it. You have to invest in your brands, and you lean more into innovation than you ever have.
That means looking at your portfolio and your products and going deep into the value equation – the good, better, best brand strategy that can give the consumer value [for what] they're willing to pay. We're doing some of that work and you'll see the outcome in 2015 in a couple of our categories where we're going to get really surgical about that.
Photo credit: Jennifer Horn