Is that a giant talking Sugar Crisp box?
Why, yes it is. And it's meant to get millennials in the mood to buy cereal after doing prize challenges, like singing its jingle or breakdancing.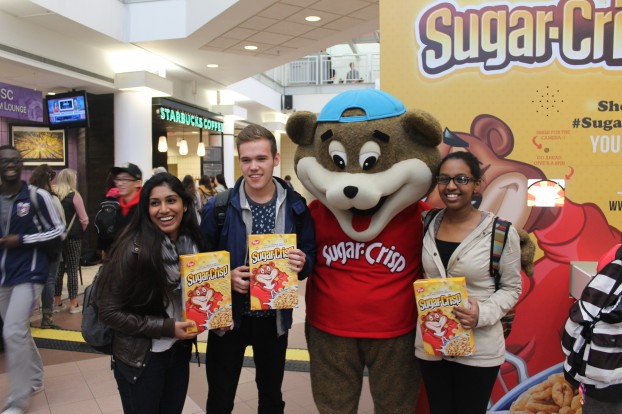 The Sugar Crisp Bear isn't as young as he looks. He's been selling cereal for almost 65 years. His biggest fans, though, are almost a third his age. They grew up with him on cereal boxes and in animated commercials, but many of them are now entering their independent young adult years and may not feel as connected to the easy-going mascot as they did during their childhood.
So to reach this distracted cohort of 18- to 24-year-olds, the bear has been making guest appearances at college campuses in late October and early November, along with a giant cereal box. Not an ordinary cardboard mock-up of the Sugar Crisp breakfast food, the mechanical box (which hid a brand spokesman inside and was created by agency Jam Van) interacted with students and challenged them to do random dares, like singing the brand's jingle, catching its oats in their mouth, break-dancing and yoga poses. By completing challenges, they stood the chance to win swag (cereal, t-shirts) on the spot.
The hope is to get the target to share their responses to the challenges (which are filmed by a GoPro camera on the cereal box) with their social networks using the hashtag #SugarBearStyle, says Alison Belot, account director at Noise Digital (the agency responsible for the creative and strategic execution of the fall campaign). They're also invited to share images and video of themselves doing anything they deem "cool" on Twitter, Vine and Instagram using the same hashtag for the chance to win $5,000.
When the brand first started targeting millennials, and visited campuses last year for a similar experiential campaign, minus the interactive cereal box, it gave out samples and drove students to a dedicated brand website.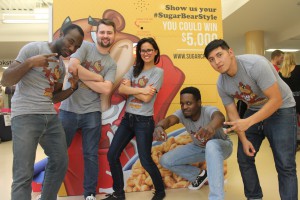 "[Sugar Crisp's] target audience is constantly connected to their social accounts, so we [realized that] that is a better place to engage with them directly, as opposed to a brand website," she says, adding that the brand invested in content partnerships with influencers like Viners Ray Ligaya and Matt Paquette, as well as Calgary Flames player Sam Bennett and Dude Perfect to create video content that uses and promotes the hashtag #SugarBearStyle. So far, the content partner posts have garnered a combination of more than two million video views. And Sugar Crisp has also been responding to social posts that mention the brand and its hashtag, reaching out to users with personalized messages.
In addition, when the Post Foods brand executed the experiential campaign last year, it focused on giving out samples, as opposed to one-on-one engagement with the target. By adding the interactive cereal box, the brand is able to personally connect with students, says Belot. "Last year was about getting samples out on campus, this year we're looking to have richer engagements…The offline interaction at [the] experiential events has been a huge online participation driver," she adds.