Holding out for free Doritos
The brand takes its success with gamification to mobile to promote the return of Doritos Ketchup.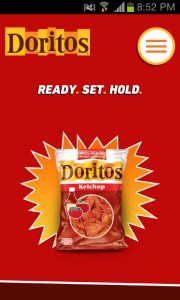 Doritos wants consumers that were clamouring for the return of its Canada-exclusive Ketchup flavour to wait it out a bit longer in a new game that aims to reach more millennials by going mobile.
By visiting the Doritos Ketchup microsite on their mobile device between now and the end of March, consumers can hold their finger on a digital Doritos bag, with prizes going to whoever can hold it there the longest. It seems simple, but players will have to deal with distractions like fake texts and phone calls that will attempt to get them to lift their finger.
In addition to daily prizes, the grand prize winner will receive a year's supply of Doritos, including the last bag of the Ketchup flavour off the production line.
The contest and product re-launch is being promoted with retro-themed point-of-sale pieces, sponsored content on BuzzFeed and on social media. The early teaser posts on social media, launched at the beginning of the month, have gained over five million impressions from three million unique users and 41,000 engagements. BBDO developed the campaign, with media buying by OMD.
Doritos first brought the Ketchup flavour back to Canada last year as part of the "Throwback" program that sees old flavours, which have also included Taco and Guacamole, put back on shelves for a limited time. Susan Irving, senior director of core brands at PepsiCo Foods Canada, says the response online was "overwhelming" and convinced the company to do Ketchup again this year.
"Canadian palates love Ketchup, and it is the kind of iconic Canadian thing that does extremely well," she says. "We're all about consumer engagement and giving consumers the opportunity to take the stage. We've done it with contests like Crash the Super Bowl, Guru and The End, but even when it comes to product innovation, we're…listening to consumers about the products they want us to bring back."
Doritos is also no stranger to gamification. Aside from straightforward contests like Crash the Super Bowl, the brand turned its product into a game last year with Doritos Roulette. Irving says contests and games have resonated with its target millennial consumer in the past, something it has further tried to enforce through a partnership with Xbox One, but "Hold Out" is an attempt to create more of an impact with that target by bringing that strategy to mobile.
"We've seen that millennials are at the forefront of mobile consumption. Out of any demographic group, they consume more media than any other from their phones," Irving says. "It's extremely important to consider the devices your target consumer is using. A lot of the time, companies decide they are going to go digital but it's a desktop experience that isn't available on mobile. It's critical to make sure you have a mobile friendly version for your consumer. It can't be a second thought anymore."