CASSIES Silver: Heart & Stroke brings home increased donations
The charity shared survivors' stories to highlight the impact donors can make.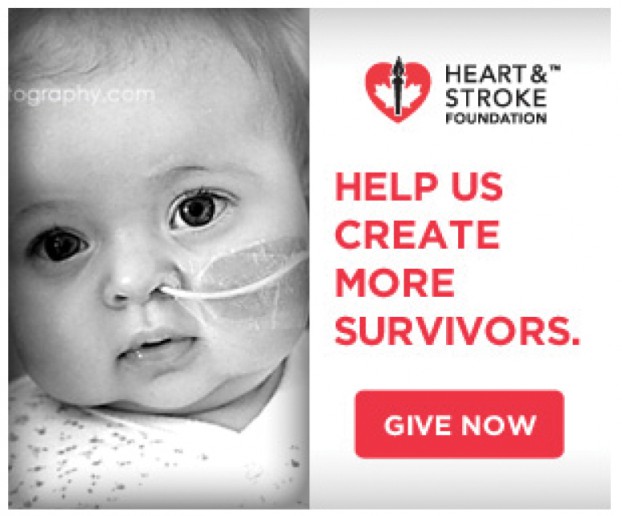 Off to a Good Start
Situation Analysis: While the Heart & Stroke Foundation was one of the most recognized and reputable charities in Canada, consumer sentiment tracking indicated it had become big and somewhat impersonal. The Foundation's recent campaigns had delivered great impact but donations were down in a declining donation universe. Heart & Stroke needed to connect in a more emotional way that could gain consideration in the face of other diseases that felt more visible, more unforgiving and more deadly, such as cancer. Despite a goal of a 7% increase in donations and an increase in digital engagement, the budget available would be less than half the amount spent in each of the previous two years.
Insight & Strategy: Research into global best practices had shown that tangibility in results was a prime motivator in charitable giving. But the Foundation's contribution was complex, ranging from research into clot-busting drugs for stroke victims, to CPR training of almost 450,000 Canadians, via rehab camps for children who had suffered perinatal stroke. However, there was something tangible among all of these activities: the saving of lives. Each of the Foundation's strategic pillars was assessed in terms of how they "saved lives" while segmentation research identified two groups with a higher propensity to donate: health-focused boomers over 50 (the largest donor segment) and child-focused parents aged 30 to 44 (a key growth donor segment.) For both targets, opportunity lay in showing the impact a donation could make on their lives.
Execution: Survivors would be the ultimate living proof of how donations could tangibly affect change. Running from December 2013 to June 2014 across television and digital, #createsurvivors told the real-life stories and homecomings of survivors from all walks of life and demographics, chronicling the impact the disease had on their life and the Foundation's role in mitigating it. The messaging was also carried across event signage, brochures, collateral and volunteer communications while all campaign communications referenced or linked through to a digital donation hub.
Results: The goal of a 7% increase in donations was exceeded with a 40% increase versus previous year. Digital engagement improved significantly with the campaign achieving over 2.25 million video views, resulting in over 25,000 click-throughs to the donation page, an average click-through rate 32-times higher than industry benchmark. There was also 72.5 million media impressions and 339 stories.
Cause & Effect: While media spending was 67% below the prior year, the increased digital component (32% of the media spending versus 13% in prior year) drove above average engagement scores across Brand Equity, Overall Impression, Intent to Donate and Emotional Connection measures. There was no other promotional activity running during the period.
Credits:
Client: Heart & Stroke Foundation of Canada
CMO: Geoff Craig
Director, marketing planning & activation: Joanne Cullen
Manager, digital marketing: Susan LeBlanc
Senior associate manager, marketing planning & activation: Cindy Lithwick
Director, communications: Leslie Wood
Senior specialist mission information: Matt Mayer
Coordinator, national digital marketing: Jeanne Jin
Agency: Ogilvy
CCO: Ian Mackellar
Sr. CW: Chris Dacyshyn
Sr. AD: Julie Markle
Producer: Shenny Jaffer
Account star: Asha Davis
Planner: Elizabeth Takasaki
Managing director: Laurie Young
AD: Mike Kirkland
Videographer: Ken Galloway
Media agency: Mindshare
Research: Environics