Red Urban wins Subaru
The agency picks up the account from DDB after a 14-agency review, and will handle national and dealer association advertising.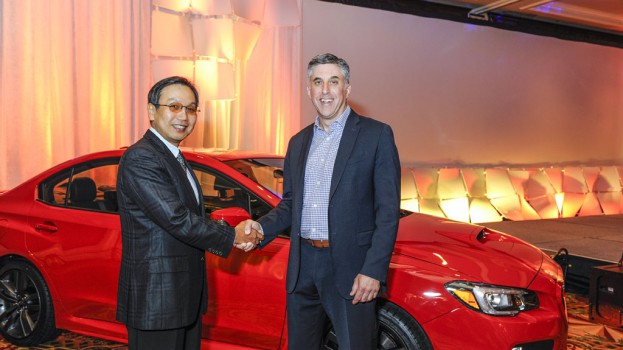 Shiro Ohta, chairman, president and CEO of Subaru Canada​ (left) shakes hands with ​Steve Carli, president of Red Urban​, the brand's new agency of record.

After a six-month search, Subaru Canada has selected Red Urban as its new agency of record.

Red Urban will lead all brand advertising for Subaru on a national scale as well for all of its regional dealer associations, with the exception of Quebec, which will continue to be handled by Groupe Rinaldi. OMD remains Subaru's media agency in English-speaking provinces.

Red Urban was selected after a six-month RFP process that involved 14 Canadian agencies that Steve Carli, president of Red Urban, says was more focused on strategic approach and chemistry than creative output.

"Through the time we spent together, I think they saw that their approach to business matched up with ours," Carli says. "They are used to getting in a room together and hashing out details and coming to a solution, and we are very much that way as well. I think the decision had a lot to do with the fact that they wanted to spend time being in a room with us doing that over the next five years."

The account was previously held by fellow Omnicom shop DDB. After being on its client roster for 10 years, DBB had to cut ties with Subaru last fall due to a conflict after being named AOR for Volkswagen. Volkswagen's work was previously done by Red Urban (its final work on the brand launched in December) in collaboration with Palm+Havas.

Outside of the review, Red Urban had been working on national and dealer-level campaigns for Subaru on a project basis since January, including ones for the Impreza compact car, XV Crosstrek crossover and its new BRZ sports car, as well as a national print campaign about the company's commitment to safety and technology.

"[Those campaigns] gave us an advantage in terms of understanding the company but the fear we had was that after working together for a few months, we wouldn't look as shiny and new as the other agencies," Carli says. "But our ability to build a relationship with clients really carried us through. It also became clear that we had relevant category experience with Volkswagen and it probably made the conversations more efficient."

In April, Subaru Canada reported sales over 9,000 vehicles for the first three months of 2015, an increase of 13.1% from the same period in 2014 and its best first quarter sales results ever in Canada. March also marked the 15th consecutive month of increased sales in Canada for the company, one of the longest streaks it has held globally.

"Most people in the car category would define Subaru as being a bit of a niche player, but I think they're on the verge of becoming something different," Carli says. "There are benefits to these cars that have been almost hidden away, so the people that know the brand really well are enthusiastic about everything the cars bring with them. Subaru is going to continue to grow, so [the company and agency] recognize that they need to appeal to a broader group of people and share that knowledge with them."

Carli says the agency has hired an account supervisor on the ground in Western Canada to better serve that region's dealer association, adding that the agency will have "a few" more new hires in the coming weeks as a result of the win, including a lead strategist.