Sport Chek raises the stakes
Steven Stamkos takes on a pair of drones as the retailer continues to push the importance of training.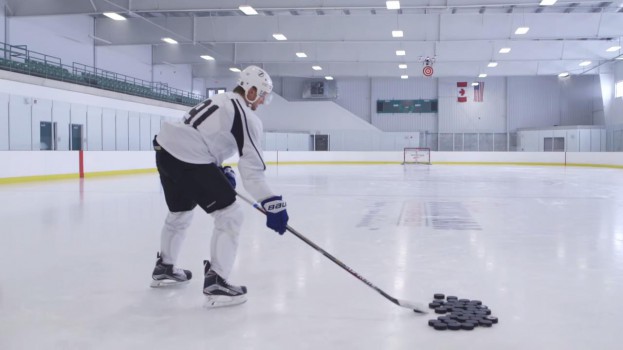 Sport Chek is evolving its focus on training with a new social video that adds a couple of unexpected challenges to the usual practice routine.
The video starts with NHL player Steven Stamkos, who signed a multi-year deal to be a spokesperson for Sport Chek earlier this year, doing a standard target practice drill on a regular net, until a pair of drones fly overhead, giving the three-time NHL All-Star moving targets to deal with.
Creative on the video was handled by Rethink, which began working with the retailer earlier this year, with PR and social by North Strategic and media by Touche!
In the spring, Sport Chek launched its "All Sweat is Equal" platform, which focused on the retailer's connection to training and exercise, primarily through showing a trio of Canadian athletes from different sports running in all conditions. Last month, it launched a hockey-specific version of the platform, featuring Stamkos alongside amateur hockey players as they train and practice for the start of the season.
Rob Daintree, senior manager of campaign marketing at FGL Sports, says while the launch spot was more in line with the serious tone of the broader "All Sweat is Equal" platform and better suited for broadcast, the new video and future pieces of content that will be socially-focused are purposely lighter in tone. The hope is that the new spot will be more shareable among hockey fans, led in part by Stamkos himself.
I hate drones! ……….

— Steven Stamkos (@RealStamkos91) September 15, 2015
Done practice for the day. #SweatForThis pic.twitter.com/zvGaxClizd

— Steven Stamkos (@RealStamkos91) September 15, 2015
Daintree says the initial "All Sweat is Equal" campaign established a position for the brand that was centred on the importance of training for any sport, a focus Sport Chek wanted to continue when it came time to turn its attention once again to hockey season.

"What we are able to do with someone like Steven was really highlight that not only is he a young, tremendously skilled player on the ice, but he's also one of the hardest working players off the ice," he says. "Our brand is all about inspiring Canadians to lead healthy and active lifestyles, and for those that play hockey, that means encouraging them to work hard off the ice in addition to being competitive and performing on the ice."