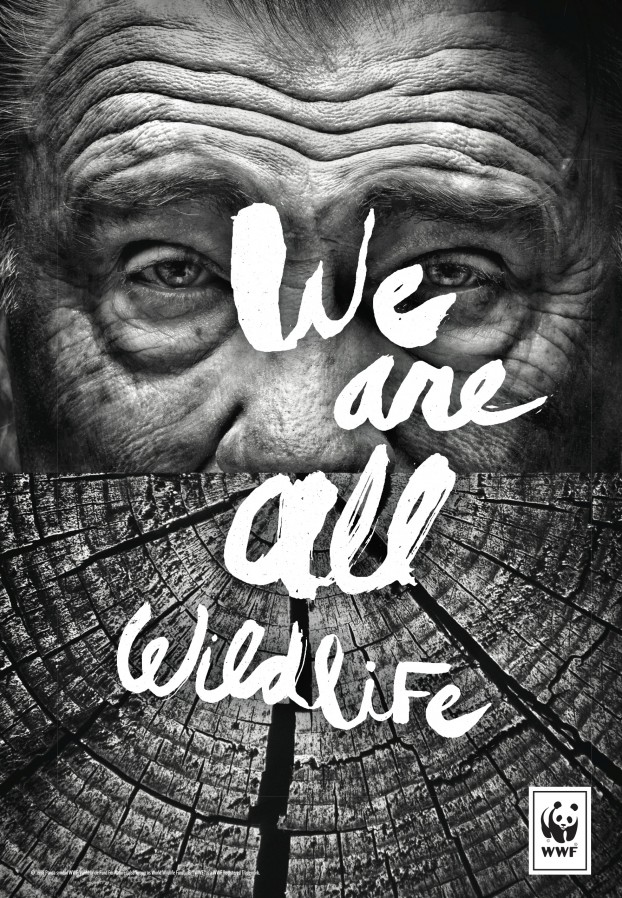 Sometimes we have more in common with the wild animal kingdom than we might like to admit – from acting like peacocks in order to attract a mate, to butting heads with intense aggression like a pair of rams.
In its first brand campaign in seven years, WWF Canada is highlighting the common ground we all have as creatures of this world.
The "We Are All Wildlife" campaign, created by John St. and launching today, includes a national 30-second TV spot, 45-second online video, wild postings, transit shelter advertising and social media. Mediavest Canada led the media buy.
The upbeat videos juxtapose how we humans aren't that different from our wild counterparts – we dress up and dance to get attention, fight, and of course, procreate. The spots end with the idea that "We work hard to create life. Let's protect it."
The OOH meanwhile, shows a similar visual connection between humans and other wildlife, using black and white as a nod to the WWF's iconic panda.
"It's a powerful insight once you see yourself as part of nature," says David Miller, president and CEO of WWF Canada. "We're all in it together, basically."
While other WWF marketing tends to focus on specific species or areas of the world, the new brand campaign hopes to show a bigger picture.
"The idea that it's not the environment or the economy, [but rather] it's people and nature is actually a complicated idea, and I think what John St. did brilliantly was help simplify that idea and express it in clear, persuasive ways that are also really fun," he adds.
Creatively, the idea was to keep a hopeful tone, in line with WWF's other messaging, which doesn't use the same doom and gloom tactics that other non-profits often employ, says Stephen Jurisic, ECD at John St. The video showing how we're all the same is meant to get people to want to watch again to catch more details, he adds.
The new brand campaign was inspired in part by WWF's new five-year plan, which has a strategy of addressing root causes of animal habitat destruction. According to the organization's 2014 Living Planet Index, Canadians use about 3.7 times our share of the earth's available resources each year, and wildlife populations worldwide have declined by 52% over the past 40 years.
Having a new federal government that's environmentally-conscious also makes this good timing for the new brand campaign, Miller says.