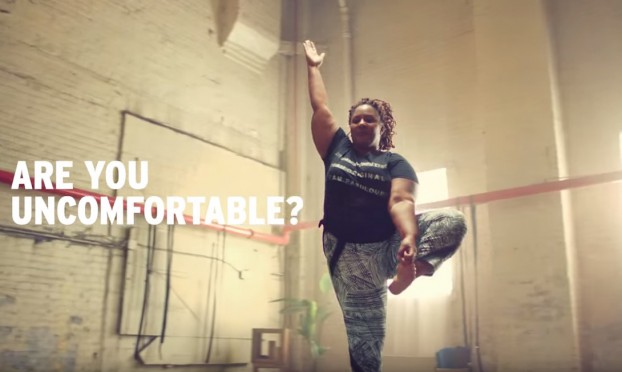 Women's clothing retailer Penningtons has repositioned, as it aims to become a brand that stands for body diversity and size acceptance.
The Reitmans-owned plus-size retailer has been on a path to becoming more fashion-forward for about the past five years. With the body positive movement gaining ground, now was the right time to make the shift officially with a new campaign, says Ginette Harnois, VP marketing and visual presentation at Penningtons.
"Who Says Plus Size Women Can't?" created by Lg2, features a plus-size yoga instructor showing off some impressive moves while text of stereotypes about why people like her shouldn't practice the activity are shown on screen (things like "Plus-size women have no balance" and "They're not elegant.")
The video (in English and French) is part of a digital and social media campaign (with the hashtag "#iwontcompromise), with OMD handling the buy. The campaign has already been noticed online and in the media, in part because of a Twitter shout-out from actress Melissa McCarthy (whose clothing brand is carried at Penningtons). Since launching on Jan. 4, the video has had more than 2.4 million views, and about 75% of the campaign's traction has been organic, Harnois says.
Penningtons will be rolling out the new "Who Says Plus Size Women Can't?" platform throughout the year, focused on activewear, its denim lines and other brands it carries.
"We decided that this year we wanted our brand to take a point of view and basically be a partner to our customer in fighting that battle that they live every day," Harnois says of taking on the stigma that still exists toward plus-size women.
About two years ago, Penningtons began moving away from being mostly CRM-focused to bringing its message to TV and digital. "Our customer responded very well, because she's looking for validation, she's looking for help, she wants to be as fashionable as she can be and she's been missing out because historically, if you look at the market, other than Penningtons, Addition Elle and Laura, everybody else was not necessarily putting [forward] a significant offer for her to have a choice," Harnois says.
Reitmans' other plus brand, Addition Elle, skews to a slightly younger demographic (Penningtons' target is 30 to 55) and has always targeted more fashion-forward shoppers. "We're a lot more involved in educating and informing our customer," she says, while Addition Elle's based is typically slightly more savvy about trends. The Penningtons customer, on the other hand, has traditionally been less trend driven and seeks more input from friends and other loved ones, Harnois says.