What's next for Molson's rooftop rink?
The beer brand opens the rink up to the public, and prepares to launch a new "#AnythingForHockey" TV spot.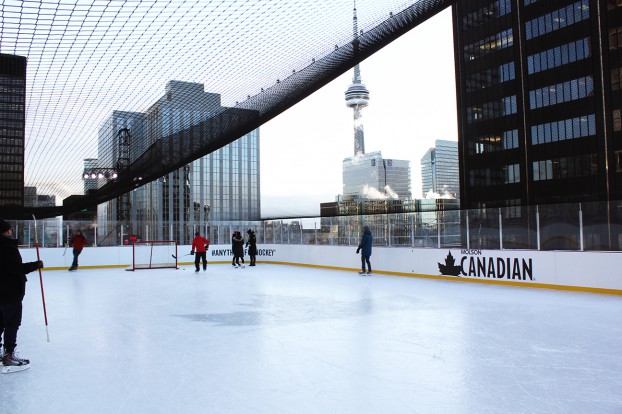 Building an ice rink on top of a building in downtown Toronto wasn't easy, but Molson Canadian thinks it's worth it to have something that shows just what lengths the brand will go to for hockey for the remainder of 2016.
In February, a national TV spot, developed by Rethink with media by MEC and PR by Citizen Relations, will launch, featuring the four winners of October's "#AnythingForHockey" contest skating the rooftop rink. It will run until the end of the NHL season, with digital and social executions telling the stories of the contest winners debuting in the coming weeks to familiarize Canadians with them before the commercial launches.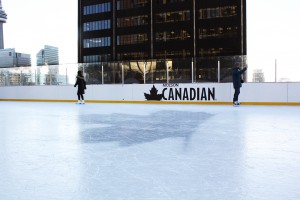 Due to the amount of interest expressed in the rooftop rink, Molson will be launching a second social contest on Jan. 20 that, unlike the first contest that was based on finding those with the greatest love of hockey, will be decided by a random draw. Also, beginning this week, groups of 20 people can purchase one of 15 one-and-a-half hour sessions for $2,000 (or $100 per person) taking place between Jan. 29 and Feb. 7.
Duncan Fraser, marketing manager for Molson Canadian at Molson Coors, says that following last year's "epic rink"  as part of "#AnythingForHockey", fan feedback led the company to pursue something that could be more accessible to Canadians than a rink in the Rockies, while still taking the concept to a "grander" stage.
"We heard from our consumers last year that they really wanted to be on the rink on top of a mountain, but logistically and in terms of cost it was out of scope," he says. "Putting it on top of a rooftop doesn't necessarily put it in a better scope from a budget perspective, but it at least put us in a spot where we can get more people in on the experience. Opening the rink up like this wasn't always in the plan, but it was in the back of our minds. The first priority was building the rink and getting the winners up there, but now we've done that and response has put us at the point where we're able to extend it."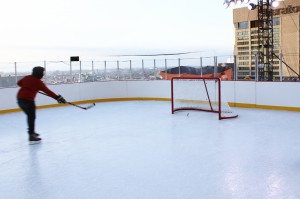 While the "epic rink" concept and the contest are similar to last year, the biggest difference is in the way the campaign is being rolled out. Last year's contest launched around the World Juniors with a spot telling the story of Vitaly Lanochkin and his father playing on the rink, with the commercial featuring the other contest winners completed in time for the playoffs. This year, the contest launched in October for a campaign launching mid-Q1, with additional social and digital executions providing extra content that will extend it until the end of the playoffs, which Fraser says was a better strategic fit for the company and its plans for the remainder of the year.

Building the rink required a great deal of work, engineering and the building of special equipment, in addition to the $100,000 weekly cost of operating it going forward. While Molson also has roots in live music and the summer festival season, Fraser says the goal of continuing to be "the number one brand in hockey" led to a great deal of internal support in the company for committing to a campaign of this scope.

"We saw in our research that consumers' feelings towards the brand go through the roof when we do stuff like this, because grand gestures show just how much we care about the same thing so many Canadians care about," he says. "Every brand wants to talk about hockey, and we want to be at the heart of that, above and beyond the other brands that are also operating in that space."