Boston Pizza gives its menu the all-star treatment
A new campaign introduces a "general manager" who runs his restaurant like a sports franchise.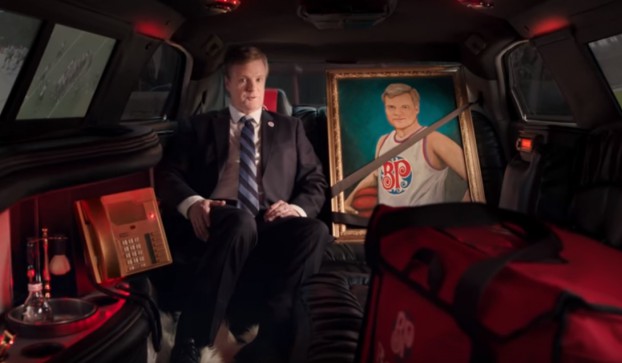 Boston Pizza has launched a new creative platform centred on its "All-Star Food," as it aims to break through messaging by other restaurants focused more on price.
A new campaign by Taxi 2 launched Monday features a new character, "Gerry, Boston Pizza's GM" in a spot playing on the fact that the restaurant's food is so good, it deserves to be delivered in a limo as any all-star athlete would.
Boston Pizza is evolving from its "We'll Make You a Fan" positioning launched last year, which included its award-winning "Fan Stories" campaign and was centred on reaching a wider target than "dads and dudes," Joanne Forrester, VP of marketing at Boston Pizza said at the time.
The brand is continuing that strategy of connecting with a wider demo of sports lovers, but the focus is back on food, says Steve Silverstone, EVP of marketing at Boston Pizza.
"Last year, our campaign around 'We'll Make You a Fan' and 'Fan Stories' had humour, but it was a lot more subtle," he says. "I think we've gone back to our tone and manner in that our ads are really designed to make you laugh, to provide a lot of enjoyment and ultimately to break through."
"When you look at restaurant advertising, we're critical of our competition and we think it's a sea of sameness," he adds. "Everyone's featuring food and a price and we think the better way to drive the value equation is to entertain our guests and to feature our food in a quality way."
That message of quality is especially important as more casual dining and QSR chains are putting the focus on fresh, he notes. For Boston Pizza, that's meant highlighting its pizza dough, which has been freshly-made in restaurant the same way for 50 years.
An upcoming spot, set to launch Feb. 15, will feature pizza as its star, the first time in a decade that the brand has made the item that prominent in its advertising.
In restaurant, the brand will also have POS signage at entrances highlighting which staffer made the pizza dough that day.
Along with menu features and other POS materials, the "All-Star Food" campaign will run on traditional and specialty TV, digital and social media, with 15-, 10- and six-second pre-roll and social media videos focusing on the quality food message. UM handled the media buy.