For the love of Valentine's Day!
From sweet to sassy to strategic, here's a look at what brands are up to this holiday.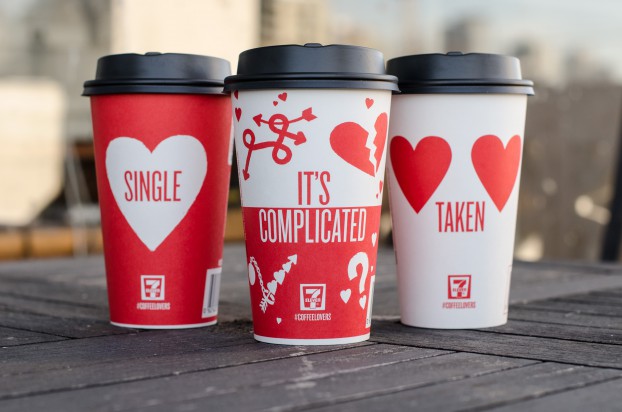 Just a couple more days until the big day. No, we're not talking about the NBA All-Star Game, people. It's Valentine's Day, that fun little holiday that can lead to feelings of love, panic, depression and binge-eating chocolate (or possibly all of those things). Here, we take a look at just some of the ways brands have gotten creative ahead of Feb. 14, from sweet and heartwarming to sexy and possibly NSFW.
And in case you've forgotten, Monday is another holiday in Ontario, so we'll be back with our daily newsletter on Tuesday, Feb. 16. Until then, Happy Valentine's Day, NBA All-Star day and Family Day from all of us here at strategy.
Sassy (and saucy)
Virgin Mobile Canada has created an online  "#Vday4Play" quiz where your answers will make up your ultimate statement on Valentine's Day in a personalized card to share with friends on social media. Built for people in various romantic situations, the cards are meant to help you say how you really feel about the holiday – from cheeky to possibly downright depressing (see below).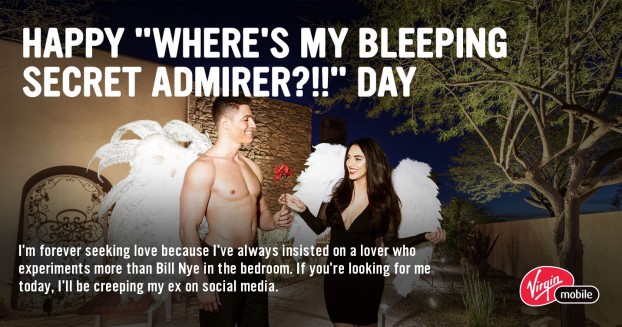 For those really into their network's Facebook relationship statuses, this one's for you. For the entirety of February, 7-Eleven is letting customers share their status (whether "Single," "Taken," or "It's Complicated") on their coffee cups. But if that's not enough information to share, you can also get really specific, and tell the world that you're actually in a "50% open relationship." Sharing a photo of the cup on social also gets them a chance to win a prize. 7-Eleven worked with 123w on the cup campaign.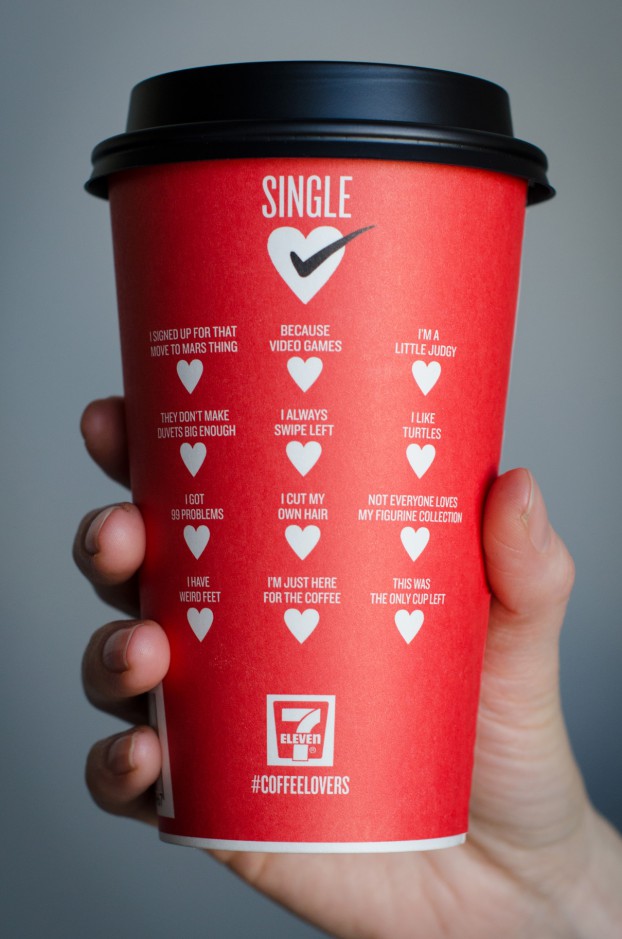 Forget oysters. Apparently burgers are the new aphrodisiac. This Saturday and Sunday, South St. Burger in downtown Toronto is offering customers "The Burger Bed Valentine's Day Experience." For $35, a pair of love birds (or maybe just friends who are really hungry) can get two burgers, a fry and ring basket, two strawberry milkshakes as well as two burger cupcakes, and eat them atop an in-store burger-shaped bed (complete with toppings). But with limited spots available to be booked through Pass the Table, people will need to move quick if they don't want to settle for wine and chocolates.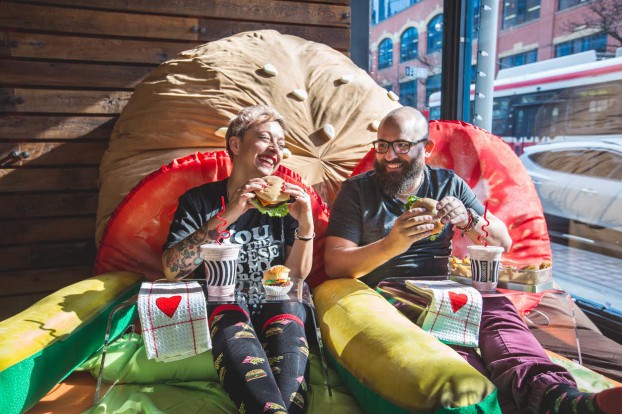 For those who prefer side dishes, New York Fries has also created a Snapchat contest, asking people to "#FrenchYourFries" and share an image of it for a chance to win a coupon.
Sexy
Leave it to Durex Canada to come up with a campaign we're not sure you should watch at work. Working with Isobar, the brand created a steamy campaign aimed at helping couples spice up their routines (and promoting its line of pleasure gels).
Strategic
What's more romantic than getting your finances in order? Working with Sid Lee, PC Financial created these pun-loving cards, distributed at its locations while supplies last.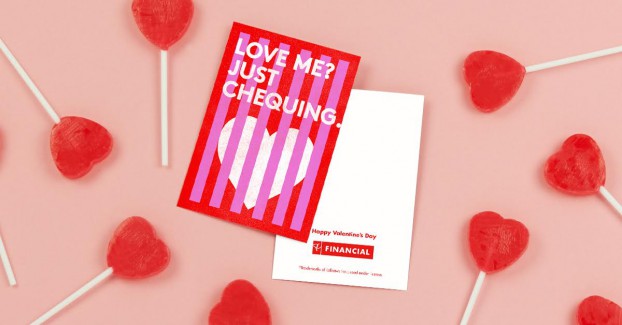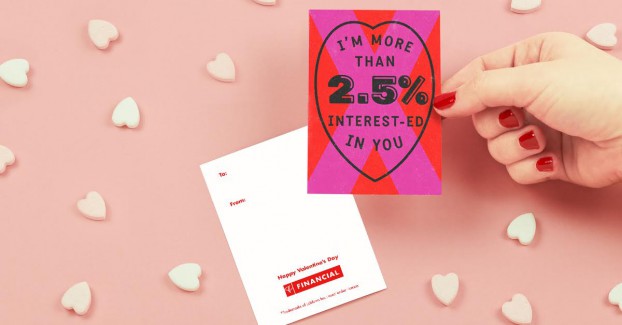 And if you still totally don't know how to handle this holiday, and are borderline panicking, maybe this dos and don'ts video from Fifth Story can help.
Sweet
The Christmas season is usually when brands tug at the heartstrings, but Valentine's Day is becoming a close second.
The Canadian Breast Cancer Foundation and Prostate Cancer Canada teamed up with Fuse Marketing Group earlier this month to create the "#Kiss2Cure" contest. By sharing a photo of them kissing a loved one (and using the hashtag), users are entered to win one of five trips for two through Air Canada, including a grand prize trip to Paris.
Meanwhile, Ruby's Love Letter Legacy (named after a rescued dog) started a campaign to ask Canadian politicians to help shut down puppy mills. The campaign asks Canadians to download and sign a pre-written letter, then send it in a red envelope to MPs, MPPs and MLAs, in the hopes of passing a new federal bill that will help improve animal protection laws.
On the environmental side, the David Suzuki Foundation created a series of Valentine's Day e-cards as a fundraising campaign. For every card purchased, a donation is made to help preserve the monarch butterfly. Each card features an original watercolour painting by artist Laura Timmermans, along with a love message and a fact about the butterflies.