How data is shaping the next big things
Data advancement underlies the potential of virtual reality, the internet of things and chatbots.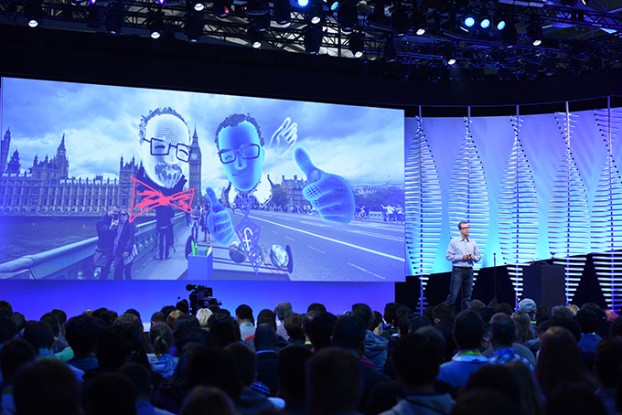 This article appears in the Summer 2016 issue of strategy.
Chatbots, AI and you
Advancements in artificial intelligence and the data that powers it has given rise to the chatbot: a technology that recognizes speech on digital chat platforms, like WhatsApp and Facebook Messenger, and automatically responds to a user with the information they're seeking, accurately and in a way that recreates human speech.
Ask one about the weather and you'll get a message along the lines of, "It's 20 degrees but it might rain later, so bring a jacket." Tell another you're a science nut and it'll give you a selection of news stories covering the latest studies.
Chatbots blend the line between "chat" and "automated personal assistant." We're familiar with Apple's Siri, and now Amazon's always-on platform Alexa – which responds to voice commands to do things from playing music to adding products to a personal shopping list – is beginning to pick up steam.
Now Google, one of the companies at the forefront of AI, has announced Allo. The messaging app learns and even suggests your most likely replies to messages, photos and videos sent by the friend or family member you're talking to in a sort of AI-powered auto-correct, and it can also respond to cues in a conversation. For example, if you were chatting with a friend about a trip you were planning together, you could ask Allo to chime in like it were any other person in the conversation and it would respond with flight statuses or restaurant suggestions.
Canadian fashion retailer Frank and Oak launched an updated app this year, which includes a "guided shopping feature" that uses a mix of human stylists and bots to offer product recommendations and personalized suggestions through a chat interface.
"We want to be a full lifestyle adviser to our clients, and that's all chatbots are doing: serving recommendations, be it products or information, that are relevant to a user," says Ethan Song, the company's co-founder and CEO.
The interaction with Frank and Oak's chat feature can start simply (i.e. "I'd like to see a shirt in blue"). From there, a learning AI can combine those simple questions with data on previous searches and purchases to make a chatbot's answer more in line with a user's tastes, not just recommending blue shirts but ones in a specific pattern, fit or style. Song says chat is more in line with what people expect from mobile: information that's specific and relevant to the situation, and fast.
"If your user is only interested in being sent three things, as opposed to pages of information, you have to get better at recommending products, which means knowing how to use [your data] better," he says.
Eric Alper, Frank and Oak's CMO, says the conversational nature of chat allows brands to collect specific data from customers based on answers to questions bots pose.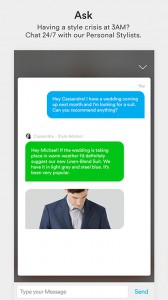 "Data collection online has typically scraped up what people were doing and where they clicked and what they typed," he says. "Chat and bots give us the ability to use natural language to engage people to ask questions directly, and customers tend to offer that data more readily because it's conversational. We can find out more about what they're into without guessing based on web activity or making it feel like they're filling out a survey."
We've seen image-recognition apps like Slyce that allow users to take a photo of a product and find a retailer selling it (or a similar item), but Alper suggests baking in an additional layer of data. An AI assistant could compile an outfit based on a photo of a closet, while also suggesting products a user could purchase to complement what they already own.
Frank and Oak's chatbot runs within its own app, but some brands are looking towards messaging apps like Kik, WhatsApp and Facebook Messenger to speak to a pre-existing audience. In April, Facebook released a development kit that allows brands to create chatbots that run within Messenger. That not only simplifies what could be a complicated development process, but also allows brands to reach the app's 900 million daily users.
One brand that has tested the waters with Facebook Messenger bots is sports news app The Score, though at the moment, the functionality isn't too far off from what its mobile app already offers. It sends users messages about scores and news for teams they tell the bot they'd like to follow in a conversation. Riaz Lalani, VP of product at The Score, has said in multiple interviews that the next step is to weave that knowledge into other situations, such as asking the bot to pull in information like stats and standings to settle an argument with a friend in a separate Facebook Messenger conversation.
Of course, Allo and Alexa, powered by data giants Google and Amazon, could potentially serve up the same kind of information for users. However, what's important might not be how much data you have, but what you do with it.
"The right brand for the right person could pick up on the right cues and know very well what you're into," says Richard Lachman, director of the RTA Transmedia Centre and associate professor of digital media at Ryerson University. "The thing you searched for or email you sent early in the morning might not inform what wine you'll choose to have with dinner."
Since the brand's launch, Frank and Oak has provided blog, video and photo content covering topics unrelated to clothing like music, food and art that its fans care about. Song believes this content has helped to position the company as a trusted lifestyle brand, and not just a men's retailer, which can be parlayed into a chat experience consumers seek out. The information and suggestions it can give users might not be as far-reaching as Google's, but it can be more specialized, having built an identity as a lifestyle expert.
"Siri is a very general thing and might not base its suggestion on data that is relevant to your personal values," Song says. "We have a particular customer with a lifestyle aligned with particular communities we're a part of, so our recommendation is probably going to be closer to what [that customer would] like to see."
How VR can go farther
Inside its offices, Facebook has been developing ToyBox. The VR platform is, fittingly, social in nature, bringing multiple people together to share the same experience, like playing ping pong or touring the streets of Paris.
Globacore, a Toronto-based company specializing in gaming and VR-based activations for brands, has already experimented with "virtual brand ambassadors" guiding participants through the game environment. Ben Unsworth, its co-founder and president, says as VR becomes more accessible through things like ToyBox, the possibilities will begin to open up as brands realize what can be done with it. Virtual tourism suddenly becomes less of a single person looking at a 360-degree photograph or video and more of a virtual tour group, with a guide inside the experience, directing users and pointing out interesting facts. Retailers could offer a live customer service experience, such as Ikea tutorials on how to build one of its bookcases.
VR tends to be thought of as an experience people "enter," but the lines between VR and reality could be further blurred if the technical capabilities allow it to happen in real time. Going back to the tourism example, Simon Conlin, a senior producer at Globacore, points out that someone travelling to a destination that's off the beaten path could bring a VR camera so a wheelchair-bound friend or family member could simultaneously experience the trip.
Most current VR experiences are the same for everyone, so customization is an obvious place for improvement. Unsworth says running VR experiences on video game engines makes for easier customization, but adds that bringing in data from Facebook or Google, which will soon be releasing its Android-powered Daydream VR platform, could make them even more personalized.
Right now, customization comes from selection menus, like in a video game, but being able to feed in data about a user would help automate that process. For example, a millennial who has just started their first job and a 40-something parent of two enter the same driving simulator, but are behind the wheels of different cars that suit their needs and price ranges.
There are also opportunities for data collection. Much like how chatbots could collect more accurate data by posing questions, individual brands could observe or record a user's behaviour in a VR experience to learn about their personal preferences.
"Having to interface with screens just stops you from doing what you really want to be doing and is less immersive," RTA's Lachman says. "So any way you can change that environment without me asking makes the experience less intrusive and more compelling."
What lies below the surface of connected homes?
 By Mitch Joel, president, Mirum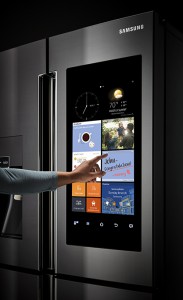 The next digital consumer is, simply, the contextual consumer: a person who not only tracks their walking pace, heart rate, physical activity, food intake and more thanks to wearables, but also their home environment. And if "data is the new oil" (as the turn of phrase goes) you can be certain the data, analytics and information our smart homes will be pumping back into the matrix is going to be staggering. Context is everything, and the smart home will be the contextual playground that makes marketers shudder in confusion, due to the windfall of information.

Brands will know how many products a consumer has in their fridge and how often they deviate between brands as all of our
appliances and devices connect.

But the deep tissue metrics from connected homes are where the true gold will be buried. A friend of mine is one of these contextual consumers and his home is a glimpse into this near future.

His kids all have Tile, tiny key-ring-sized Bluetooth trackers, sewn into their backpacks. Using the free app IFTT (If This Then That), he is able to be notified on his smartphone when the school bus drops them off at the end of the day. From there, the app disarms the security system and opens the garage door so they can get in the house. Using his internal camera setup, he can not only see his kids, but have a conversation with them. If the kids should cross a virtual gate created with beacons near the pool deck, or the neighbour's toddler stumbles into his backyard, he gets notified.

These actions provide a wealth of data, not just about who is going where and what's happening in the home, but about habits and usage.

If this doesn't rattle your cage, consider this: the number of smart homes in North America and Europe hit 18 million last year, a growth of 56%. The market is being driven by smart thermostats, security systems, light bulbs, networked cameras and multi-room audio systems. Yes, this is early days, but when brands have access to how a home is being heated, its security system, the lighting and entertainment, what's left for them to know? How much more personalization do you need?

If marketers don't get ahead of this, they may repeat the same mistakes they make with online retargeting, where a consumer looks for a hotel and books it, but the brand still haunts them in every single digital page they generate.

The smart home offers up an opportunity for smart marketers to make some smart decisions. Let's see just how smart we can be.