CIBC Run for the Cure makes a change
The annual event refreshes its approach, putting the spotlight on what personal participation really means.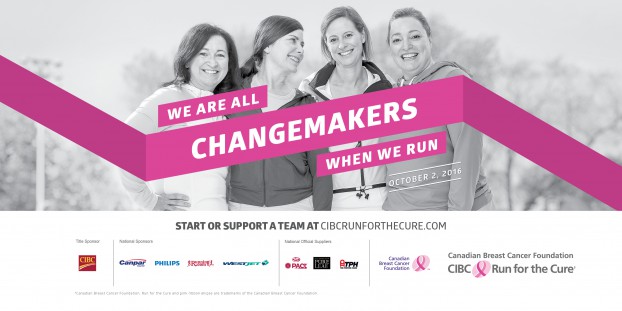 After 20 years of holding the CIBC Run for the Cure, the bank and Canadian Breast Cancer Foundation are hoping to keep the marketing around the event fresh by focusing on its longtime supporters.

CIBC recently launched its new campaign leading up to the Oct. 2 event with the idea that its participants are the true "changemakers" behind the breast cancer cause.

This year's campaign is centred on personalization, with an online tool allowing participants to make the run more personal by creating customized fundraising materials to share. In a nutshell, the idea is to create 10,000 localized campaigns building to one. For example, a participant can brand his or her own fundraising efforts (such as Team Mary Run for the Cure).

While the event has been successful for the past two decades, the increasingly crowded peer-to-peer fundraising space and perceptions around the real impact of personal participation prompted CIBC and the CBCF to refresh their strategy.

"We really wanted people to make this personal and find ways to maybe challenge the perception that your participation doesn't make a difference, because it does," says Rob Assimakopoulos, SVP and CMO at CIBC.

Research showed that those who have a personal connection to breast cancer are the ones who most want to get involved personally, and that participants and donors have a desire to have visibility when it comes to their actions supporting the cause.

"A lot of participants and donors, they want a certain amount of control and visibility when it comes to the causes they support," Assimakopoulos says.

The campaign amplifies the user-generated "changemakers" content in geo-targeted social posts and OOH wild postings. A video PSA featuring a breast cancer survivor's personal story is also running on TV and online.

The campaign also features several "changemakers" – longtime fundraisers, volunteers, survivors and other supporters – in mass marketing, including radio, print, OOH, digital, social and CIBC branch assets, with the message that "We are all changemakers when we run."

Juniper Park\TBWA led strategy and creative on the campaign, with Mediacom on media, Fuse Experiential Marketing as the activation partner and Media Profile on Public Relations.

Since the website and online toolkit launched a few weeks ago, more than 1,000 participants have created their personalized campaigns. On average, those personalized campaigns raise nearly twice the dollar amount than those who don't have their own customized campaigns, according to Juniper Park\TBWA in a release.