Check it out: People for Good's cozy new garment
"The Togetherness Shirt" aims to conquer divisiveness by reminding us that we're all part of the same race.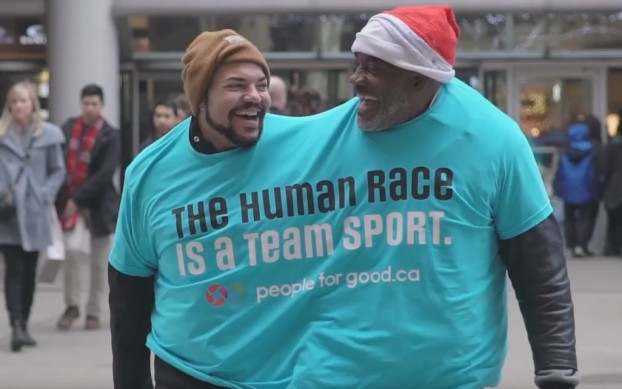 For those of our readers living under a rock, earlier this month U.S. president-elect Donald Trump was named Time's Person of the Year. The magazine's cover described him as the leader of the "Divided States of America."

We're not immune to our own political and social rifts up here in Canada, and neither is the rest of the world. So, to conquer these times of division we're unfortunately in, non-profit People for Good is getting people to come together with strangers.

A new campaign, led by Zulu Alpha Kilo and its content studio Zulubot, centres on "The Togetherness Shirt," a garment created for two people to share together with a simple idea — that "the human race is a team sport."

A video featuring strangers on the street trying on the shirt together is being supported through TV, digital and social nationwide, with Media Experts on media.

To give the idea momentum, People for Good will be asking for suggestions of a pair that Canadians would most like to see in the shirt (the campaign is using the hashtag #WeAllFit). The shirts in the video will also be given to random Canadians, who will be encouraged to publish photos of themselves and a partner in the shirts before passing the shirt on to another.

People for Good was co-founded in 2011 by Media Experts founder and CEO Mark Sherman and Zulu founder Zak Mroueh, with the idea of promoting goodness, without any other agenda. Its launch campaign alone received $12 million in donated media.