Budweiser's new approach to owning goals
The beer brand aligns with a global sports strategy while maintaining its local positioning around hockey.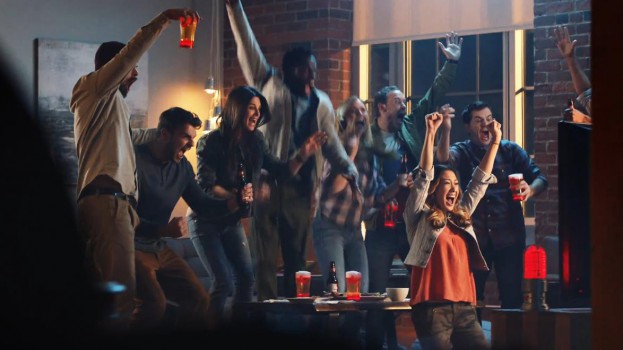 Owning the moment of a goal has been a major part of Budweiser's strategy when it comes to tapping into hockey's fanbase. It has previously done this through experiential activations like WiFi-enabled goal lamps that light up when a team scores (a giant version of which toured the country last year) or special goal-synced pint glasses that do the same.
This year, however, the beer brand has opted for a more traditional TV spot that has been airing during NHL broadcasts. By using its recognizable lights and glasses, it is positioning itself a beer for "real fans" (those who would bring their Goal Light with them on a trip, as opposed to the guys in suits that leave the game before it is over).
Andrew Oosterhuis, director of marketing for Budweiser at Labatt Breweries of Canada, says the new spot is an effort to align Budweiser's local efforts around hockey with the brand's global sports strategy. This alignment actually began in the fall with the Blue Jays, and the positioning is described internally as being "the proud supporter of supporters."
"As a global brand, we activate around hockey in Canada, but also around baseball across North America and as a sponsor of the FIFA World Cup globally, so we need our position around sports to be consistent," Oosterhuis says. "The insight our teams have aligned to is that you are a fan of a team because your parent was a fan, or it's based in the city where you were born. But that's the easy part.
"The hard part is sticking through the losing seasons. That's what we define as the beating heart of sports, and we want the work to stand from the perspective of the people who know what that's like."
There will be a new experiential launch from Budweiser in the near future as it gets closer to playoff time (Oosterhuis says it will address a common pain point for Canadian hockey fans, but wouldn't elaborate more). The goal-synced glasses have also been made available in retail with select Budweiser purchases since February. Over the years, Budweiser has been able to own "the moment" of the goal because of these experiential and retail activations, and using its brand recognition to reinforce its place in the lives of hockey fans in the new campaign gives it the best of both worlds.
"We're aligning our communications to a global insight, but still letting the trade marketing continue to deliver on that side," Oosterhuis says. "We're placing the brand within the beating heart of sports and hockey by using the red light and the glasses to do that, versus making the communications all about them, and then finding ways to extend it with experiential and drive volume within trade. Just doing one can be a bit tactical, so we're just trying to fly a bit higher and deliver on the deeper insight as part of the global strategy."
That's not to say the brand isn't going to continue to drive value from the tactical side of the program. For example, during the tour of the giant goal light, over 11,000 people opted in to receive communications from the brand. Before the start of the NHL season this year, many of them were sent their own, free Red Light pint glass before they went on sale again to the general public.
"Because of this program, we have a place in our consumers' lives," Oosterhuis says. "You'll continue to see those kinds of thing that have extension of the campaign that has real power because of the data and information it's given us about our consumer. Using data for one-to-one, personalized marketing is what every marketer is trying to do, which is great in theory but hard to pull off in reality."
Anomaly led creative on the new spot, with UM on media, Veritas on PR, Mosaic on experiential and Hunter Straker on trade marketing.