Shopper Innovation Awards: How to keep it fresh
Molson Canadian and Budweiser found ways to bring winning campaigns back for another season.
This article appears in the May 2017 issue of strategy.
The wins: Molson Canadian "Global Beer Fridge" Gold Tech Breakthrough and "Rooftop Rink" Gold Targeting, both by Rethink // Labatt Breweries of Canada "Budweiser Goal-Synced Glass" by Hunter Straker Bronze Integration
It's one thing to conceive and pull off an attention-grabbing campaign built around an elaborate experience or novel tech. It's another to extend its shelf life, tweak the creative and find new variations to keep it fresh, all while continuing to capitalize on the same insight.
In their duel for hockey supremacy, Molson Canadian and Budweiser keep upping the ante. Fortunately, at the Shopper Innovations Awards, both brands are winners.
After building a hockey rink in the Rocky Mountains in 2015, transporting contest winners (and the Stanley Cup) by helicopter to play on it, Molson kept things more central for its follow-up campaign in 2016.
Building a "Rooftop Rink" on top of a downtown Toronto skyscraper had the benefit of accessibility (hockey fans could rent it out for $2,000 an hour) and PR, with the structure generating buzz in local news before the brand had announced its plans.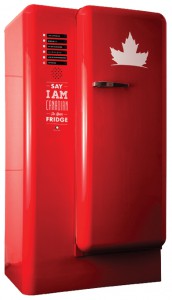 "Now more than ever, while a client may want to talk about a particular aspect of what they do, if it doesn't overlap with what the audience actually cares about, it's very hard to break through and have that work be shared and noticed," says Ian Grais, founder and CD at Rethink, the agency behind the program.
The sweet spot, in this case, was hockey. But for Molson's other Gold-winning campaign, it was diversity.
The brand and Rethink tweaked its campaign from a fridge that opens only for Canadian passports or when someone sings "Oh Canada" (in 2014) to one that opens when "I am Canadian" is spoken, in six different languages, into a built-in speaker.
The new "Beer Fridge" campaign coincided with a wave of intolerance in many Western nations, punctuated by the U.S. election, making for a powerful and enduring brand statement.
Starting with a good idea also meant free help on the tech, says Rethink partner and CD Chris Staples. Molson used Google's translation API at no cost because the Silicon Valley giant was "curious too," he says.
Budweiser has also managed to keep innovating the tech on its groundbreaking Red Light (an internet-connected hockey goal light that flashes when your team scores), which launched in 2013.
After moving from the lights (sold for $149) to a blimp to beer pitchers, the latest iteration is the "Goal-Synced Glass." The beer glasses are connected via Bluetooth to the Budweiser Red Light app, where fans select their favourite team.
Sticking with the winning formula, the red light built into the bottom of the glass flashed when the team of choice scored.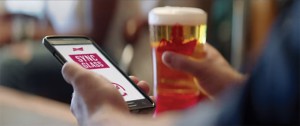 The brand gave away free glasses in Budweiser 24- and 28-packs, selling an incremental 150,000 cases, aided by POS toolkits and an integrated campaign. It saw an overall 0.5% market share lift.