Inside Bud Light's celebrity-filled living room
DJs, fighters, gamers and an NFL legend stand ready to host brand fans at special events across the country.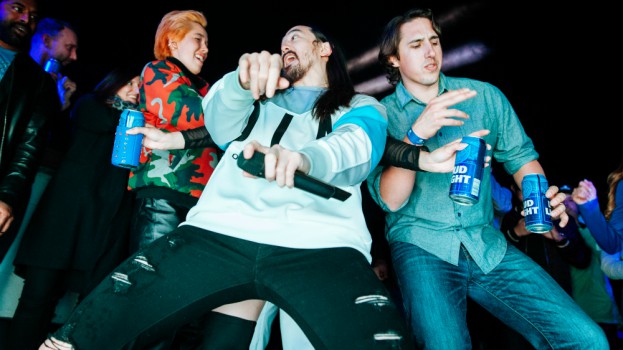 Bud Light has unveiled an experiential campaign that taps into the passions of its target market.
In collaboration with its suite of agency partners (Anomaly on creative, Mosaic on experiential, UM on media and Veritas on PR), the brand unveiled its Bud Light Living Rooms last week at an event, an extension of its overarching Bud Light Living campaign. The program will see fans vying for a chance to book time in a "celebrity curated" room at a special event.
On offer are a tailgate party with Pro Football Hall of Famer Deion Sanders, video game sessions with e-sports professionals Ryan Ramirez and Justin Wong, a backstage experience at a UFC match with George St. Pierre and a VIP experience at a music festival with celebrity DJs Steve Aoki (pictured middle) and Julian Dzeko. Each of the celebrities were in Toronto last Thursday to announce the initiative before a crowd of media and influencers.
The campaign itself is not a contest. Fans must pay to participate in each first-come, first-served experience. Visitors to BudLightLiving.ca can ask to be notified when each "living room" becomes available to be able to book time in each one. Rooms will be made available one at a time over the coming months.
"This entire platform is for people who want to immerse themselves in what they're passionate about," says Natalie Starszyk, senior brand manager for Bud Light. "This might tend to skew to people in their 20s, who are more open to living out these kinds of experiences, but we're not going that narrow with our targeting."
Globally, Bud Light's marketing has skewed heavily towards premium experiential events backed by a strong media spend to promote them. In particular, it's been associating itself with electronic dance music. Living Rooms does mark the first time the brand has aligned itself with esports, however.
"A lot of these passion points really lend themselves to these experiences," Starszyk says. "Bud Light Living has been around for a while now, and these really are natural extensions of that. It's where the brand really fits."
The majority of the media spend to promote Living Rooms falls on digital channels (as is typical for Bud Light Living programs), but Starszyk says PR also plays a particularly important role in this type of marketing. "We want to make sure we get national coverage and that we're being relevant to our consumer nationally. [Veritas] played a big role in the launch event in particular. We're really proud of the integration between brand and PR on this campaign."
The first experience – the DJ dance party at the Bud Light Dreams Music Festival in Toronto – takes place in July. The remainder of the events will run into the fall.