What's next for Second Cup?
Following the exit of its CEO, the brand - and industry watchers - discuss what's ahead.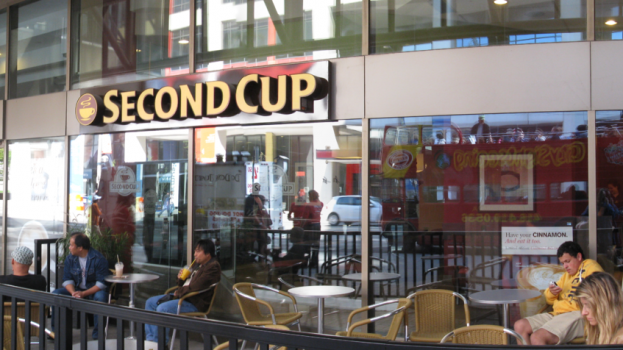 Retail coffee is a vicious business in Canada. Tim Hortons, McDonald's and Starbucks dominate this three billion cups-per-year market, and beyond that inner circle sits a handful of smaller players fighting over single-digit market share. Arguably the largest of these outsiders is Second Cup Coffee Co., which last week announced the departure of Alix Box as CEO.
Company chairman Michael Bregman said during the annual general meeting that Box had built a "strong foundation" on which to build future growth, but "a change was needed."
A few days after Box's departure, the company filed its annual report showing a 1.1% drop in same-store sales – its eighth consecutive year of such declines.
Box oversaw a re-imagining of the chain's in-store look and visual identity, but industry experts suggest an already-changed market required a different outlook altogether. Strategy asked those who've been observing Second Cup's fortunes to share their views on where the opportunities lay for a challenger brand in this tough business.
And if early word from the head office is any indication, there's a chance they're steering in the right direction.
Coffee buddies
Growth doesn't have to be a lonely pursuit, according to Alan Middleton, executive director of the Schulich Executive Education Centre. He suggested that partnerships with other aligned restaurant brands could drive new and return visits.
"I could see a Second Cup and David's Tea pairing, or something like that," he says. Usually such pairings come from mergers or acquisitions, but not always. He points to partnerships such as Starbucks and Indigo's that have also wrought great benefits.
It looks like Second Cup agrees on this point. In a statement to strategy, interim CEO Garry Macdonald says the company has developed a "new non-traditional format program and a new co-brand licensing format offering our premium quality Second Cup branded/signature products in a smaller footprint with a lower capital cost profile."
Second Cup is looking at other quick-serve restaurants (though Macdonald hasn't specified which ones) as well as entertainment venues, convenience and gas stations to hang its logo over doors with a lower per-foot cost.
"We will also be testing co-branding initiatives within our existing system, with other select premium brands that add compatible value and convenience to our customers."
The first such team up is with Pinkberry frozen yogurt, which has been testing a co-branded space at its BCE Place location. A "store within a store" will appear in a downtown Toronto Second Cup Location in the coming weeks, with four test stores appearing across the Greater Toronto Area soon."Based on successful test results the concept will be rolled out to other Second Cup cafes."
No more sit and sip
Much was made of Second Cup's "café of the future" when it debuted in 2014. It updated the national chain's decor and tried to make its retail locations a bit more lively. A milk bar with beer tap-like handles and a steampunk-styled slow bar added some shine to a design that was previously defined by brown vinyl.

"Their store of the future focused on the wrong areas," says Robert Carter, executive director of food service at NPD Group. "They were focused on their in-store experience when the majority of growth in the coffee category is coming from the out-of-store experience. It's in the drive-throughs and mobile and take out."

When asked for comment on the success of "the café of the future" and Carter's contention that it missed a growth opportunity, Macdonald told strategy in a prepared statement that his organization has "great real estate locations and we will continue to focus on expanding our traditional café model in carefully selected, high profile locations, as well as our concept upgrades and renovations throughout our system.

Carter adds that the future café idea misfired on a second target as well by trying focusing too much on millennials. "They hadn't had any traction with millennials, so they didn't have a base to build on." As a result, he says, the core consumers it did have – boomers – felt alienated.

Middleton says companies under competitive threat often forget to look at what made them strong in the first place – their core customer. "They don't look at what they've already got," he says. "You look there first."

Carter says he sees opportunities in using Second Cup's "strong legacy branding" to win back boomers by expanding into the breakfast and tea categories to freshen up the menu. "The portfolio has to be a little bit wider to give consumers multiple reasons to visit."

MacDonald says menu expansion is on the way, but it will be lunch and snacks at the focus of innovation efforts.