Smart and spooky Halloween creative
How brands from Oh Henry! to the Missing Children Society are staking claim to Oct. 31.

It is Halloween, which means brands across Canada are doing all kinds of campaigns and executions to give themselves a place in this year's festivities. We've compiled a few for you to check out below – and be sure to go over to Stimulant for spooky executions we've already seen from Harley-Davidson, Skittles and Svedka.
Oh Henry! goes low-tech
Miniature versions of Hershey's Oh Henry! are mainstays of Halloween loot bags, but the brand's target is millennial men, who are less likely to want to decorate and entertain trick-or-treaters. But that doesn't mean they want to ruin everyone else's fun, so the brand created the "Halloween Helper." It is a robotic talking head that can placed on a front porch, delivering pleasantries and dispensing Oh Henry bars to anyone that comes by, while the homeowner can stay inside, comfortable and undisturbed.
The head is just a prototype for now, though the team at Anomaly Toronto that created it are hoping for a full production run next year. In the meantime, the agency and brand have created some low-tech door hangers that are being given away with Oh Henry! chocolate that still manage to capture the idea of finding ways to avoid trick-or-treaters without ruining the holiday spirit.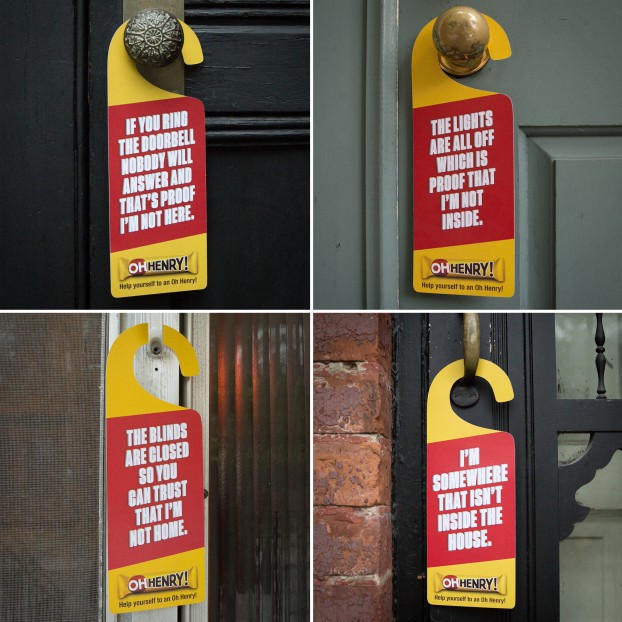 Missing Children Society of Canada reveal the true monsters
While many of us grew up with the threat of "stranger danger" drilled into our minds, the reality is that the vast majority of children who are kidnapped are taken by someone they know, like a family member or teacher. KBS' Montreal and New York offices worked together to draw attention to this fact by using facial recognition software on a database of convicted kidnappers, creating a composite image of the "average" kidnapper. It then turned to Chris Russell of costume maker Trick or Treat Studios to turn this face into a Halloween mask that represents the "everyday monsters" we may encounter.
Netflix and Shaw make a scavenger hunt stranger
The second season of Stranger Things debuted on Friday just in time for Halloween, and Netflix and Shaw got interactive to get people excited. Working with Rethink, an out-of-home board made to look like the now-iconic wall of Christmas lights and letters from the first season of the show was set up in Vancouver. As people gathered, the wall began lighting up and spelling out messages, giving the location of a Stranger Things-themed challenge to find one of Shaw's voice-controlled remotes. The challenges ranged from bike races to finding the remote in parks, pumpkin patches and pools of slime, but once the winner found the remote, they could speak into it to unlock one of dozens of prizes.
The execution is also part of a broader campaign promoting Netflix's integration into Shaw's BlueSky TV service. While it does feature some creative Stranger Things elevator ads (see below), the TV spots are less spooky than the scavenger hunt – though references to the show have still found their place.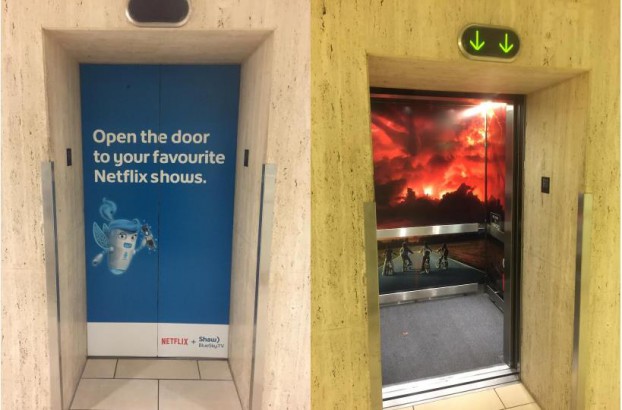 Mitchell Eye Centre saves you from a horror movie fate
The classic scary movie setup is having the protagonist see something that appears normal, but just missing the little detail that foreshadows the horror to come. Working with agency Wax, Mitchell Eye Centre have helpfully added some warning messages into their eye charts – though you're going to want to go in and get your sight checked out if you want to get the whole story.