Cheerios builds a wall of cheer
The cereal continues its long-time support of the Olympics with a minor (but clever) packaging redesign.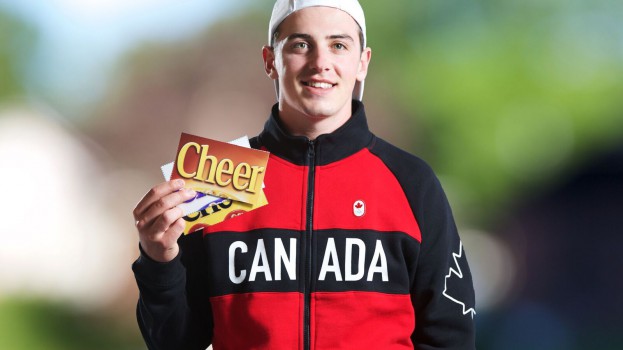 Cheerios will be cheering on Team Canada ahead of the 2018 Olympic Winter games in PyeongChang, South Korea, building off a campaign tradition that began in 2010 with the Vancouver Olympics.
In keeping with previous "Cheer" campaigns, the latest iteration encourages Canadians to cut out a postcard from the front of a Cheerios box, write a supportive message on it, and then mail it to a Canadian Olympic athlete. Canada Post will be delivering the cards free of charge to the Canada Olympic House in South Korea ahead of the games.
Working with agency Hunter Straker, the brand has redesigned its packaging, moving the "IOS" in its name to the side of the box, leaving only the word "Cheer" on the front to be cut out and turned into a postcard. The goal is to create a "bolder visual effect" in store, creating a kind of "wall of cheer," according to Emma Eriksson, VP marketing at General Mills Canada. She says the wordplay aligns with the company's broader objective of "bringing cheer to the world."
Cheerios has previously seen success by making simple yet impactful changes to its packaging, notably during the "Bring Back The Bees" campaign for its Honey Nut Cheerios brand.
This marks the fifth consecutive time Cheerios has supported Team Canada with "Cheer" during the Olympics (its partnership with the games stretches back even further, to 1998). The "Cheer" effort began in 2009, ahead of the 2010 Vancouver Olympics, with 30,000 Cheer cards being sent that year.  For the 2016 Summer Olympics in Rio, the brand capitalized on the host city's name by labelling the campaign "CheerRios."
This year, Cheerios has partnered with Team Canada athletes, including snowboarder Mark McMorris, figure skaters Tessa Virtue and Scott Moir, short track speed skater Charles Hamelin, hockey player Natalie Spooner, and freestyle skier Mikael Kingsbury. Beginning in January, they will appear on cereal boxes for the duration of the Olympic Games.
The package design is also meant to better reflect Cheerios' "Be the Cheer" master brand platform. The platform launched over the summer with online and TV spots that focused on doing things that help people embrace "cheer" and spread it to those around them.
The effort is being supported through TV, pre-roll and social ads. The main TV spot shows a young girl cutting out a card, drafting a personal message on it and mailing it to Mark McMorris. Cossette led on creative and media and Veritas Communications on PR.