Amazon launches Alexa in Canada
How local brands are working with Amazon's AI assistant now that it has officially arrived.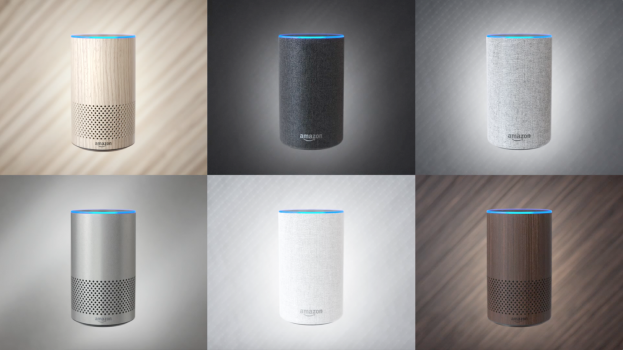 Amazon is finally and officially bringing the AI-powered Alexa voice assistant to the Canadian market, and brands are already active on the platform.
Amazon began accepting pre-orders for the Alexa-enabled Echo, Echo Dot and Echo Plus smart speakers on Wednesday. The devices are expected to ship in early December.
Prior to this week, Canadians could purchase an Echo in the U.S. and bring it back home. They were hampered, however, by limited functionality when it came to services based on location or those from companies that only served U.S. customers.
Now, Alexa has been given full functionality on this side of the border, recognizing Canadian addresses, operating with an exclusive "Canadian" voice and making more than 10,000 "skills" available to users.
Skills are at the core of Alexa's offering. They are voice-powered apps that users can load onto their Alexa-enabled device – and Amazon has made the Alexa Skills Kit and Alexa Voice Service available to Canadian developers. However, a number of Canadian brands are already on board and have made their skills available.
BMO and TD have each created similar skills that allow users to check nearby ATM locations, get up-to-date exchange rates and information on the bank's products. The information offered by the banks' skills do not offer personal information or services for a client, like Capital One's skill in the U.S., which allows users to check account balances, due dates for payments and get information about how much they have spent at a particular retailer. Rizwan Khalfan, chief digital and payments officer for TD, told strategy in an email that the bank sees potential for more voice applications in the future, pointing specifically to things like proactive reminders for when a bill is due and the ability to make a payment.
Insurance provide Manulife, however, has launched the Manulife Benefits skill, which allows users to inquire about their balance on any medical plan.
Air Canada's skill will give users the status of their flight, provide fare quotes and which baggage carousel to go to pick up baggage after a flight. The airline said in a release that more topics will be added in the future, while also noting that Alexa comes with built-in capabilities that allow users to find info on things like Air Canada's mobile app, required travel documents, TSA precheck availability and certain ticket policies.
Telus has launched a skill that will allow customers to check billing information, data usage and add new data or travel options, as well as make calls through an Alexa-enabled device.
CBC has launched skills that can be incorporated into Alexa's Flash Briefing, which offers news briefings to users and can be customized with stories from preferred sources and outlets. CBC will offer two versions: The World This Hour for international news, and Local News for stories tailored to 13 regions across Canada. In the future, CBC plans to launch skills that provide hourly news updates and 30 regional streams from Radio One.
The Score is also offering the option to integrate itself into Flash Briefing, providing two-minute reports composed of the top headlines for either "traditional" sports or e-sports. While the skill doesn't offer customized news or scores based on a user's favourite sports or teams – as its app does – the company told Media in Canada that it would like the evolve its skill to provide that service in the future.
The new skills join a host of others that have been launched in recent months in anticipation of Alexa's launch. The Weather Network and Global News have skills that can be incorporated into Alexa's Flash Briefing, with Global offering specialized skills around particular subjects like politics, health and technology.
Canadians who don't want to wait until December to get their Echo might have a faster way to get Alexa services into their home. Canadian smart thermostat maker Ecobee announced that the Ecobee 4 – which makes use of a number of Alexa-powered voice functions – is now available for immediate purchase. The company launched a campaign earlier this year focusing on the Ecobee 4 and it's Alexa-powered capabilities. That campaign ran in both the U.S. and Canada despite both the Ecobee 4 and Alexa not yet being available here, as it could get local consumers excited about the possibilities of the connect home and voice-powered functions in particular.
A number of brands selling smart home products, such as Phillips and Logitech, have also announced full Alexa support for its products.