2018 MOY: Keeping the momentum
Kruger's brands already lead the market, but Nancy Marcus has stayed busy future proofing and building love for new segments.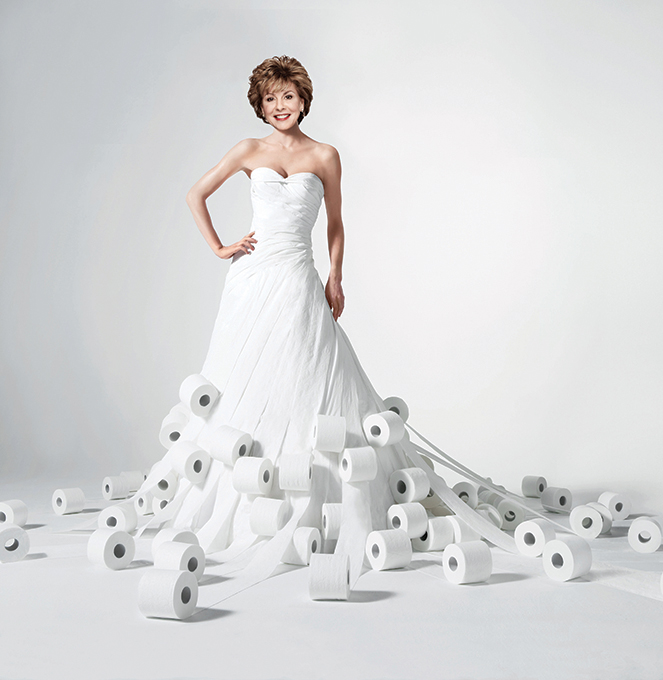 This article appears in the January/February 2018 issue of strategy
Just a few years before Nancy Marcus joined Kruger Products in 2001, the company had acquired the Scott Paper business from Kimberly-Clark. It had only six years to use the paper company's trademarks in the Canadian market before the licenses expired. Marcus' job was to phase out well-known products like Cottonelle and Scott Towels and replace them with new brands, while maintaining market share.
Today, many of Kruger's brands – Scotties, Cashmere, SpongeTowels, White Swan and Purex – lead in their respective categories. Over the last five years, SpongeTowels' market share has nearly doubled, while Cashmere's has tripled. Overall, Kruger has a 32% market share in the paper category, outpacing P&G, Irving and Kimberly-Clark.
"If I say 'facial tissue,' people still think Kleenex, but Scotties is three times their size," Marcus says. "Our competitors are in a sea of euphemisms, but insights show consumers are tired of seeing a bear or a cat or a bunny. We're talking to our consumers with intelligence and integrity. When you're market leader, you have to really get down deep into what's important in the consumer's world."
A spot at the top never goes uncontested. But Marcus has been using the advantages of market dominance to ensure it continues to lead in the years to come. "We need to be better at integrating everything even more, because it needs to be seamless to the consumer," she says. "Being the market leader means we have developed a wealth of insights and capabilities to do that, and do it in a cost-efficient manner."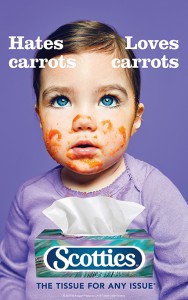 Being a market leader also means you have more wiggle room and goodwill to be braver in how you speak to consumers, says Marcus. Its bold mindset can be seen in the follow-up to Scotties' "Tissue For Any Issue" campaign. The first edition, created by John St. in 2015, featured exaggerated crying faces under two competing statements ("son moves away/son moves home" or "asked to be a bridesmaid/asked to be a bridesmaid again"), leaving it up to the viewer whether they were tears of joy or sadness.
But when a second round was launched in the months ahead of the U.S. election, an ad appeared with the text "Donald wins/Hillary wins," placing the brand right in the centre of one of the most heated political debates.
"Did we have permission to go there?" Marcus asks, shrugging her shoulders. "We did it." And it worked: top-of-mind awareness for Scotties increased by 5%, with awareness for the campaign at 34%.
Being brave also means occasionally stepping aside. A social effort in the fall introduced the "Scotties Tissue Box Rating," where short Facebook videos gave a rating out of a possible ten tissue boxes for different "issues," like when your eyeliner still looks bad after watching a makeup tutorial or finding out your son has a girlfriend from a status update. It then encouraged others to give their own rating in the comments.
"I had to relax and just let the team go," Marcus says. "We are using nomenclature and culture references that they knew and I didn't. Shutting up has been an exercise."
In an industry with high turnover rates and a big appetite for bringing in talent with new expertise, Marcus says many of the staff in her marketing department are lifers, which provides continuity and the opportunity for their knowledge to trickle down.
Marcus has also made a point to build that knowledge, enrolling senior marketers in courses through organizations like the CMA to ensure they are all up to speed on best practices in new disciplines, from CRM to social media.
Tactical consumer promotions may not be flashy, but they are important to Marcus' strategy to create a seamless brand position.
In the summer, Cashmere played on its deluxe positioning by giving away 10 pairs of diamond earrings, each worth $5,000. More simple cross-promotional activities, like giving consumers a Tim Hortons gift card for every two boxes of Scotties they purchased, saw a 7% redemption rate, well above the CPG baseline rate of 2%.
"Someone will ask me, 'You're giving away diamond earrings, but what has that done for the business?'" Marcus says. "We can isolate our sales numbers and show that it's working, for every promotion and activity we do. These are things my competitor couldn't do because [Cashmere] owns luxury with women and [Scotties] is a beloved Canadian brand with license to partner with Tim Hortons. It all ladders up."
Kruger brands also "ladder up" to what's important in consumers' lives with sponsorship of events from culture (TIFF) to sports (Scotties Tournament of Hearts) to charity. Through Cashmere, Kruger has been a long-time supporter of the Canadian Breast Cancer Foundation, which merged with the Canadian Cancer Society last year.
The "White Ribbon Collection" (which helped launch the Cashmere brand in 2004) is a showcase of high-fashion dresses and gowns made out of the toilet paper (which Marcus is fashioning for us in the featured image on the previous page). The gowns are then modelled at a fashion show in support of breast cancer research. To keep things fresh for the most recent addition, it engaged a younger demographic with a student competition for designers from Toronto colleges. It also added a digital voting component, which increased its online reach to complement paid buys that have been increasing in recent years.
Despite the success of the "White Cashmere Collection" in English Canada, Kruger produces unique campaigns in Quebec featuring local personalities and statistics about cancer rates in the province to support the Quebec Breast Cancer Foundation instead.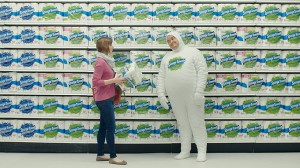 Marcus attributes a lot of her brands' success to using content that recognizes the differences between populations in Canada. It's why Kruger continues to maintain the long-beloved Purex brand in Western Canada while it sells Cashmere everywhere else. It's why, even if the positioning of a brand like Scotties is the same, the company doesn't do a straight adaptation of English creative for the French market.

Kruger has also been ramping up efforts to speak directly to Canada's growing Chinese Canadian population. This year, Marcus made a concerted effort to ensure work targeting these communities better fits its broader brand positioning.

"These families are also going to see English ads, so you need to have a seamless communication plan," Marcus says. "We've created work that is more aligned with the brands, but is also more emotionally relevant by respecting how this population's personal relationships and priorities might be different."

The paper towel-wearing mascot from SpongeTowels' English creative appears in its Mandarin campaign, again diving dramatically through the air to clean up a spill. However, for some of its brands, there are subtle differences based on unique insights.

For Scotties, its multicultural ads are still very light-hearted, but rely on showing everyday messes created by families, instead of the clever wordplay and individuals used in "Tissue For Any Issue." It reflects how Chinese Canadians value functionality and has a greater emotional connection to family.

Market-leading insights can also make the products themselves more relevant to new customer segments.

Millennials are buying less paper towels and napkins, so Kruger has released smaller versions better suited to stacking and loading in tiny city apartments. On Scotties, it broke from the category convention of using pastel colours and delicate flowers on tissue boxes to include more modern designs that appeal to style-conscious young people – which is important given that roughly 70% of purchases are still based on how the box looks on display in the home.

Future proofing is vital to a company like Kruger, whether it has dominant market share or not. Household paper is one of the biggest traffic drivers in retail, but the category is one where private label performs well and price is a major driver.

Kruger has also constantly faced the daunting aspect of being a Canadian company facing off against multinational CPG companies. When your competition has bigger budgets, it means having to work harder to be top-of-mind when shoppers are passing through the household paper aisle.

"This is true, classic marketing," Marcus says. "If a trademark brand is going to stand out in the eight seconds our shopper is in that aisle, and our brands are in the cart instead of what's on sale, it's going to be because the brand has relevance."