Imperfect tech and learning how to give-and-take
As we prep for the C-Suite Summit, we ask what's now and what's next for General Mills, SickKids and Koho's marketing heads.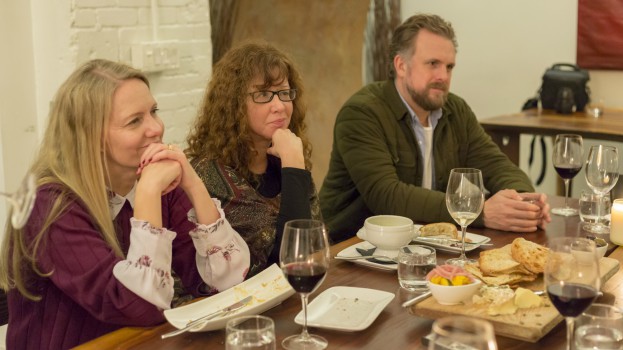 As strategy began to prepare for its first Marketing Evolution: C-Suite Summit, we talked to senior marketers to get a clear idea of the challenges they're facing in 2018 and beyond. We struck an advisory board of top talent to help shape the summit's content, but wanted to have more intimate discussions with some of them to truly understand the issues they face in their daily grind.
In the weeks leading up to the Feb. 22 event, Strategy Marketing C-Suite and strategy magazine will present excerpts from a roundtable discussion where brand leaders talked about everything from technological opportunities and brand authenticity to the perils of innovation.
At the table (pictured above, L-R) were General Mills's marketing VP Emma Eriksson, SickKids' VP of brand strategy and communication Lori Davison and Jason Chaney, recently named CCO of financial startup Koho.
This conversation has been edited for length and clarity.
Strategy: Let's talk innovation. Where are we seeing opportunities to use technology in new ways?
Lori Davison: The way people make donations has changed. It's exponentially becoming an online thing. So how do we make the actual transaction as seamless and quick as possible, so that people don't get frustrated and give up? We're really excited about a tap-to-donate device. The brief for it called it something like The Digital Hat, because the idea is we're passing the hat. You can touch it with your credit card to make a $10 donation. There's nothing more transactional than that, right? It's almost like the collection plate.
The idea is that it would go to a Leafs game, for example. It would have a handler who would take it to a row and just pass it along, pass it back. We're piloting it at some of our own events this winter, and then, hopefully, we'll just launch into the world.
Jason Chaney: It's funny. As a relatively new entrant in fintech in Canada, Koho is obviously developing a blockchain, and AI as central to our business and product development. But we sort of have an inverse problem, which is we actually have to find ways to humanize the experience. It can be very easy to become a full-on technology company and completely disconnect yourself from your audience. We strive every day to actually infuse a real strong sense of humanity into our experiences and our brand as well. So, it almost creates a whiplash where we're gonna over-emphasize the humanity of the experience.
When it comes to AI and [other connection points], we're talking about things like fallibility and using inconsistency in voice, so that it feels much more human, and less contrived – a lot less "AI." So, when we're developing any kind of tech systems, we need to figure out, 'How does this feel relatively imperfect in some respects?' while creating a level of perfection that you expect from technology?
Strategy: What are the big changes you've seen in how marketing operates within your companies?
Emma Eriksson: Well, it's becoming more global overall. One of the big things for us has been learning how to collaborate across the globe. It's a big thing, because you can leverage the ideas and the scale of global markets. But General Mills also believes in the power of local, so it's a culmination.
Strategy: Does that make your job harder or easier?
Eriksson: I think it's clunky at first, right? But I think that I see some great benefits from it as well. We can learn from different parts of the world. We have exported ideas created in Canada and, of course, we imported the best work as well. So I think that it's a give-and-take. It's exciting.
Strategy: Jason, you're at a financial startup, a sector that tends to think globally far earlier in its lifecycle…
Chaney: Because we have nobody else to really compare ourselves against. So, for us, the neobanks that we're comparing ourselves to – or looking at for guidance – are in Germany, the U.K. We're looking globally to learn. And, obviously, we're a sister company to Wealthsimple. And so, as a global launch, we're watching what they're doing and learning from what they've accomplished as well.
Strategy: Okay, so what's keeping you up at night? What worries you as marketers working in fast-evolving, competitive categories?
Davison: It's momentum, I think, but on the macro level. You have wins, but just the energy that it takes and, you know, the resources. Expectations keep going up.
Eriksson: The whole real-time expectation. We used to build a great campaign with TV ads, buy a media plan, put it on air. Great. Now, for example, we're doing this effort against the Olympics with Cheerios and we're constantly monitoring which athletes are tweeting about that, and it is so much work. It's also so exciting. But it's so much work. And we're just not quite set up with the resources for real-time yet… We want to take advantage of it, but how do we do it in the best, efficient way?