Anomaly, Rethink take Gold at Clio Sports
Projects for Budweiser and Sports Experts were among the work recognized at the awards show.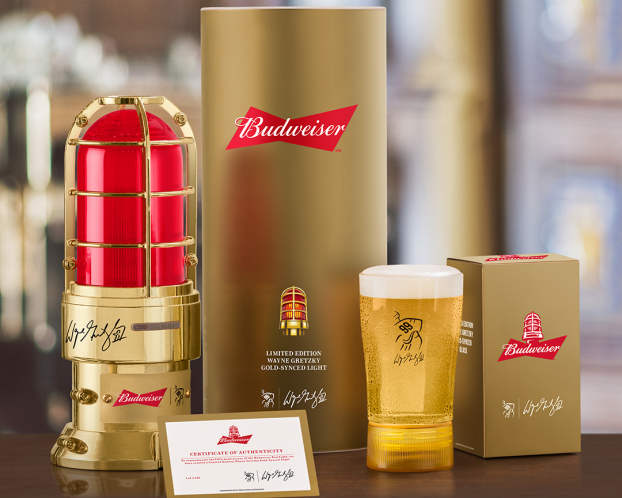 Some Canadian creatives are standing at the top of the Clio Sports podium, recognizing the best work in sports marketing from around the world.
Leading the Canadian winners was Anomaly Toronto, which took home a pair of Golds and a Silver for its most recent work on the Budweiser "Red Light" campaign. Other Gold winners included Rethink (for its "Thermal Discount" execution for Sports Experts) and the internal design team at Maple Leaf Sports and Entertainment.
Also among the Gold winners were Maddie Rosenberg, Ela Kallonen and Runda Dong from Miami Ad School Toronto, who won in the Innovation category in the student competition. Their proposed project for Adidas would enlist runners to help address air pollution with the launch of a new product line dubbed Atmos, made with nanofibers that filter out pollutants in the air. As individuals run, the filtered pollutants would gather to reveal designs on the products. To promote the products and the cause, the brand would hold sponsored marathons in the world's most polluted cities – gifting participants with an Atmos product so they could filter the air as they competed. Out-of-home ads promoting the marathons would be made from similar materials as the clothes, gathering pollutants and showing people exactly why they should participate.
The full list of Canadian winners can be found below. The Grand Clio winners will be announced at a gala on May 21.
Anomaly Toronto: 2 Gold, 1 Silver
Gold
Budweiser (Labatt Breweries of Canada), "Goal Synced Arena": Events/Experiential
Budweiser (Labatt Breweries of Canada), "Let It Shine": Integrated
Silver
Budweiser (Labatt Breweries of Canada), "Let It Shine": Partnerships & Collaborations
Rethink: 2 Gold
Gold
Sports Experts (FGL Sports), "Thermal Discount": Direct, Out-0f-home
Maple Leaf Sports and Entertainment: 1 Gold, 3 Silver
Gold
Toronto FC (MLSE), "Toronto FC Season Ticket Package 2017″: Design
Silver
Toronto Maple Leafs (MLSE), "Next Century Game": Events/Experiential
Toronto Raptors (MLSE), "North Over Everything": Design
Toronto Raptors (MLSE), "Toronto Raptors Season Ticket Package 2017-18″: Design
Miami Ad School Toronto: 1 Gold
Gold
Adidas, "Adidas Atmos": Student Innovation
FCB Toronto: 1 Silver, 1 Bronze
Silver

Air Canada, "Above All Odds": Social Good

Bronze

Air Canada, "Above All Odds": Film