Rogers launches new company-wide brand platform
Covering all lines of business, "Make More Possible" brings the company down-to-earth and speaks to a wide range of Canadian aspirations.
Rogers has launched "Make More Possible," a new platform that aims to make the telco giant's brand accessible to all Canadians by focusing on their aspirations.
The new platform debuted last night with a TV ad during the first game of the NHL Stanley Cup Finals. In the "Home" spot, a young couple sits on the couch in front of the TV, taking in the sights of their new home. The view then changes, revealing everything still packed up in boxes from their recent move. While one of them expresses that it isn't quite "home" yet, his partner assures that it is as they share a tender moment.
The launch campaign for "Make More Possible" includes four 30-second spots and one 60-second spot that ties them all together. Rogers is working with Publicis on the brand strategy and launch campaign, with OMD handling the media buy.
The new brand platform is intended to cover all of Rogers' lines of business, from its wireless and cable services to Rogers Media, which operates TV stations and publishes magazines across the country, to its corporate level and CSR efforts. Leroy Williams, SVP and chief brand officer at Rogers Communications, says that is a departure from the company's past approach, which used different messaging depending on the product being advertised or the customer segment being spoken to.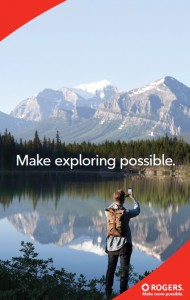 "There was some level of connective tissue between them, but it wasn't done with intention," he says, adding that the company wanted to zero in on its long history of being a pioneer, but communicate it in a way that was accessible. "We didn't want to have a brand that was only aspirational for certain segments or groups. No matter where you are in life, be it personally, professionally or geographically, it's a brand and ethos that resonates. Everybody wants and aspires to achieve more."

Williams was named to his current role last summer. He first joined Rogers in early 2016 as a VP on Rogers' wireless business after nearly 25 years at Verizon in the U.S.

The message behind the positioning is meant to be flexible, but consistent. The "make [something] possible" structure will be ever-present, but adapted to speak to different things Canadians might aspire to achieve, be it travel, connecting with family or contributing to their community. The song in the "Home" spot (or some variation of it), by Canadian musician Andrew Austin, will be heard throughout the TV spots.

While the positioning is meant to resonate broadly, Williams says making "a brand for all Canadians" gives Rogers the flexibility to zero in on specific consumer segments as needed, or on particular products. But the main idea is that the things Rogers is making possible will be defined not by the company, but by its customers.

"[Instead of] being a brand that imposes upon consumers what we believe they need, this is about empowering and helping everyone to achieve and aspire for more, however they define it," Williams says.

The new platform is not just meant to be a departure from Rogers' previous marketing, but from the way other companies – especially those in telecommunications – speak to their customers. Some companies lean on superlative statements, claiming to have the "best" or "fastest" or "most convenient" service or product, which can be hard to prove when operating in a highly regulated industry. Williams says that while it will be clear which products, services and technology is being promoted in Rogers' ads, the outcomes those provide are going to be in the forefront.

"Instead of talking about how we 'Make More Possible' through all these terms and phrases that represent the 'how,' we are making this brand platform about the outcomes. It brings it down to something, which, no matter how connected to technology you may be, you understand, because you understand outcomes."

Williams says that Rogers is putting "substantial weight" behind the launch campaign, and adds that Rogers will more consistently go to market, aiming to avoid the lull that can happen after a brand goes out with a big campaign launch. He describes the launch as coming from the "inside out" after being introduced to employees over the last few weeks. In early June, the company will launch its new CSR strategy, taking its support of the Ted Rogers Scholarship Fund – which supports youth and students who have taken on leadership roles in their community – and expanding it to show ways it is supporting youth and their communities, outside of the scholarship program.