RBI is focused on growth, says its new CCO
Stepping into the role, former FGL Sports president Duncan Fulton explains where the company is headed.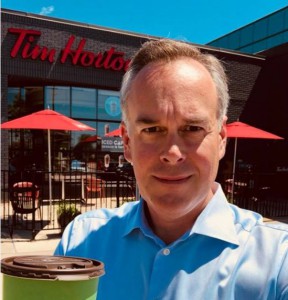 During his first week on the job, Duncan Fulton, the former president of FGL Sports, attended a global leadership conference for Restaurant Brands International, whose portfolio includes the Tim Hortons, Burger King and Popeyes fast food chains.

Fulton (pictured), who yesterday was named RBI's new chief corporate officer, listened as company brass walked through their three-year plan for the organization and its restaurants. Of what he estimates were 800 slides dedicated to Burger King and Tim Hortons brands, not one spoke of cost-cutting measures, he says. Rather, what he saw was a company set on "targeted, purposeful investment in the company to drive growth."

That may come as a surprise to those who've heard the rumours of RBI's (and its holding co. 3G Capital's) tendency to slash costs, creating short-term growth to the detriment of long-term brand building – a characterization Fulton says is unfair.

"RBI, at its core, is a growth company, not a cost-cut company," he says, "and I think part of my job is going to be exposing the true core of the company."

He says RBI has instilled an "ownership mindset" at all levels of the company, that it aggressively rewards employees who perform, and operates on a zero-based budgeting model, meaning budgets are reviewed every single year. In other words, RBI is essentially a "$30-billion-dollar market cap company that has the internal culture of a $10 million start-up."

As chief corporate officer, Fulton (whose duties will include those of former chief corporate affairs officer Patrick McGrade) will work to strengthen the RBI brand, as well as the brands of its three restaurant chains. He will work with the executive team on a "road map" to fulfill its business objectives, work closely with the marketing team, and develop a stakeholder strategy that involves customers, franchisees, government, investors and vendors.

His biggest challenge will be addressing the issues faced by Tim Hortons, one of Canada's most iconic brands whose reputation has recently been marred by disputes between the organization and its franchisees – including allegations that it misused a national advertising fund and disproportionately shifted costs onto franchisees – and significant media coverage of Tim's fall on a series of recent brand reputation surveys.

In facing these brand challenges, Fulton believes lessons can be taken from Canadian Tire, where he previously served as SVP of communications. Both are iconic Canadian brands and operate under the franchise model.

Fulton believes the Canadian Tire brand is "arguably in a much stronger positioning today" than it was ten years ago, due in part to CEO Stephen Wetmore who transformed the retailer into a "brand-led company" that makes decisions through the lens of needing to protect and enhance the brand.

On that front, Tim Hortons continues to work on its "Winning Together" strategy, announced in April, that includes revisiting the menu, redesigning its stores and improving its brand communication.

Secondly, Fulton says the company's relationship with franchisees is "extremely important" and can go a long way in improving perceptions of the brand. Alex Macedo, who was appointed Tim Hortons president in December 2017, has made mending the relationship a priority, he says.

"Taking that relationship seriously, and understanding that we're only going to win as a family that's united, is a big piece of it."

Finally, the company has recently made a number of changes to the leadership team. In addition to Fulton and Macedo, Tim Hortons tapped former global CMO of Burger King Axel Schwan to lead its marketing efforts globally and it appears to be on the hunt for a head of global creative excellence.