Via Rail embraces the future of mobility
The train operator refreshes its positioning following seventeen consecutive quarters of growth.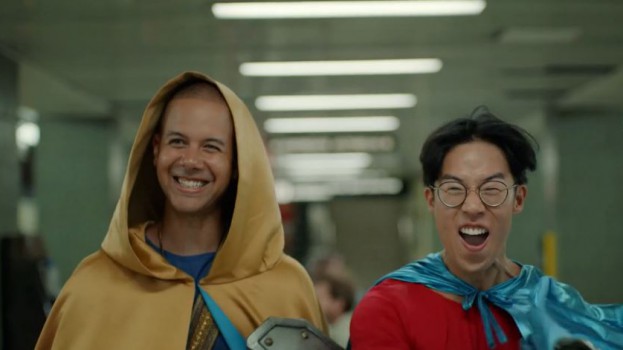 On the heels of nearly four years of consistent revenue and passenger growth, Via Rail is reinventing itself.
The crown corporation unveiled a new platform this week, espousing its role as a leader in economic, social and environmental mobility, says Ann Bouthillier, its chief communications officer. Those three pillars align with broader corporate strategic plans to reduce its environmental impact and more than double the number of annual Via passengers to 9.9 million come 2030, she says.
The main campaign spot, a 60-second ad rolling out in cinemas (with various cut-downs for television and online), introduces the brand's new "Love the Way" tagline and positioning.
The ad suggests that Canadians were born to "love the way we move," until traffic congestion and other travel annoyances got in the way. Scenes of children on bicycles and adults portaging are interrupted with those of a highway lined with idling vehicles. The commercial then shifts back to a brighter future in which Via enables travellers to rediscover that the journey can be as enjoyable as the destination itself.
Three additional spots continue to drive home similar messaging as Via's previous platform, "Why Don't You Take The Train?" (launched in 2016), emphasizing the benefits of choosing to travel by train. For example, it allows passengers to be more productive, to relax and to avoid the frustrations associated with being stalled in traffic, especially in inclement weather.
"We need to continue to talk to the travellers who are looking for a mode of transport, to make sure Via Rail is considered – that's the first step," says Bouthillier. "But we need to start talking to more Canadians so that they are more aware and so that they understand what [Via Rail] means. Not only for their personal benefits, but also for our future in terms of mobility."
Part of the corporation's modernization plan includes adding a new fleet along the Québec City-Windsor corridor and developing a dedicated high-frequency rail project between Toronto and Québec City that will operate on diesel and electrical technology.
In building out the new positioning, Bouthillier says Via conducted consultations internally and with groups in Toronto and Montreal to see if customers were aware of its modernization plans and whether a communications plan centred on them would be "credible." The consultations revealed that Via had the "full credibility" to carry out a campaign around the notions of sustainability and modern mobility.
In addition to the spots, "Love the Way" includes print ads, out-of-home and transit assets, with the latter aimed at positioning the brand as "unifying Canadians" across all their sustainable travel options, according to Bouthillier.
Cossette led on creative, with Touché on media, and digital agency Tink redesigned the brand's website to reflect the new platform and offer visitors a more tailored experience. As part of phase one of the redesign, it created three traveller personas (business, adult leisure and youth) in order to adapt its messaging to each group.