Lactalis Canada adds specialty yogurt brand Khaas to its portfolio
The dahi and halal lines are helping the company make inroads with South Asian, Middle Eastern and North African consumers.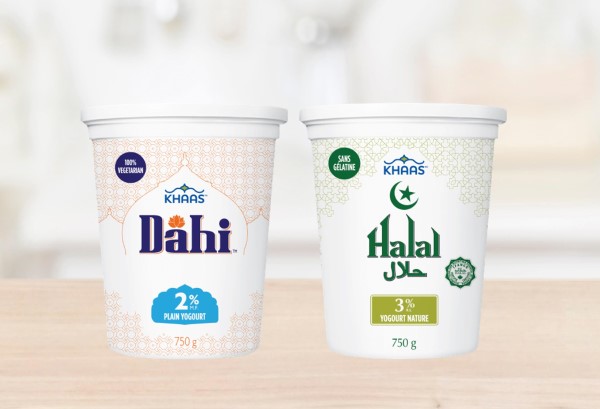 Lactalis Canada is adding specialty yogurt brand Khaas to its roster to make inroads into a growing, diverse market segment.
With the move, Lactalis Canada – the Canadian dairy CPG that also owns Cracker Barrel, Lactantia and yogurts like Siggi's, Stonyfield and Astro – claims it is now a national leader in the ethnic yogurt category.
Khaas Dahi yogurt products are 100% vegetarian, and Khaas Halal yogourt products are 100% certified Halal by the Islamic Food and Nutrition Council of Canada. Both lines are free of gelatin and artificial preservatives.
Khaas Halal and Dahi yogurt products are sold at major retailers and ethnic grocery stores across Canada in a variety of dairy levels and sizes.
Lactalis tells strategy the brand is already live with some of creative digitally and plans on launching more campaigns in time for major holidays like Ramadan/Diwali. The agency doing the work is Dyversity Communications Inc.
According to Adrienne Pagot-Gérault, general manager of the yogurt and cultured division at Lactalis Canada, the brand is a new and authentic product line serving the growing South Asian, Middle Eastern and North African segments, which makes up approximately 10% of the market.
Lactalis Canada also says it plans to expand its ethnic dairy portfolio in the near future with even more specialty product offerings, including in the cheese category, a space where it launched a direct to consumer platform for fine cheese in 2021.
In 2020, Lactalis bought Agropur's Canadian yogurt portfolio, including Iögo and Olympic.
In August, for its plant-based portfolio, which includes the likes of Siggi's coconut-based yogurt alternatives, Lactalis Canada announced it would be expanding its plant-based product offering with its existing Sudbury, Ontario plant converted into a modern, dedicated plant-based production facility over the coming months. The brand is "continually seeking opportunities to innovate and respond to the market," according to Mark Taylor, Lactalis Canada's president and CEO.