Arterra takes Maison Ladore wine to Quebec grocery
The Cassandra Loignon-led lifestyle brand is aimed squarely at young women.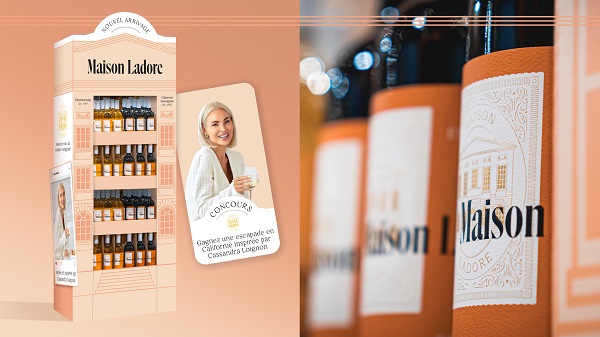 Arterra Canada is bringing lifestyle brand Maison Ladore to Quebec consumers, part of the winery's efforts to ramp up its supermarket strategy.
Arterra Canada partnered with lifestyle influencer Cassandra Loignon, a French language Instagrammer and author of Simply Chic cookbooks with nearly 150k followers who inspired Maison Ladore. And the wine brand's Chardonnay No. 001 and Cabernet Sauvignon No. 002 are now available in grocery stores like IGA and Metro across the province, with more banners in the works.
Bob is the agency providing shopper expertise. And throughout Bob's mandate, the shop is providing 360-degree client support through full ownership – from concept to creative to execution of the in-store and online campaign – for the relationship-driven wine that is positioned around family, love, and simplicity.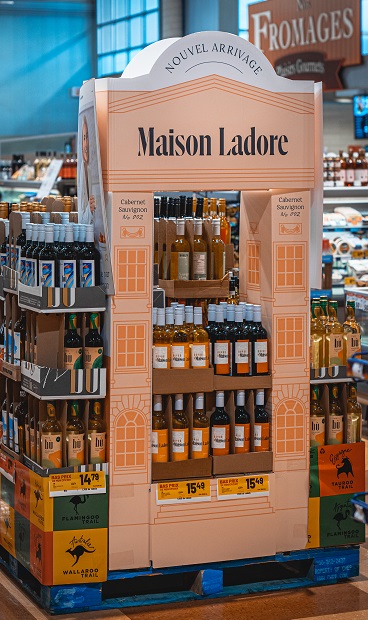 "Since we were introducing a new brand endorsed by a famous Quebec personality we had to make sure people understood the Maison Ladore brand and differentiate it from Cassandra Loignon's other business ventures," says Gladys Kounkou, account director at Bob. 
The choice of Loignon was a natural one, with her large and loyal following. The challenge, Kounkou says, was to give Maison Ladore a voice of its own as well.
"Also, we needed to keep a promotional twist to all POS while maintaining the true identity of Maison Ladore's clean aesthetic," Kounkou says.
There is a contesting component, also offered online, which includes a getaway to California, where the brand had its launch this past September.
The Bob team developed a creative and innovative proposition that could easily fit into the grocery shop environment, in addition to conventional alcohol retailers like SAQ, tapping pandemic trends of grocery shoppers adding wine to their baskets.
In order to maintain the upscale and sophisticated feel of the in-store proposition, the team developed and designed pastel homey creative pieces and displays while creating what Bob calls a "wow effect" to capture consumers' attention.
The goal is to pique the curiosity and interest of its target, 18-35 stylish professional women, making them want to trial the Maison Ladore family of wines.
Transparency and family spirit are core brand values for Maison Ladore.
When it comes to product offerings, the Maison Ladore brand wanted to offer consumers a collection of wines based on Quebec's favorite easy-drinking grape varieties, what it says are ideal for girls' nights out or couples' dinners.
This May, Bob helped bring jaunty retro Arterra wine brand Nic Laloux to market with vintage POS.