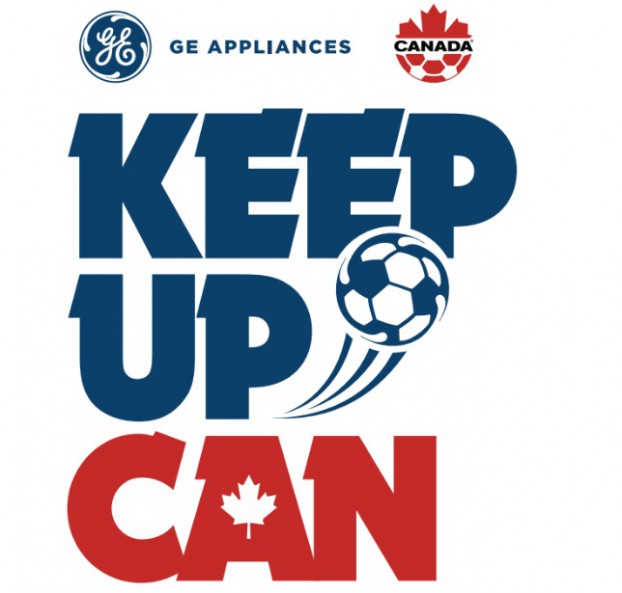 GE Appliances is kicking up its support for Canada's men's national soccer team to connect with new and younger audiences during the World Cup.
The brand is building creative around the concept of "keep ups," in which players use their bodies to keep a ball from touching the ground. One way GE is bringing the campaign to life using an Instagram AR filter, where the ball is kept up with motion detection. For every header, the brand will send a virtual message of good luck to the men's national team. A live ticker of keep-ups will also be displayed in the team's facilities updated in real time, allowing the team to feel the country's love and support.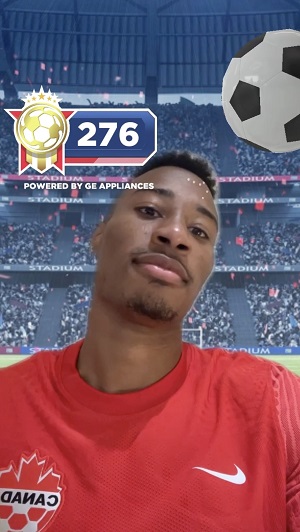 "Qatar is about 10,000 kilometers away," says Bob Park, chief of brands at GE Appliances Canada, which began its multi-year sponsorship of Canada Soccer in January. "It's important to know there are 39 million people cheering [the national team] on on the world stage." He says that given that GE is a world leader in connected, smart home tech, this campaign is a way to thematically bring that concept of "connectivity" to life more broadly and emotionally.
Park tells strategy the brand's goal in partnering with Canada Soccer, as well as all three Canadian MLS soccer club, goes beyond associating its logo with soccer, but emphasizing GE Appliances' broader support for the game.
There are a lot of brands that align themselves with big events, whether it's something like Pride or the FIFA World Cup, Park says, but GE has been involved with soccer for four years, spanning different levels and supporting youth development and doing food bank drives, all the way up to the pros.
"We want to drive the growth of the game and be part of this excitement," Park says. "It's a long-term commitment, not a one-and-done," he says, saying it's an evolution of the brand's larger strategy to reach a new and younger audience by being one of the largest supporters of soccer in the country.
The campaign, created by agency partner FCB, is predominantly digital, with some PR support from Craft. Digital is a "huge" component, Park says, something the brand has increasingly leaned on for the last five years. Media Experts is its media agency.
According to Park, this is one of the biggest "compressed" spends that it is ever had, as it's targeting four to six weeks. The campaign is running concurrently with Black Friday and other promotions, as this is a key time for the brand.
"#KeepUpCan" is also being supported by a partnership with Quinn, a star player from Canada Soccer's Women's National Team, who will act as a spokesperson. There is also a consumer contest, a dedicated microsite, a digital media and social media campaign, and national PR support including partnerships with additional Canadian soccer players and influencers from across the country.