Shopper Innovation Awards: Raising the Roof packages good deeds
The non-profit takes home two Golds for repackaging its hats in a way that shows how donations actually help.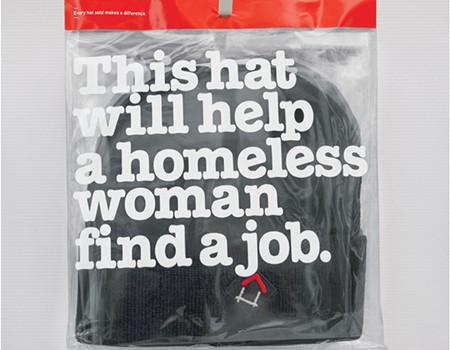 Gold: CSR
Gold: Packaging
For the past 16 years, Raising the Roof has sold toques to raise money for the homeless. While people know about the campaign, some decide not to purchase because they're unsure of exactly where the money goes or who it helps.
The goal for the "Repackaging Help" campaign by Leo Burnett was to create a direct relationship between buying a hat and helping someone in need, as well as to sell the entire annual inventory of 40,000 units.
The idea was to reposition what buying a hat actually means for those receiving the donations. The toques were previously sold in bulk, but for this campaign the packaging for each hat became the media. Hats were repackaged in transparent bags with messages such as, "This hat buys a meal" or "This hat helps a scared homeless girl off the street."
The agency created outdoor pop-up stores so people could see all of the hats and pick the message that resonated with them the most. The outdoor store allowed Raising the Roof to be on the street, creating a relevant context where people generally encounter the homeless.
The campaign helped Raising the Roof to sell all 40,000 hats in only three months (nine months before the target date).
Credits:
Brand: Raising the Roof
Agency: Leo Burnett
Chief creative officer: Judy John
CDs: Judy John, Lisa Greenberg
Creative group head copywriter: Steve Persico
Creative group head art director: Anthony Chelvanathan
Agency producer: Kimberley Burchiel
Account supervisor: Jeremy Farncomb
Group account director: Natasha Dagenais